Summer nights and mojito cocktails are a match made in heaven. We added some of our favorite liqueur to a classic cocktail to create this Elderflower Mojito Cocktail recipe.
Summer and mojitos were made for each other. Meet our signature drink of summer: the Elderflower Mojito Cocktail Recipe.
Summer is magical in Minnesota and that means we spend every moment outside that we can.
Impromptu gatherings with friends, BBQs and long lazy nights on the patio are what summer nights were made for.
And nothing makes those spur of the moment get togethers seem fancier than the addition of a signature cocktail, especially when it is so easy.
Ingredients
I grow mint in a pot on my deck, so the ingredients are all pantry staples. (Yes, elderflower liqueur is a pantry staple in our house. No judging.)
Superfine sugar It dissolves much faster and ensures a smooth drink. (No one wants to drink something grainy.) You can find it in a little shaker container at your grocery store. Definitely worth the purchase.
fresh lime juice- fresh is a must for the best cocktails
Club soda- add right before serving for some bubbles
mint -fresh mint is an essential for summer drinks and makes your yard smell amazing!
Elderflower liqueur- smooth and not too sweet, it is one of our favorite liqueurs
Rum - Be sure to use light rum in this drink if you want even more citrus flavor use a lemon flavored rum
Just pour, muddle, stir and your cocktails are ready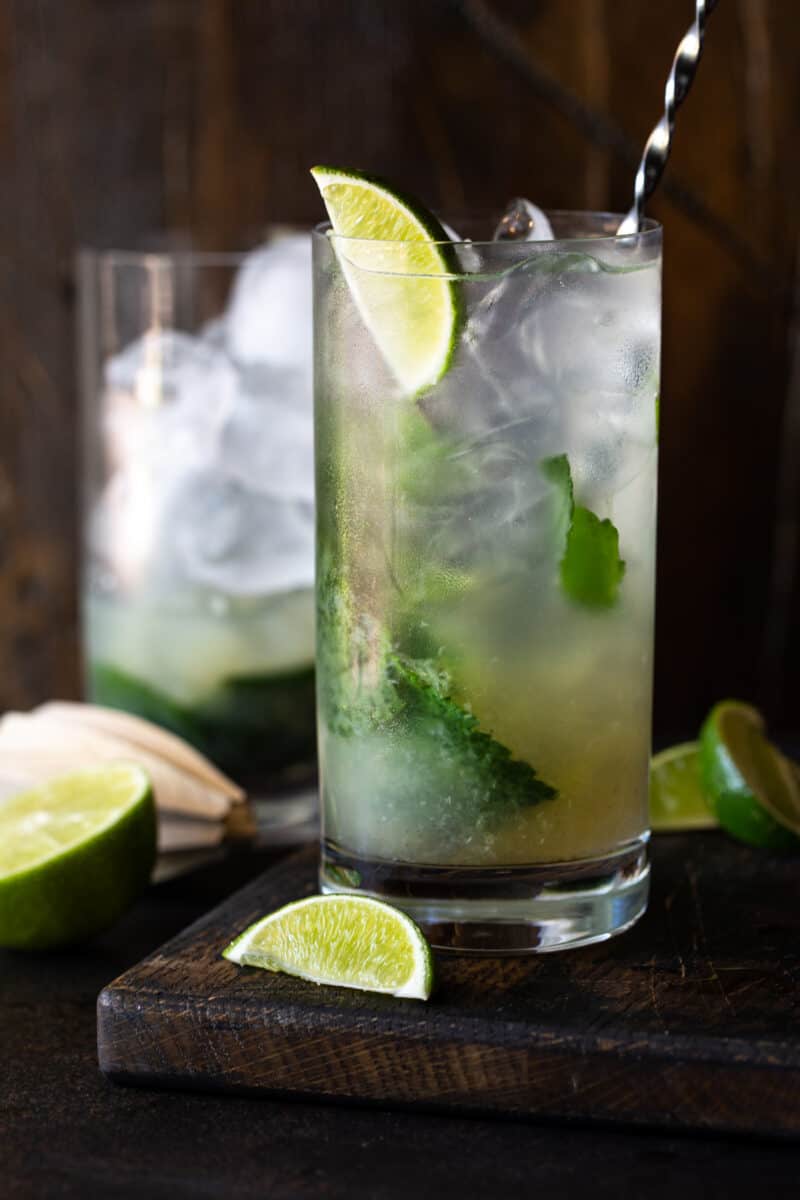 What is elderflower?
We love all things elderflower here on Garnish with Lemon. Elderflower liqueur is a fabulous addition to just about any cocktail and this Elderflower Mojito cocktail recipe is no exception.
Elderflower is subtle, sweet and adds just a hint of floral flavor to this mojito and makes it something special.
You can learn all about elderflower liqueur and check out our favorite elderflower cocktail recipes with this in-depth post!
Even though this Elderflower Mojito Cocktail recipe sounds fancy, it is still easy to make.
Best glasses for Mojitos
A good high ball glass is an essential to making a delicious mojito. When you top a glass with club soda you want to make sure you use the right glass.
High ball glasses range in size from 10-16 ounces. We prefer to use a 12 -14 ounce high ball glass.
It is just the right size for mojitos with lots of ice or when you want a lighter cocktail (meaning more mixer than booze)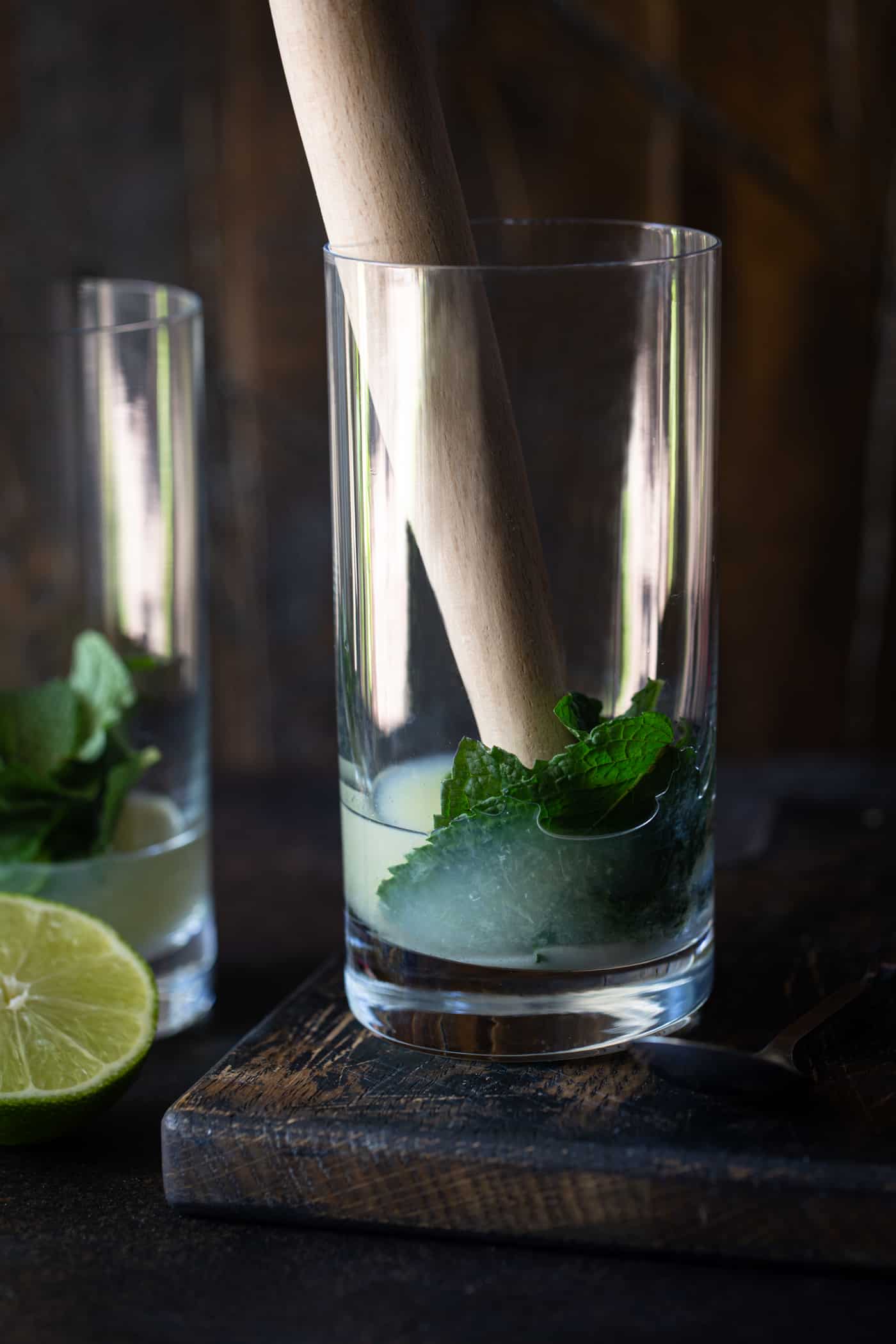 Muddling Tips
Muddling the mint in the bottom of the glass with the lime juice and superfine sugar is the secret to the best mojito.
Muddle? What is a muddler?
A muddler is a long bar tool that helps you crush the mint leaves in the bottom of the glass.
This releases the juices from the leaves to create the unique flavor of a mojito cocktail.
Mojitos are super easy to make when you have the right equipment.
This muddler is one of our most used bar utensils .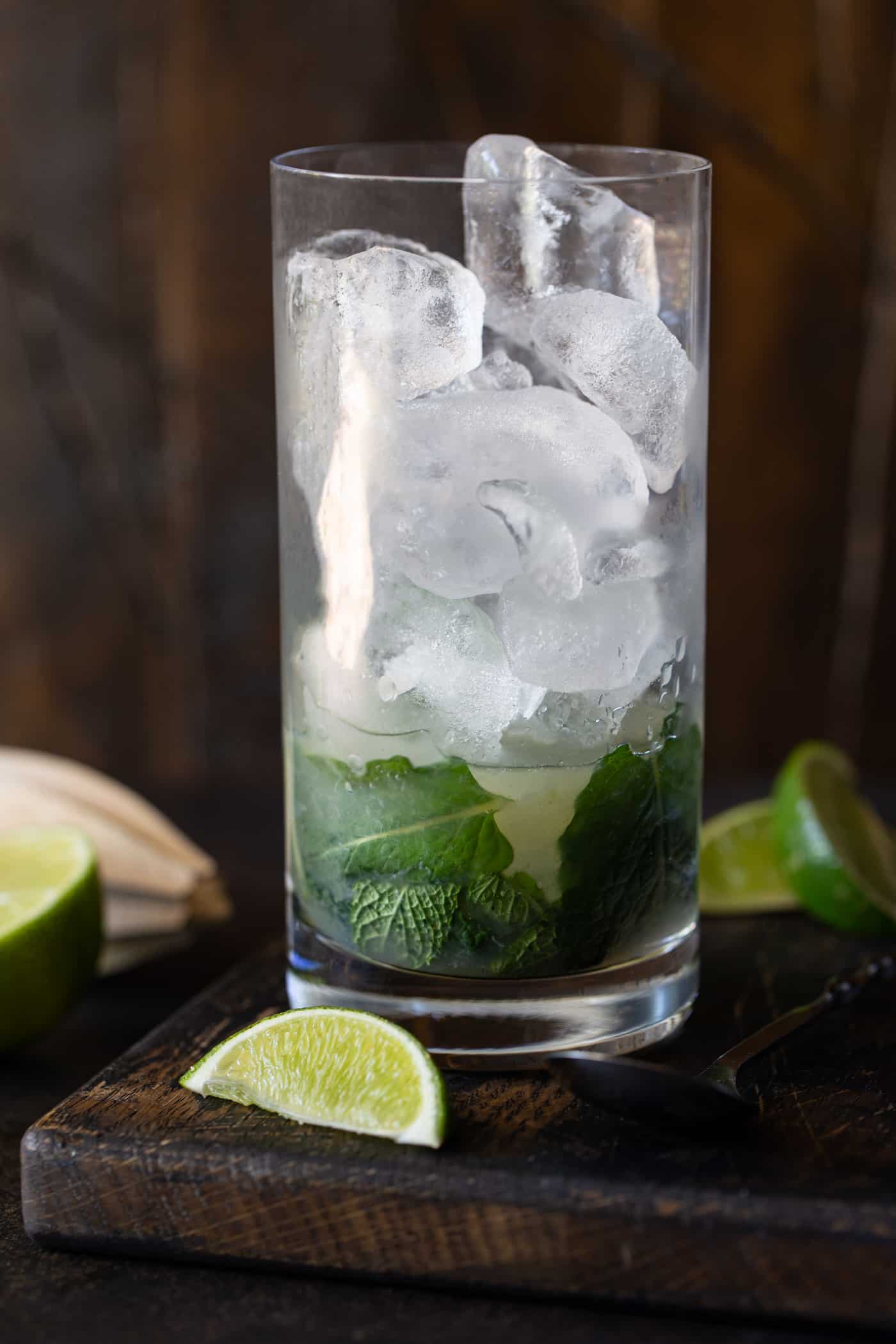 Instructions
This drink looks gorgeous with its layers, but it really is a snap to make, especially when you follow these simple steps.
Muddle- Muddle the sugar, lime juice and mint in the bottom of a high ball glass to release oils.
Fill glass with ice
Measure rum and elderflower liqueur.
Add liquors to glass
Top with Club Soda
Stir to combine (we love this bar spoon)
Garnish with a lime wedge & mint leaf
Serve
Voila - fancy cocktail made easy!
Batch Cocktail Tips
Simply multiply the amounts needed by the number of cocktails desired and mix it all in a big pitcher except the club soda. Store in refrigerator until ready to serve.
Batch Cocktail Pro tip: Wait to add club soda to pitchers of cocktails until right before serving to keep bubbles fresh!
When ready to serve:
Give pitcher a good stir.
Fill glasses with ice.
Pour Elderflower Mojito Mix in glass.
Add club soda
Garnish
Boom! Your signature party cocktail is ready to go.
Non-Alcoholic Mojitos
Not everyone wants to have alcohol in their drinks but that doesn't mean they can't enjoy this refreshing drink.
Use this recipe for a virgin elderflower mojito
Add 2 tablespoons elderflower syrup, mint leaves and 2 ounces of fresh lime juice to a high ball glass.
Muddle
Fill with ice
Top with club soda and give it a good stir to combine.
Garnish & Serve.
Cheers!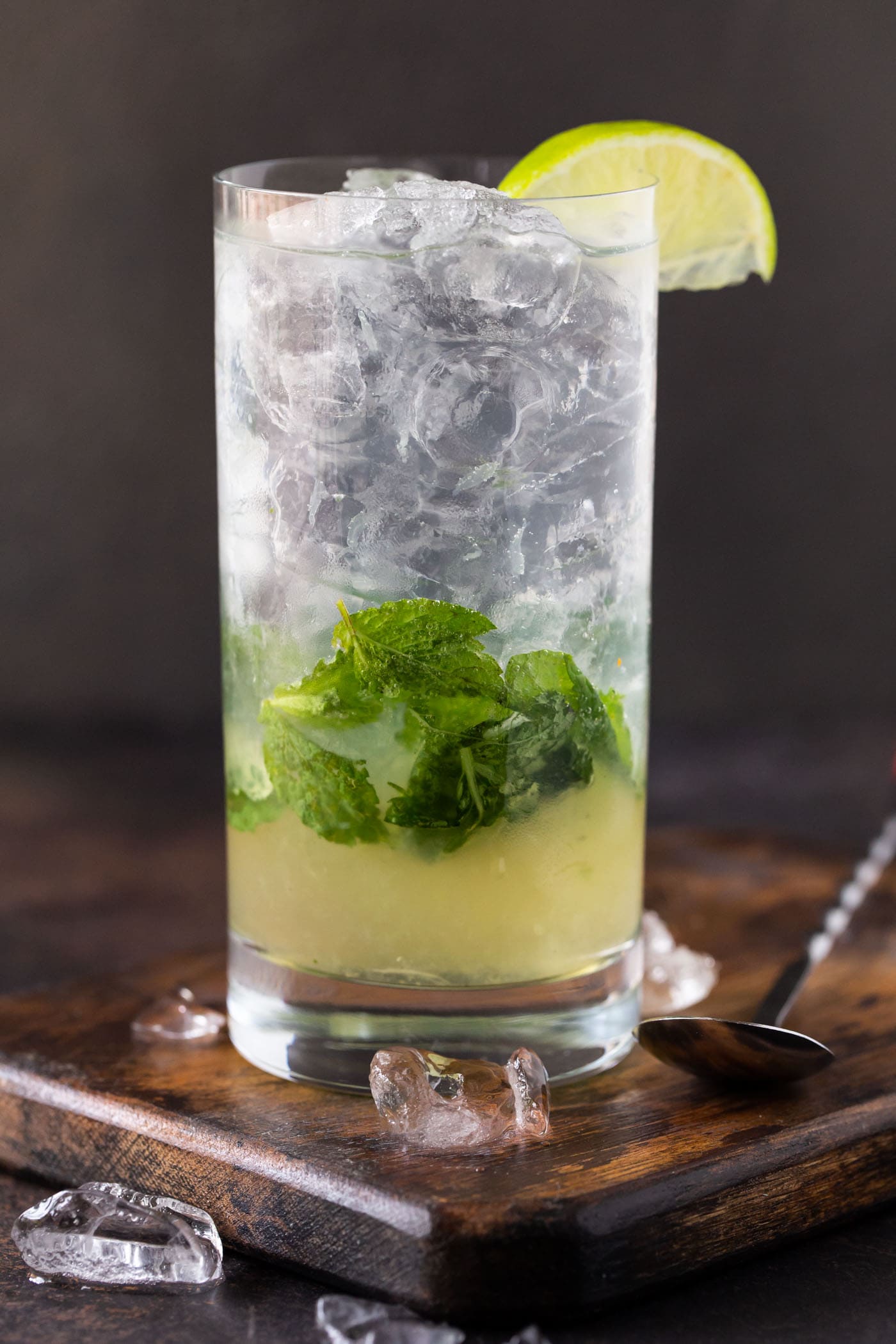 More Mojito Sippers:
Check out all of our rum and cocktail recipes!
Happy Hour isn't happy hour without some good snacks!
Add these snacks for a complete happy hour spread.
Recipe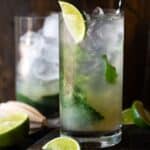 Elderflower Mojito Cocktail Recipe
We added our favorite liqueur to a classic mojito cocktail recipe to make this bright and refreshing Elderflower Mojito.
Ingredients
2

teaspoons

superfine sugar

12

mint leaves

2

ounces

freshly squeezed lime juice

2

ounces

elderflower liqueur

2

ounces

rum

club soda
Instructions
Pour superfine sugar, mint leaves and lime juice in a high ball glass and muddle to release the juice from mint leaves.

Fill glass with ice and add elderflower liqueur and rum.

Top with club soda and stir with a bar spoon before serving.

Garnish with lime wedge.
Nutrition
Serving:
8
ounces
Calories:
411
kcal
Carbohydrates:
39
g
Protein:
5
g
Fat:
1
g
Polyunsaturated Fat:
1
g
Sodium:
46
mg
Fiber:
10
g
Sugar:
23
g
Nutrition info not guaranteed to be accurate.
This refreshing Elderflower Mojito Cocktail recipe is proof positive that you can update a classic drink. Filled with fresh lime juice, mint, elderflower and rum, this mojito cocktail will become your new go-to summer drink.