I have a new appetizer for your Super Bowl party today, and I can't believe I haven't shared them with you yet: Bacon Cream Cheese Bites. Now before we talk about these gems, let's set a few things straight. Our food on Garnish with Lemon is generally family-friendly and mostly healthy (with the exception of excessive chocolate or cheese here and there). I am a firm believer in balance and not elimination of any food group. These Bacon Cream Cheese Bites I'm sharing today are in no way, shape or form healthy, but they are family friendly and incredibly easy. It is a simple indulgence, and I know you will be thanking me for it later.
Now back to the Bacon Cream Cheese Bites. Be prepared; they are  literally show stoppers filled with cheesy, crunchy goodness. I came across the recipe about 7 years ago when I was prepping for one of our first Christmas parties. I was chatting with my cousin, Sara, and I was concerned that I didn't have enough food.  She told me to make these Bacon Cream Cheese Bites. Her words,  "Trust me. My mom has been making them for years. Everyone will LOVE them." And she was 100% correct.
Fast forward to today, and people actually time their arrival at our party to be sure they can get their share of Bacon Cream Cheese Bites. Or if they know they are going to be late, they ask if I can set a few aside for them. Because they don't want to miss them.  That is what you call good party food. Add these to your Super Bowl spread, and you have a winning combination, no matter who wins the game.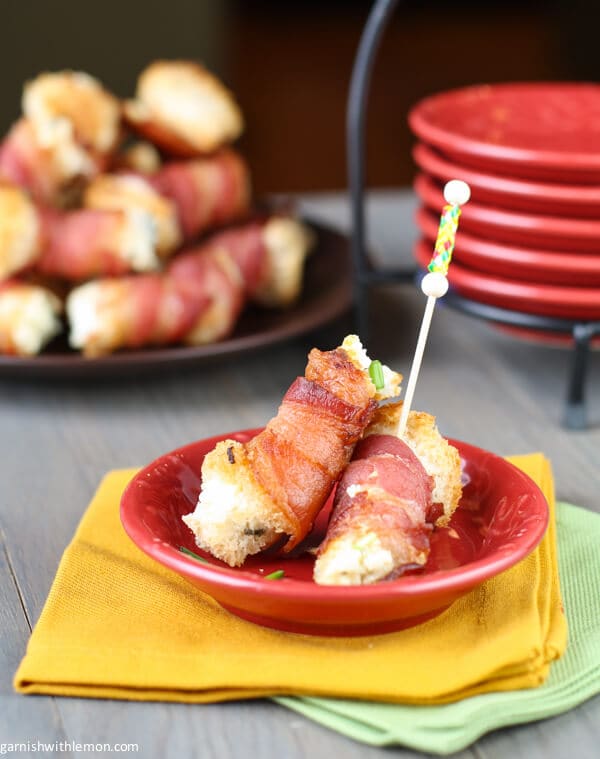 Bacon Cream Cheese Bites
Bacon cream cheese bites are a crowd favorite at every party.
Ingredients
1 loaf English Muffin Bread or Pepperidge Farm Original White Bread, crusts cut off
1 - 12 ounce tub low-fat Cream Cheese spread
½ cup chopped fresh chives
1 pound bacon (regular thickness)
Instructions
Preheat oven to 400 degrees. Line a baking sheet with aluminum foil.
Spread a thin layer of cream cheese on each slice of bread. Sprinkle ½ teaspoon of chives on top of cream cheese.
Starting at one end, roll each slice of bread into a tight cylinder. Wrap a slice of bacon around each cylinder, spiraling to cover the whole piece of bread. Cut each cylinder in half. (I use my kitchen shears.)
Place on baking sheet and bake until crispy and bacon is cooked through, about 20-30 minutes. Serve warm