Make a double batch of these Chipotle and Rosemary Roasted Nuts so you can save some for yourself and give the rest away as homemade food gifts!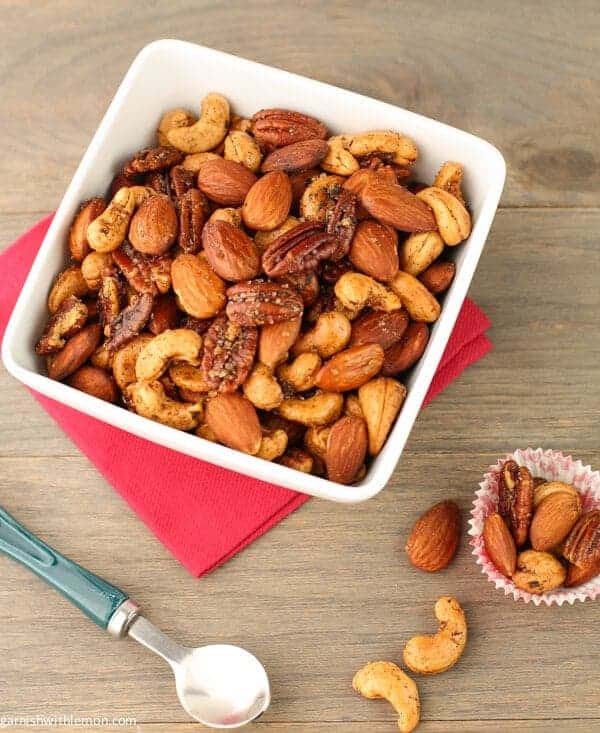 It's hard to believe that Thanksgiving is already here especially since December arrives just a few days later. How did that happen?
With Thanksgiving falling so late this year, we have three weeks to get everything done for Christmas. Which in my book means it's time to start cooking. This is my favorite time of the year, and I love to enjoy it as much as possible without feeling stressed. While I'm not one of those people who shops before Thanksgiving for Christmas presents, I do try to get a jump on my holiday baking and cooking, including hostess gifts and teacher gifts. This year I have a new addition: Chipotle and Rosemary Roasted Nuts. They are a snap to make and freeze fabulously. Plus your house will smell amazing in the process.  What better way to get in the holiday spirit?
These Chipotle and Rosemary Roasted Nuts are a great addition to any holiday spread and make a perfectly thoughtful gift from something rather ordinary. They have a smoky pop of flavor from the chipotle, a subtle heat from a touch of cayenne and finish with the fragrant rosemary.
Did I mention they are addictive? Whenever I make them, people are finding their way back to the nut bowl just to grab a few more. Great protein without the carbs – perfect for this indulgent time of year. 


Yield: 5 cups
Chipotle and Rosemary Roasted Nuts
Smoky with a little heat these mixed nuts make a great holiday gift.

Prep Time 10 minutes

Cook Time 20 minutes

Total Time 30 minutes
Ingredients
2 cups whole roasted unsalted cashews
2 cups roasted unsalted pecans halves
1 cups whole roasted unsalted almonds
1/4 cup olive oil
4 tablespoons chopped rosemary - divided
2 teaspoons chipotle powder
1/2 teaspoon cumin
1/2 teaspoon cayenne pepper
1/2 teaspoon black pepper
salt
Instructions
Preheat oven to 350 degrees. Line large jelly roll pan with parchment paper and set aside.
Pour nuts into large mixing bowl. Heat olive oil in small pan until just warm. Add 3 tablespoons rosemary and stir for one minute, or until oil is fragrant. Be careful not to let oil burn. Stir in chipotle powder, cumin, cayenne. Pour over nuts and stir well. Season with salt and pepper and stir well. (I added 2 teaspoons of salt, but use what suits your tastes.)
Place nuts on prepared pan and roast for 15-20 minutes or until golden brown, stirring once.
Remove from oven and sprinkle additional salt and remaining rosemary. Cool to room temperature.
Nutrition Information:
Yield:
15
Serving Size:
1/3 cup
Amount Per Serving: Calories: 92 Total Fat: 9g Saturated Fat: 1g Trans Fat: 0g Unsaturated Fat: 7g Cholesterol: 0mg Sodium: 40mg Carbohydrates: 3g Fiber: 1g Sugar: 0g Protein: 2g