Make a double batch of these Chipotle and Rosemary Roasted Nuts so you can save some for yourself and give the rest away as homemade food gifts!
Smoky Chipotle & Rosemary Roasted Nuts Recipe
With Thanksgiving falling so late this year, we will have three weeks to get everything done for Christmas. Which in my book means it's time to start cooking now.
This is my favorite time of the year, and I love to enjoy it as much as possible without feeling stressed. While I'm not one of those people who shop before Thanksgiving for Christmas presents, I do try to get a jump on my holiday baking and cooking, including hostess gifts and party snacks.
This year I have a new addition: Chipotle and Rosemary Roasted Nuts. They are a snap to make and freeze fabulously. Plus your house will smell amazing in the process.
What better way to get in the holiday spirit?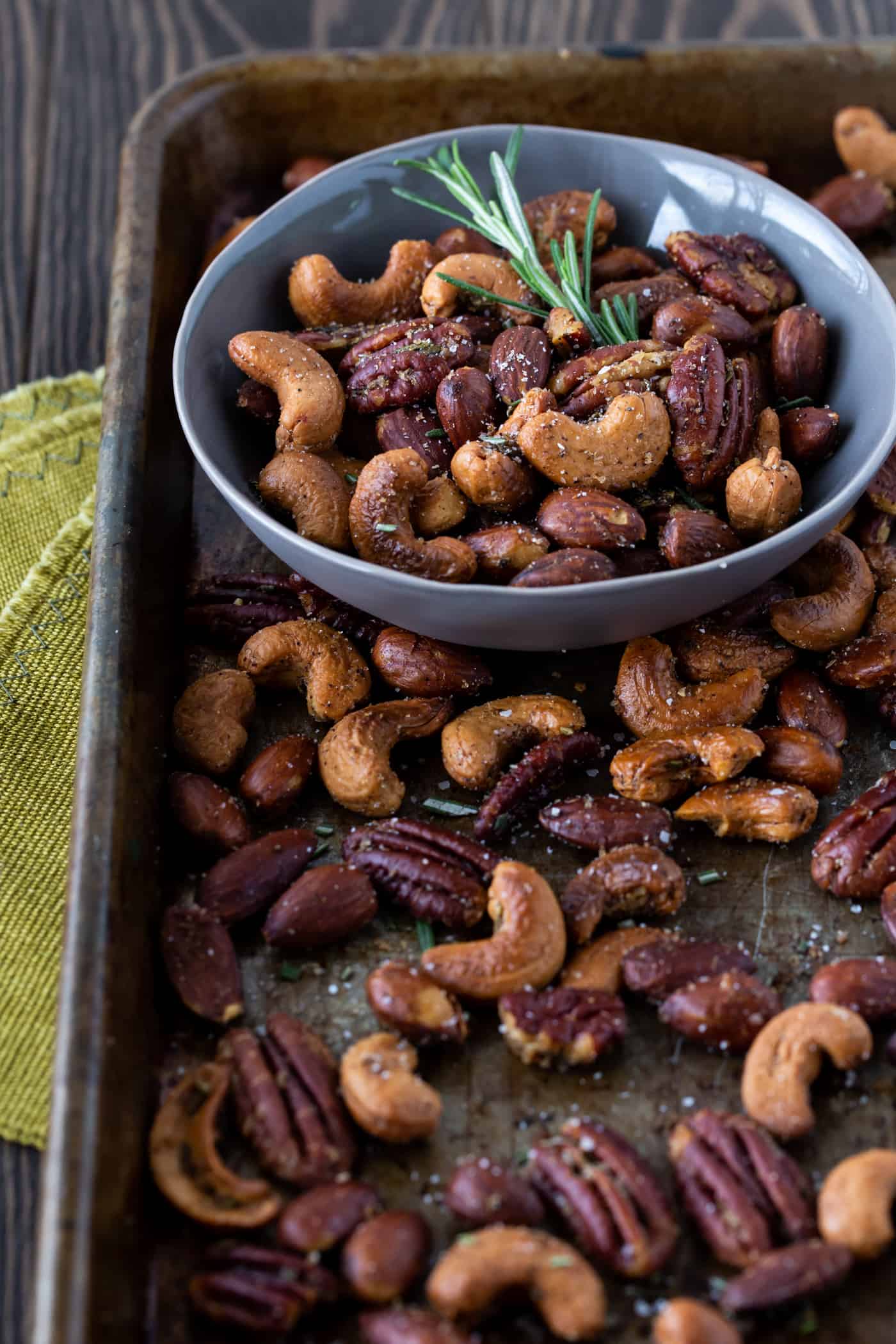 What makes this spiced nuts recipe so good?
These Chipotle and Rosemary Roasted Nuts are a great addition to any holiday spread and make a perfectly thoughtful gift from something rather ordinary.
While roasted nuts are delicious all on their own, add some spices and herbs to the recipe and you have an irresistible party snack! These spiced nuts have a smoky pop of flavor from the chipotle powder, subtle heat from a touch of cayenne and finish with fragrant fresh rosemary.
What is the difference between ground chipotle powder and ground chipotle chili powder?
These smoky nuts get their distinctive taste from the ground chipotle powder in the recipe. But be careful: Don't substitute ground chipotle chili powder.
Ground chipotle chili powder is brown in color and gives these nuts their rich color and well as the smoky flavor. Ground Chipotle Chili powder is red in color and has additional spices, like paprika, cayenne, and oregano mixed with the ground chipotle powder.
What kind of nuts best for roasting?
It's important that you buy raw nuts and not the already toasted varieties when making this recipe. This allows you to have total control of how dark your roasted nut mix is as well as how much salt is in the recipe.
That said, choose your favorite nuts for this toasted and spiced nut mix. We're big fans of cashews, pecans and almonds, so those are always part of our party nut bowl. But feel free to add walnuts or whatever other nut you're currently crushing on.
How to roast nuts in the oven at home
Roasting nuts is such a simple process that brings out the their best flavor.
Follow these easy steps to get perfectly spiced nuts at home every time:
Preheat oven to 350 degrees.
Toss nuts in oil and seasoning.
Spread nuts in a single layer on a large sheet pan
Stir once during cooking so nuts don't burn.
Immediately remove the nuts from pan when you take them out of the oven and place them in a bowl to cool completely. If you don't, they will continue to roast from the residual heat of the pan and potentially burn or become darker in color than you want.
Can I freeze roasted nuts?
YES! Roasted nuts freeze really well making them a great last-minute hostess gift, party snack or crunchy salad topping.
Just make sure to cool them completely before placing in ziplock freezer bags and placing them in the freezer. Try to remove as much air from the bag as possible to keep them fresher longer. Roasted nuts will last for up to 6 months in the freezer.
How long do these spiced, toasted nuts stay fresh?
Once these tasty morsels are roasted, store them in an airtight container for 1-2 weeks. I like to keep mine in the refrigerator.
Did I mention these party nuts are addictive? Whenever I make them, people always find their way back to the nut bowl just to grab a few more.
So go ahead and make a double (or triple) batch now. You won't regret it. These roasted nuts are a great source of protein without the carbs making them a perfect party snack for this indulgent time of year.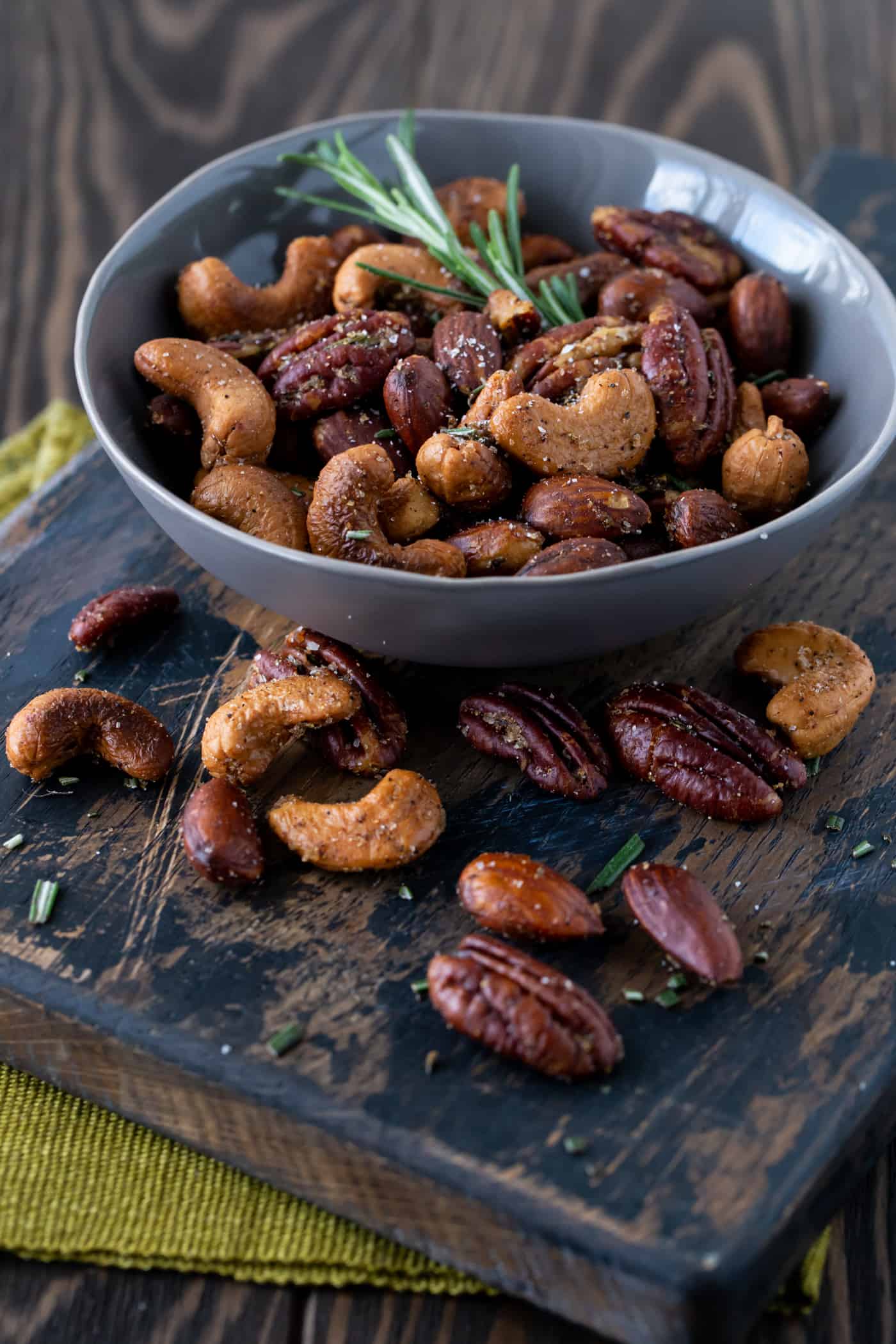 You can never go wrong with homemade food gifts for the holidays! Check out some of our other favorite gifts!
Looking for more appetizers? Here are some of our favorites!
Yield: 5 cups
Chipotle and Rosemary Roasted Nuts
Add some festive party snacks to your next happy hour with this easy Chipotle and Rosemary Roasted Nuts recipe. Can also be made in advance and given as homemade food gifts for friends and family!
Ingredients
2 cups whole cashews
2 cups pecans halves
1 cups whole almonds
1/4 cup olive oil
4 tablespoons chopped fresh rosemary, divided
1 -2 teaspoons ground chipotle powder (depending on how spicy you want them)
1 teaspoon cumin
1/4 teaspoon cayenne pepper
1/2 teaspoon black pepper
2 teaspoons kosher salt
Instructions
Preheat oven to 350 degrees. Line large jelly roll pan with parchment paper and set aside.
Pour nuts into large mixing bowl. Heat olive oil in small pan until just warm. Add 3 tablespoons rosemary and stir for one minute, or until oil is fragrant. Be careful not to let oil burn. Stir in chipotle powder, cumin, cayenne. Pour over nuts and stir well. Season with salt and pepper and stir well. (I added 2 teaspoons of salt, but use what suits your tastes.)
Place nuts on prepared pan and roast for 15-20 minutes or until golden brown, stirring once.
Remove from oven and sprinkle additional salt and remaining rosemary. Cool to room temperature.
Recommended Products
As an Amazon Associate and member of other affiliate programs, I earn from qualifying purchases.
Nutrition Information:
Yield:
15
Serving Size:
1/3 cup
Amount Per Serving:
Calories:

289
Total Fat:

27g
Saturated Fat:

3g
Trans Fat:

0g
Unsaturated Fat:

22g
Cholesterol:

0mg
Sodium:

445mg
Carbohydrates:

10g
Fiber:

3g
Sugar:

2g
Protein:

6g
These Smoky Chipotle & Rosemary Roasted Nuts are super easy to make, freeze beautifully and make the best holiday party snack. Plus these irresistible, herb-toasted nuts are awesome homemade food gifts for friends, neighbors and teachers.