Grilled Beef Tenderloin
For the last seven years Kevin and I have hosted a Christmas Party for our friends. It's always a great evening, full of laughter and catching up with friends over a few cocktails (like these: Ginger Pear Martinis and Pomegranate Tequinis). I'll admit that the first few years hosting the party was pretty stressful. But now that I am a little more seasoned, things go pretty smoothly. This year, I had all of my cooking done, the house clean and was even able to take a nap before guests arrived. A NAP…are you kidding me? Completely unheard of. The one thing that makes this event so much easier from year to year is keeping many parts of the menu the same and adding in some new dishes here and there. But the star of the show is this Grilled Beef Tenderloin. Kevin grills it early in the day, and we slice it and serve it with sauces and buns for people to make sandwiches. Super simple but ALWAYS a hit and one of the first things gone on the table.
The Grilled Beef Tenderloin may be simply prepared, but it's also special because a lot of people don't take the time to make it at home. Or they are too nervous to try because it is such an expensive piece of meat. I'm lucky that Kevin is the griller in our family. I have many skills, but grilling isn't one of my strengths. He has the art mastered and prepares the most beautiful tenderloin each year. (So much so that my dad has now put him in charge of it on Christmas Eve, too. That, my friends, is a big compliment because my dad is fabulous with the grill as well.)
The trick to perfect beef comes in the preparation and care at the grill. But once you know Kevin's method, you too will be able to produce a masterpiece that will impress your friends. And believe me, it is worth the time and the investment. This beef is buttery, succulent and full of flavor. Best thing about serving it at the party? It's no fuss and tastes fabulous at room temperature. Perfect party food if you ask me.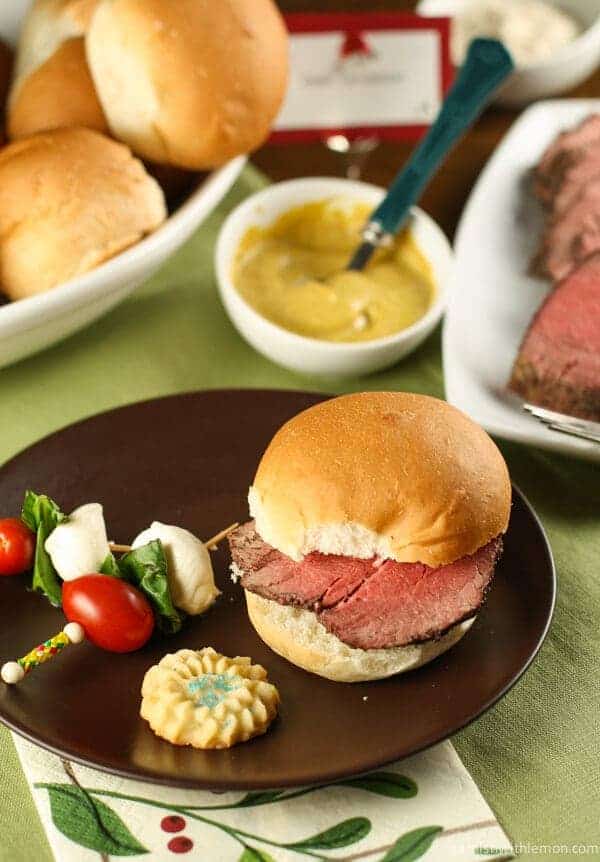 Grilled Beef Tenderloin
Ingredients
4 – 5 pounds beef tenderloin, trimmed
salt and papper to taste
¼ -1/3 cup olive oil
Instructions
Season beef tenderloin generously with salt and pepper. Drizzle olive oil all over and rub the seasonings into the beef.
Let beef come to room temperature before grilling.
Heat grill to 400 degrees.
Place beef tenderloin on the grill over direct heat for 20 min. Turning every 10 minutes. Reduce heat to 350. Grill for 20-25 minutes over indirect heat for medium rare (or until desired temperature is reached) turning every 5-7 minutes.
This can also be done in the oven: Preheat oven to 400 degrees. Roast for 4 minutes per side to sear and then reduce heat to 375 degreesand roast for an additional 20 minutes or until meat reaches desired temperature.
Remove meat from heat and tent with foil to let juices redistribute. After 10 minutes, slice and serve with buns if desired.
Curious about what else is on my menu? Here are a few of the items that made the cut:
Crostini with Whipped Feta and Tomatoes
Parsley and Panko Crusted Goat Cheese Balls