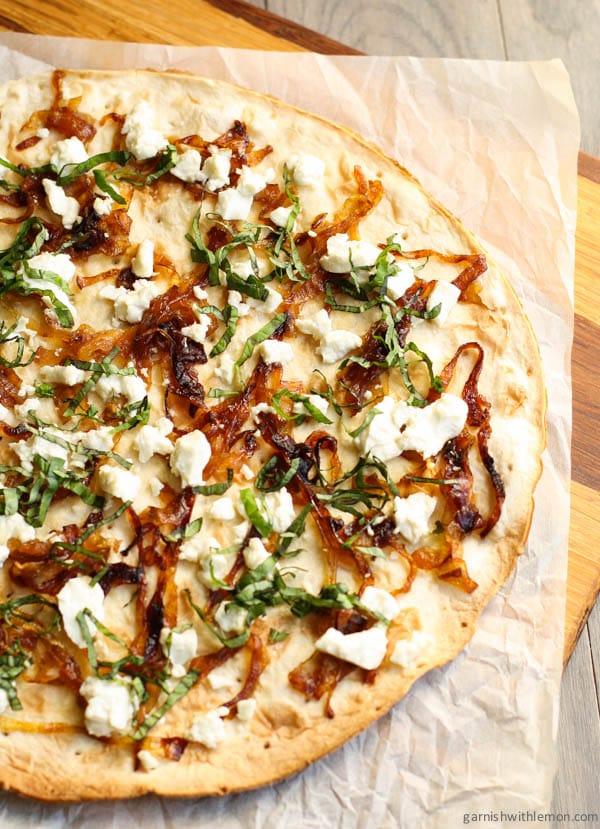 I may be breaking some cardinal rule of food bloggers, but here goes: recipe development is far from a perfect science. I can't tell you how many times I've followed a recipe only to have it take twice as long as specified. Sometimes recipes just don't work, and I get annoyed, especially if it's something I'm trying for the first time – for company. For example, don't believe recipes that say you can caramelize onions in 15 minutes. You can't. Fifteen minutes in the pan will result in nicely sautéed onions. Perfectly acceptable, even desirable in many dishes. But if you truly want the sweet tang of caramelized onions, be prepared to put in the time for them. Trust me; I wouldn't lie to you. Invest the time, and you'll be amazed at the difference in the results.  
Here's the plan: Pick a day when you know you'll be home for a few hours (yes, I said HOURS!) Slice the onions, set them on the stove to cook, and then dive into a long overdue task, like cleaning out a closet. Or, if you have pristine closets already (I'm not sure we can be friends), take a load off and crash on the couch with your latest read. All I ask is you occasionally walk by the stove and give the onions a little stir. This low-and-slow process makes a world of difference in the taste of your onions. And since they are a starring ingredient in this dish, you definitely want the sweet, caramelized goodness of the onion to shine through. 
Buy the big bag of onions when they are on sale at the store and caramelize a huge batch. Why? They freeze wonderfully and can be used in everything from pizza to sandwiches to pasta salads. Or freeze them for the next time you make this flatbread. Because trust me, you will. And your friends will ask you for the recipe. Be sure to tip them off to the time it takes to do it right. Nobody likes being hoodwinked. 
Ingredients
2 teaspoons olive oil
2 teaspoons butter
2 large yellow onions, peeled and thinly sliced
1 teaspoon salt
1 teaspoon sugar
1 large flatbread
Olive oil for brushing
Kosher salt
4 ounces goat cheese, crumbled
Fresh basil, sliced into ribbons
Instructions
Melt the butter and olive oil in a large saute pan over medium-low heat. Add onions and stir to coat. Cook for 20 minutes, stirring occasionally. Sprinkle the sugar and salt over the onions and continue to cook for another 30 minutes to 1 hour, stirring occasionally. You're looking for a deep, rich brown color. They may start to stick to the pan a little. It's OK if they form a bit of a crust, but don't let them burn. Set aside to cool when done.
Preheat oven to 425 degrees.
Place flatbread on baking sheet. Brush flatbread with olive oil and sprinkle with salt. Top flatbread with caramelized onions and crumbled goat cheese. Bake for 6-10 minutes, depending on the thickness of your bread. (The cheese should start to melt and the edges of the bread should start to brown.)
Remove from oven and sprinkle with basil. Cut into pieces and serve.
Notes
1. You may not use all of the onions you caramelized on this flatbread depending on how onion-y you like your food.


2. I purchased a large cracker-thin, pre-baked pizza crust in lieu of flatbread, but feel free to use any bread of your choosing: naan, pita, flatbread, pizza crust, etc.
http://www.garnishwithlemon.com/flatbread-with-goat-cheese-and-caramelized-onions/