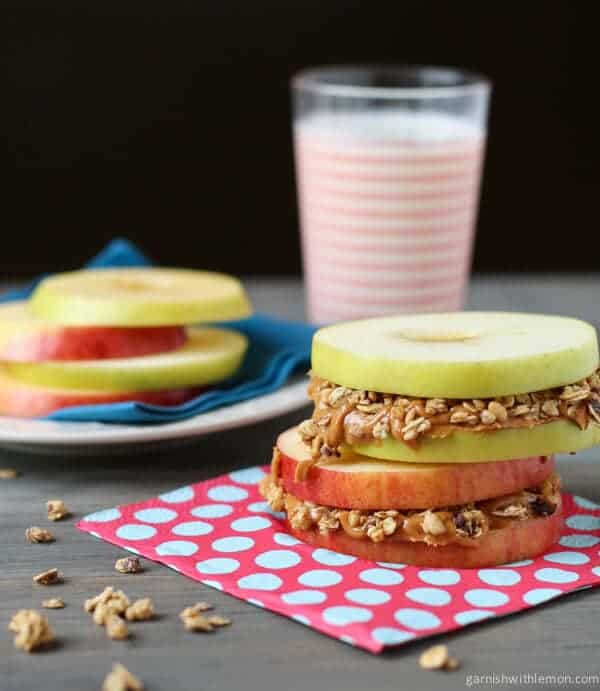 My kids come home from school completely ravenous. They drop everything (right in the doorway, usually), and make a beeline for the kitchen. Through trial and error, I've learned that it's pointless to have a meaningful discussion with Bridget about her day until after she's had an after school snack. There will be little reaction (or worse, an interaction that doesn't end well for either of us!) I try to stock healthier options for the kids to grab when they are in a feeding frenzy, but we're human; there are Goldfish and Oreos right next to the almonds and raisins in our pantry.  
So snack selection becomes a compromise between what I think they should have (how about fresh fruit and yogurt?) versus what they really want (bowl of dry cereal, anyone?) It's an age old battle, and our family isn't any different than yours when it comes to getting our kids to make smart food choices. That's why I love these Apple Sandwiches with Almond Butter and Granola. Although they are a snap to whip together, they are totally kid-friendly and pack a protein-rich punch to ensure their bellies stay full until dinner. 
These sandwiches are portable and don't require refrigeration, which makes them ideal for those afternoons when we have errands or appointments right after school. They would also be great snacks to have on hand either before or after sports practices. By the way, have you tried the new Nature Valley Protein Crunchy Granola? We have the oats and dark chocolate version. Sooooo yummy! We can't usually buy Nature Valley products because my daughter is allergic to peanuts, and many of their products contain (or may contain) peanuts. This is one of few granolas she can safely eat, plus it's a good source of protein. Our whole family loves it. Get some!!  
Do you have any go-to after school snacks that tide your crew over until dinner? Share the love with us! 

Apple Sandwiches with Almond Butter and Granola
Ingredients
1 apple, cored and sliced into rings
Almond butter
Granola
Instructions
Generously spread almond butter on one apple slice. Sprinkle granola over almond butter and top with another apple slice. Repeat using remaining apple slices and almond butter.