This Beef Provencal braises all afternoon for fork-tender, chilly weather comfort food.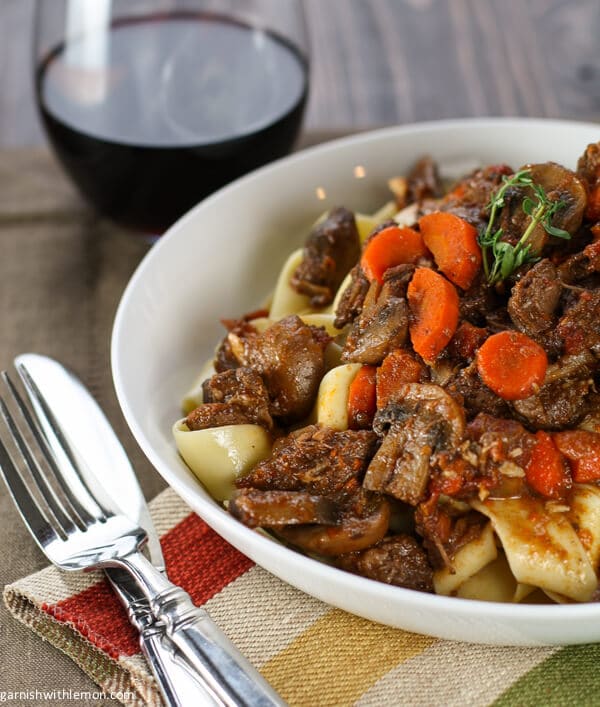 Have we ever shared the story of how Lisa and I became friends? It had little to do with us, actually, and everything to do with our boys. See, they were best buds in preschool and remain close to this day, six years later. When we discovered we also have daughters about the same age, it was a no-brainer to get the families together for dinner. It was after several meals that we realized we share a similar passion for food….and recipes. In fact, we'd often come home from dinner at each other's house and say, "Hey, I make something just like that!". This Beef Provencal is one of those recipes that we both count on as a delicious dinner staple, equally at home as a cozy Sunday supper or as the starring dish when entertaining friends and family.
Beef Provencal is essentially a French version of beef stew loaded with mushrooms, carrots, tomatoes, garlic, onions and spices. The key to this deliciousness is the long, slow braise in a tightly sealed dutch oven, which makes the meat fork tender and the flavors meld beautifully. (I have this one on my Christmas list, but this one is a well-priced alternative.) 
Fair warning: There is a bit of prep work involved in making this meal, but after the pot is popped in the oven, you can wipe your hands clean and enjoy a few hours to yourself.
Short on time? I've made Beef Provencal the day before and rewarmed it in the oven, and it turns out just as tasty. It's a very forgiving dish that lends itself to experimentation, or in my case, improvisational uses of what's in the fridge. 🙂 Want more carrots? Go for it. Not a mushroom fan? Omit as you please. Crushing on tomatoes? The sky is the limit. 
Just like old friends warm our hearts, favorite recipes bring joy to our bellies. This Beef Provencal ties together food and friendship for Lisa and I in a memorable way. We hope it becomes a favorite for your family, too.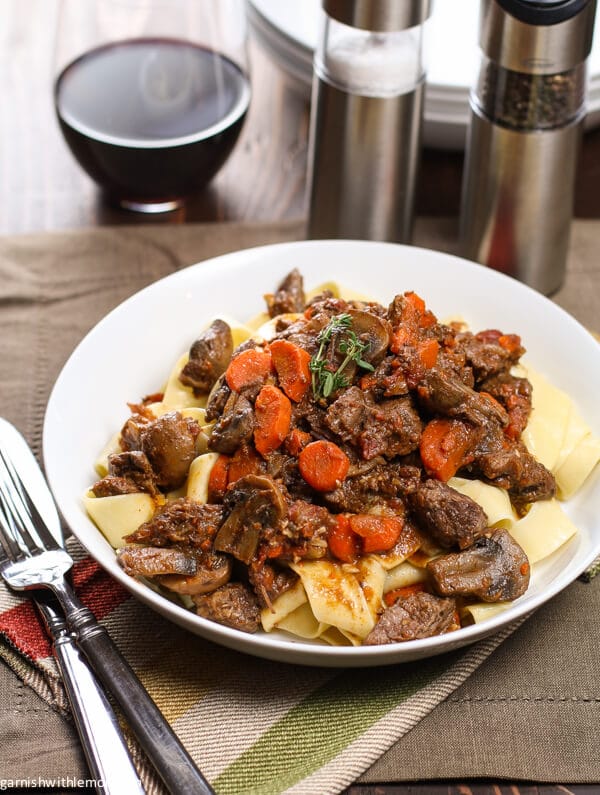 Yield: 8 servings
Beef Provencal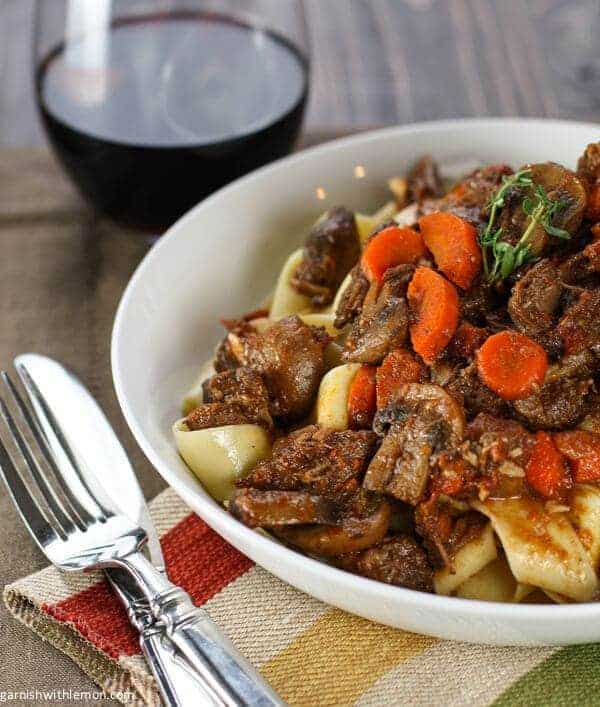 This belly warming beef provencal is one of our favorite dinner recipes!
Total Time
3 hours
45 minutes
Ingredients
1 tablespoon olive oil
12 garlic cloves, crushed
1 (3-pound) boneless chuck roast, trimmed and cut into chunks
1 1/2 teaspoons salt, divided
1/2 teaspoon freshly ground black pepper, divided
1 cup red wine
6 large carrots, peeled and chopped
16 ounces mushrooms, halved
1 large onion, chopped
1/2 cup beef broth
2 tablespoons tomato paste
2 teaspoons chopped fresh rosemary
1 teaspoon chopped fresh thyme
1 (14.5-ounce) can diced tomatoes, undrained
1 bay leaf
16 ounces wide noodles (such as egg noodles or papardelle), cooked according to package directions
Instructions
Preheat oven to 300 degrees.
Place olive oil in large dutch oven over medium low heat. Add garlic and cook for 5 minutes. Remove garlic with a slotted spoon.
Increase heat to medium high. Place half of beef in pan and sprinkle with 1/4 teaspoon salt and 1/8 teaspoon pepper. Brown on all sides, about 4-5 minutes. Remove from pan and repeat with remaining beef, 1/4 teaspoon salt and 1/8 teaspoon pepper.
Once all beef is browned, pour wine into pan to deglaze. (Make sure you scrape up all those delicious browned bits!) Return garlic and beef to the pan along with 1 teaspoon salt, 1/4 teaspoon pepper, carrots, mushrooms, onion, beef broth, tomato paste, rosemary, thyme, diced tomatoes and bay leaf. Bring to a boil.
Cover pan and place in the oven. Bake for 2 1/2 - 3 hours or until meat is fork tender. Remove bay leaf. Serve over noodles.
Nutrition Information:
Yield:
8
Serving Size:
1
Amount Per Serving:
Calories:

205
Total Fat:

4g
Saturated Fat:

1g
Trans Fat:

0g
Unsaturated Fat:

3g
Cholesterol:

9mg
Sodium:

514mg
Carbohydrates:

29g
Net Carbohydrates:

0g
Fiber:

4g
Sugar:

5g
Sugar Alcohols:

0g
Protein:

9g
Don't miss some of our other favorite family meals below:
Chicken with Feta Cheese Sauce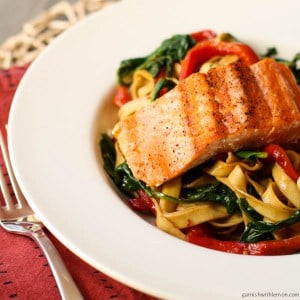 Linguine with Steelhead, Spinach and Peppers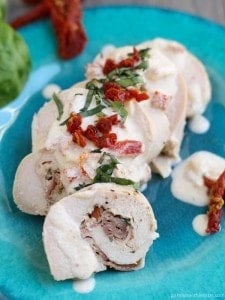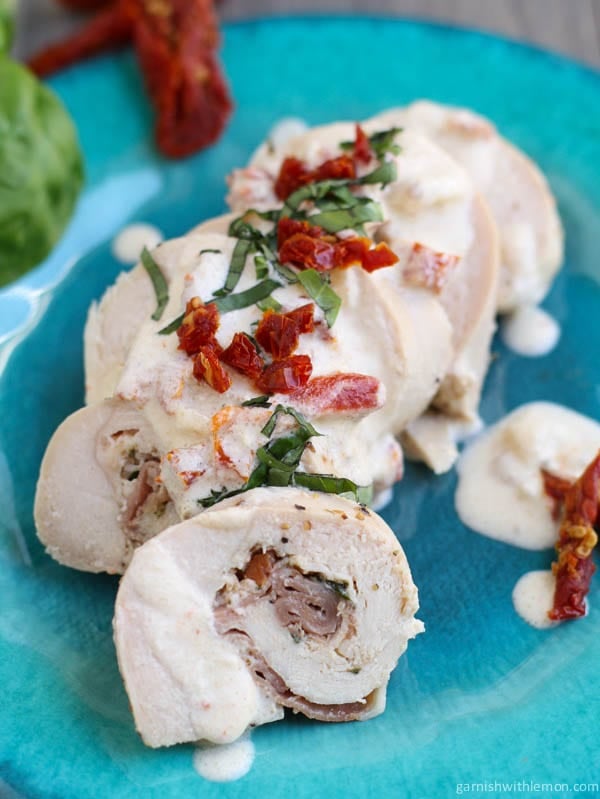 Proscuitto and Pesto Stuffed Chicken with Sun-dried Tomato and Basil Cream Sauce