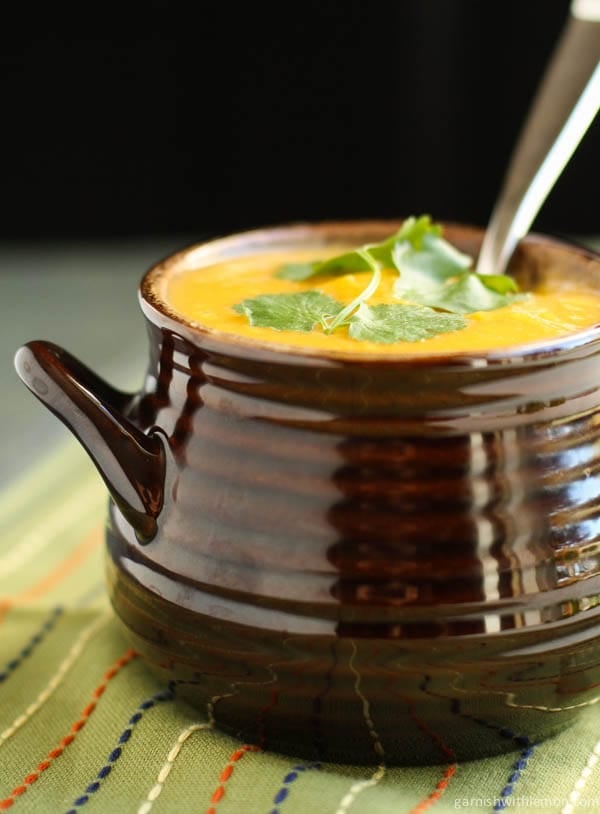 Back when I worked a 9-5 office job, I was dutiful about packing my lunch. My intentions were good, but it seemed like I brought the same types of things every day: baby carrots, yogurt, sandwiches, leftovers, frozen meals….you get the idea. My lunches may not have had a lot of variety, but I tried to make them well-rounded. Now that I'm at home, I find that I rarely make time for a proper lunch. Mostly I graze throughout the day, which isn't healthy, and it certainly isn't fulfilling. 
That's why I love this soup. It makes a huge batch that not only freezes well but also has a decent shelf life in the fridge. Perfect for those chilly fall days when it's easy to fall prey to the open bag of tortilla chips in the pantry but nearly as quick to heat up a bowl of soup and feel more satisfied. I don't claim that this is the most nutritionally sound meal in the world, but it definitely puts me in the right mindset to make it a more complete meal than if I look up and discover I've eaten half a bag of chips – again. (C'mon – please tell me I'm not the only one with these weaknesses!) 
This is also an excellent make-ahead meal for Halloween night. Toss it in the crockpot in the morning, and you'll be greeted with a heavenly aroma from the squash, curry paste and coconut milk when you walk in the door. If your kids are anything like mine, dinner is an afterthought on Halloween – just get to the trick-or-treating and the candy! At least you'll know you put something warm in their stomachs before the sugar high hits later.  
P.S. I always stir extra curry paste into the bowls for myself and my husband. The kids prefer a milder curry flavor, and we like a bit more spunk. 

Thai Curried Butternut Squash Soup
Author:
Adapted from Minneapolis Star Tribune
Ingredients
8 cups of peeled, cubed butternut squash
1 large onion, chopped
3 garlic cloves, chopped
1 tablespoon peeled and grated fresh ginger root
2 tablespoons green curry paste
4 cups chicken stock
1 can (13.5 ounces) light coconut milk
3 tablespoons fish sauce
1 tablespoon brown sugar
1 tablespoon butter
Chopped cilantro (optional)
Salt and pepper to taste
Instructions
Combine squash, onion, garlic, ginger and curry paste in a large slow cooker. Pour in the chicken stock and coconut milk. Cook on high for 4 hours or low for 8 hours.
Puree the soup using an immersion blender or a regular blender.
Stir in the fish sauce, brown sugar and butter. Let soup sit for 15 minutes before serving to allow all the flavors to meld together. Add salt and pepper to taste and garnish with fresh cilantro.