Mixed Green Salad with Blue Cheese Crumbles, Apples, and Candied Walnuts
Traditionally our Thanksgiving table doesn't have anything green on it. But this salad is a great addition, especially when feeding a big group. It's colorful, bright and makes you feel not quite so bad for eating that second helping of mashed potatoes.  
My favorite way to serve it is with blue cheese crumbles and green apples. I love the flavors together, and the dressing gives it just the right balance. But if blue cheese isn't your thing, feta is a great substitution. The salad dressing is versatile and tastes great with many different fruits and cheeses, so go ahead and be creative!
You can candy your own walnuts to top the salad if you choose, but I use the candied walnuts from Trader Joe's – crunchy and delicious without being too sweet. Who has the time to worry about the nuts when you are coordinating the rest of the spread? So go ahead and have that second helping (or third) of Thanksgiving goodness. It's ok; you got your veggie fix too.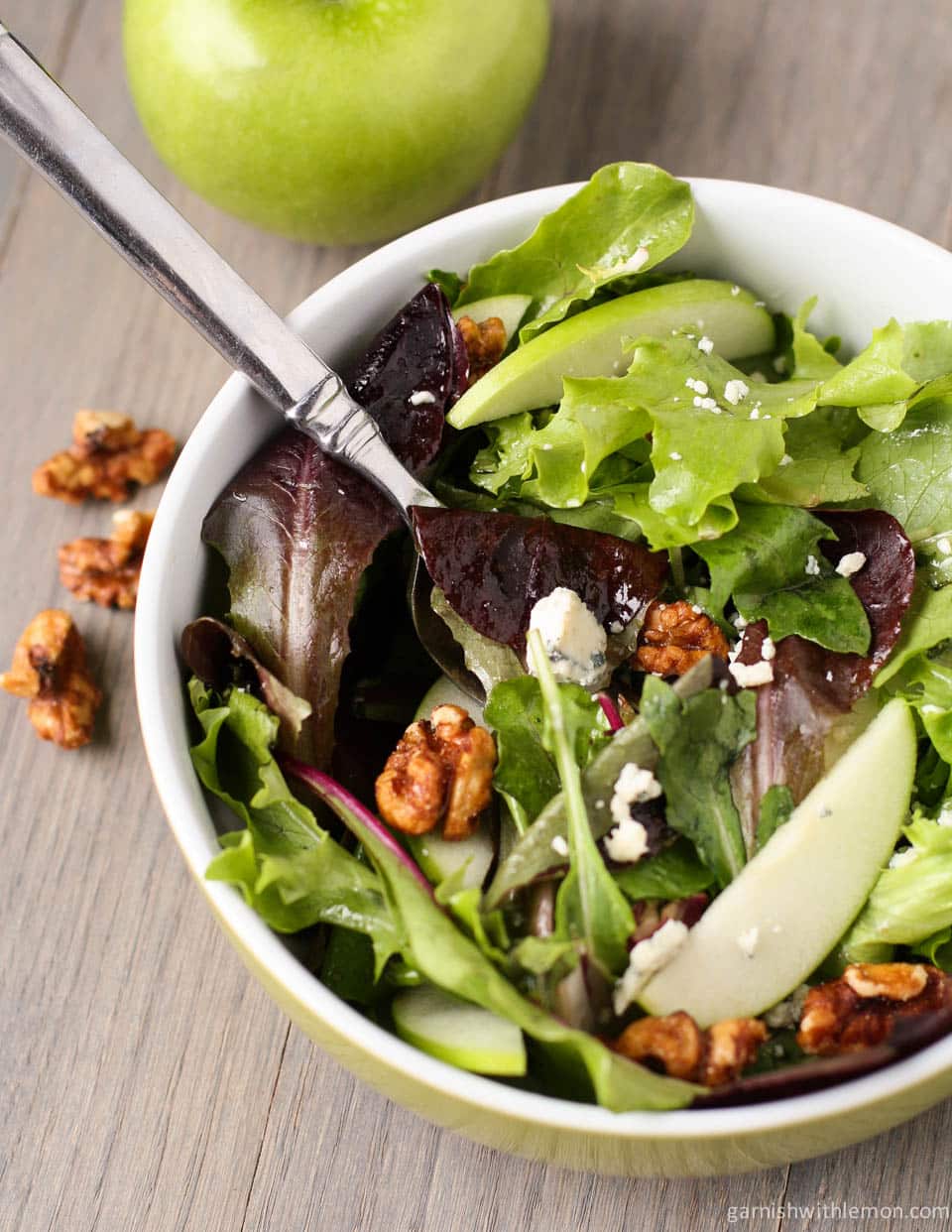 Mixed Green Salad with Blue Cheese Crumbles, Apples, and Candied Walnuts
Recipe type:
Sides and salads
Ingredients
⅓ cup sugar
1 teaspoon Dijon mustard
½ t. salt
⅓ cup white vinegar
1 ½ T. Apple cider vinegar
1 t. minced onion
1 T. Worcestershire
½ cup canola oil
1 Granny Smith apple
1 ½ cups toasted walnuts
4 oz. blue cheese crumbled
6 cups of Mixed Greens, cleaned and dried
Instructions
Combine sugar, salt, mustard and vinegars. Stir until sugar is dissolved. Whisk in onion and Worcestershire. Add oil slowly, whisking continuously.
Toss green lettuce, 4 oz. crumbled blue cheese, toasted pecans and 1 granny Smith apple cut up. Add vinaigrette, tossing to coat to taste.
This makes a lot of dressing. It saves well and can be used on many different salads.