Add some Greek flavor to your appetizer spread with this tasty recipe for crispy Zucchini Feta Fritters!
Can you ever have enough zucchini recipes?
Zucchini is plentiful any time of year, which is one of the reasons I love this Zucchini Feta Fritters recipe. It's an easy, veggie-packed, warm Greek appetizer that never fails to fuel a crowd.
Instructions
With less than 10 ingredients (not including oil, salt and pepper), these fritters come together quickly.
Whisk together your flour, salt, pepper, baking powder, dried oregano and fresh lemon zest. Stir in your wet ingredients next, including the eggs, zucchini and feta cheese.
You can definitely make larger or smaller zucchini fritters depending on your needs, but I usually aim for about ¼ cup of batter for each fritter. That size works for both an appetizer or side dish.
The easiest way I've found to transfer equal portions of fritter batter from the bowl to the pan is to use a ¼ cup baking scoop. It helps keep the fritters a nice even shape and works great for muffins and cupcakes, too.
Not a fan of frying foods? I hear ya. I've never been a big fryer myself, but these fritters only need a modest bit of oil to crisp up.
I usually start with a smaller amount of oil and then add new oil after each batch. Yes, I have to wait for the oil to come to temperature, but it saves me a bit of splatter in the long run.
Instructions
There are three key steps to ensuring your fritters are nice and crispy:
Get as much water out of your zucchini as possible before adding to the batter.
Don't crowd the pan when frying.
Keep your just fried fritters warm in the oven.
Let's look at these steps a bit more closely.
1. How to get the moisture out of zucchini
Zucchini holds an amazing amount of fluid for its often demure size. Salting your shredded zucchini will draw out a ton of its moisture so the zucchini shreds don't expel their moisture into whatever you are cooking (and you end up with a soggy mess).
Start by placing your shredded zucchini in a fine mesh colander. Sprinkle with a few teaspoons of salt. Toss it around so the salt is evenly distributed and let it sit for at least 30 minutes. The salt draws the moisture out of the zucchini as it sits.
After 30 minutes, get ready to use your muscles. I like to use my hands to squeeze out the moisture because I get more control over how much liquid is expelled.
You can also use a large wooden spoon and press the zucchini against the sides of the colander if you prefer.
Just when you think you're done, give the zucchini another solid squeeze or two. The drier the zucchini, the crispier the fritters will be.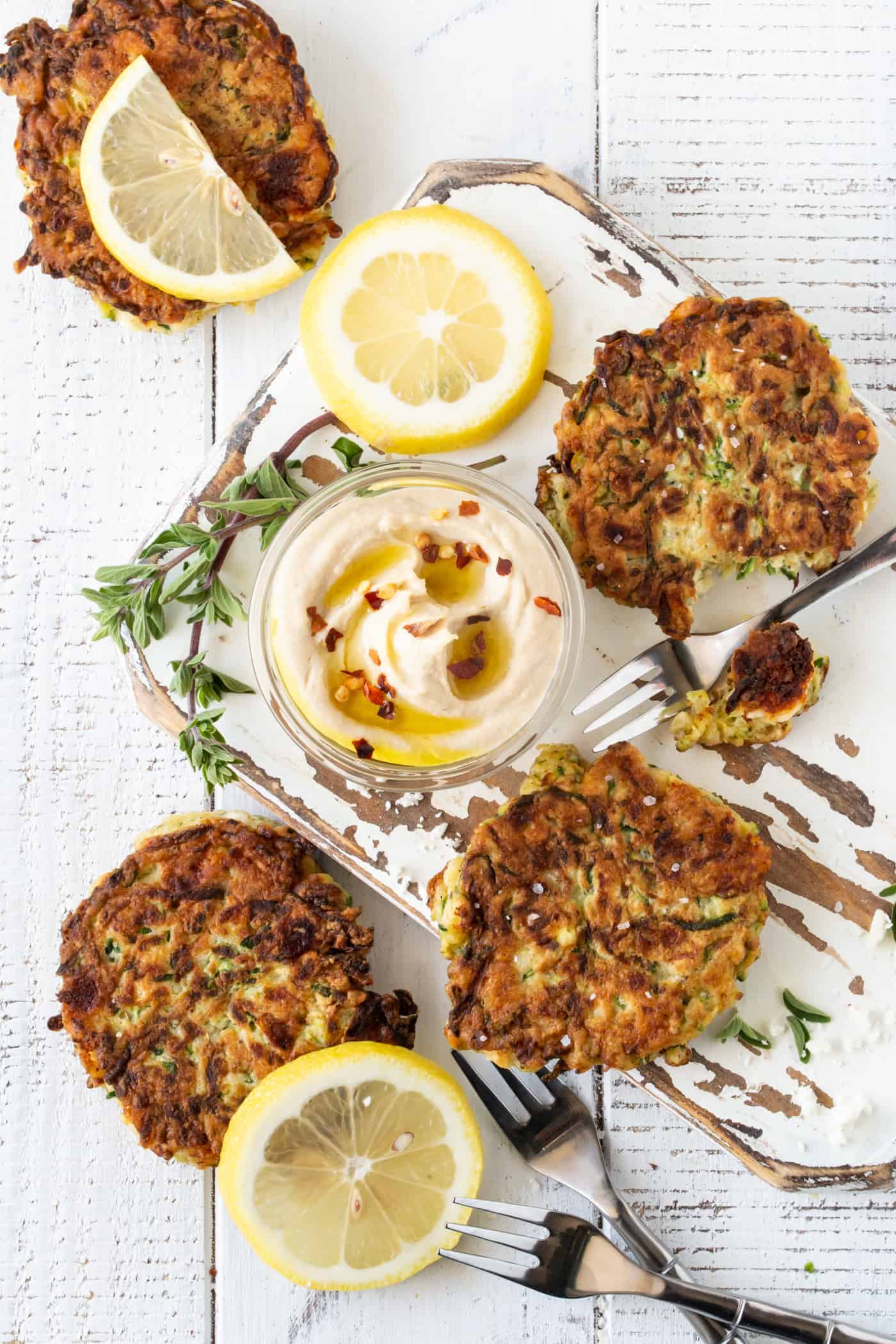 2. Don't crowd the pan when frying zucchini
I know it's tempting to try to be efficient and get as many zucchini fritters fried at one time as possible. But if you don't leave enough space around your fritters in the pan, they will steam rather than fry. And the results will not be as crispy as you like.
Plus overcrowding the pan decreases the temperature of the oil, another culprit of steamed rather than crispy fritters.
Always make sure your oil is hot enough before you add batter to the pan. A small drop of water in the pan should sizzle immediately if the oil is at a hot frying temperature. Not getting a sizzle? Be patient and wait for the oil to heat up.
3. Keep your zucchini fritters crispy in the oven
Unless you own a commercial fryer, these fritters will be fried in batches. To ensure the just fried fritters stay crispy while you finish cooking the remaining fritters, I like to use a little oven trick.
Place a cooling rack on a sheet pan in a low temperature oven. Place the cooked fritters on the rack. The warm air circulating around the fritters keeps them crisp until you finish frying the remaining fritters.
This tip works well for pancakes and waffles, too!
Serving Suggestions
Most of the time I serve these vegetarian fritters with garlicky hummus as we always have that on hand. You can also dunk these babies in tzatziki sauce for a different flavor twist.
I've also served these as a side dish to a grilled main course. You can even wedge them on a platter of salad greens for a tasty buffet option for a large group.
More zucchini recipes:
Grilled Zucchini with Parmesan
Cranberry Zucchini Bread
Check out all of our appetizer recipes here!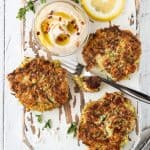 Zucchini Feta Fritters
A batch of these crispy Zucchini Feta Fritters will be a huge hit at your next party. Serve them as a unique appetizer or on a bed of greens as a savory size dish.
Ingredients
2

pounds

zucchini

3

teaspoons

salt

divided

1

cup

flour

1

teaspoon

baking powder

1

teaspoon

black pepper

4

teaspoons

fresh lemon zest

2

teaspoons

dried oregano

4

large eggs

whisked

8

ounces

feta cheese

crumbled

canola oil

or other neutral oil for frying

salt for garnish
Instructions
Coarsely shred zucchini using either a box grater or food processor. Place shredded zucchini in a fine mesh colander and sprinkle with 2 teaspoons salt. Stir gently to incorporate. Let set for 30 minutes and squeeze out as much excess liquid as possible from the zucchini. Set aside.

Preheat oven to 250 degrees. Place a cooling rack on a sheet pan and set aside.

Whisk together your dry ingredients (flour, remaining 1 teaspoon salt, pepper, zest and oregano) in a large bowl. Gently stir in eggs, zucchini and feta until thoroughly incorporated.

Heat a large skillet over medium heat. When hot, add enough oil to cover the bottom of the pan. Carefully scoop ¼ cups of batter into oil and cook for 2-3 minutes per side, or until golden and firm. Transfer cooked fritters to the cooling rack on the sheet pan and place in warm oven. Repeat process with remaining fritter batter.

Sprinkle cooked fritters with coarse salt and serve with hummus, if desired.
Notes
Recipe adapted from Robin Asbell.
Nutrition
Serving:
2
g
Calories:
270
kcal
Carbohydrates:
23
g
Protein:
14
g
Fat:
14
g
Saturated Fat:
7
g
Polyunsaturated Fat:
6
g
Cholesterol:
158
mg
Sodium:
1635
mg
Fiber:
3
g
Sugar:
4
g
Nutrition info not guaranteed to be accurate.
These Zucchini Feta Fritters are a tasty appetizer recipe for your next party! Serve them with hummus, tzatziki sauce or on a bed of mixed greens for a beautiful presentation!