This Greek dip recipe - a spinoff of a 7-layer dip - is an easy, make-ahead appetizer for a party. The briny Kalamata olives, juicy cucumbers, salty feta and garlicky hummus remind me of my favorite Greek salad.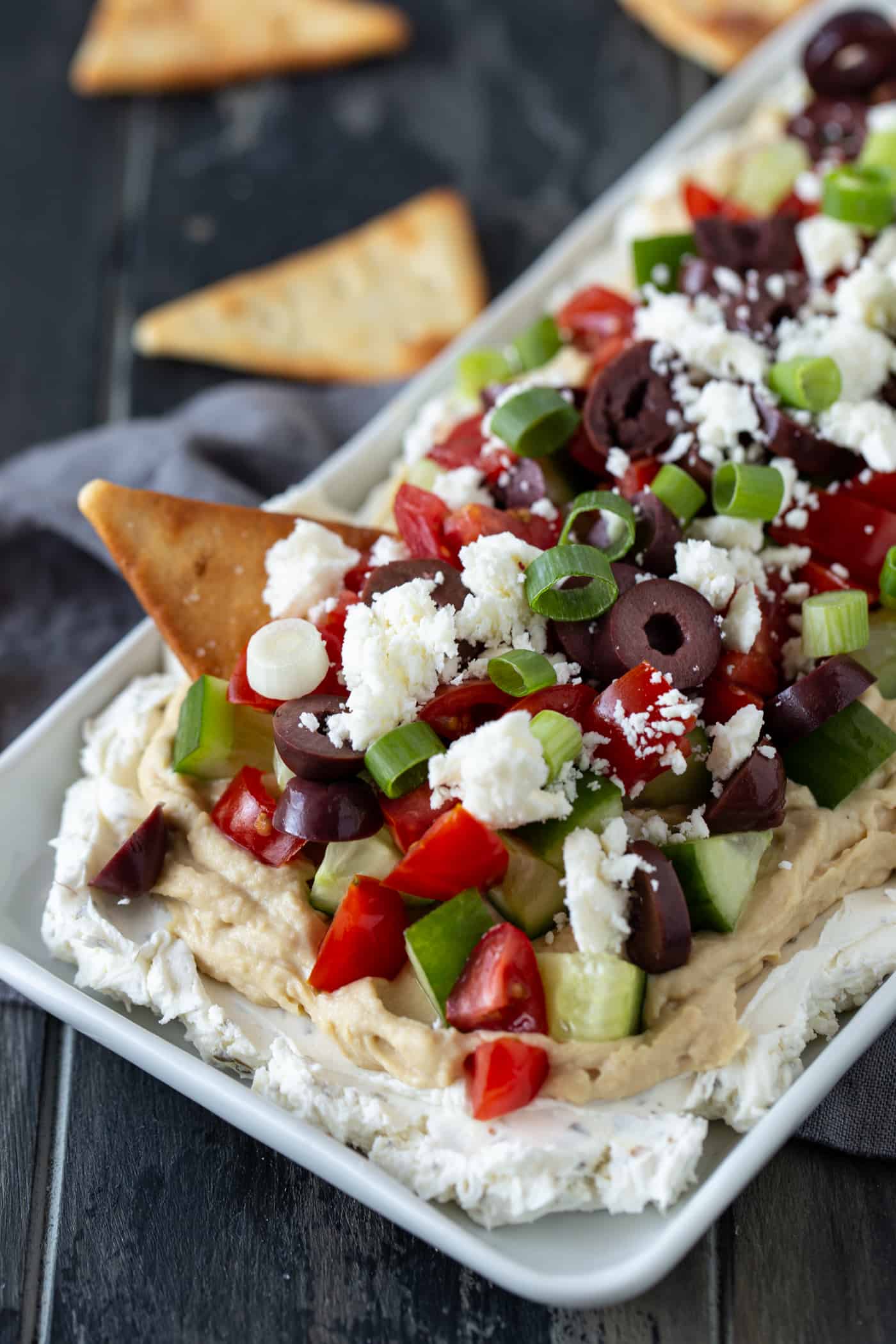 Who doesn't love a quick and easy appetizer?
The Seven Layer Dip is a time-honored tradition at parties. Everyone loves it and it always disappears.
So what happens when you take a recipe with a cult-like following and give it a unique spin?
Check out our Layered Greek Dip, a fresh, Greek-flavored alternative to traditional taco dip. We combine all the flavors of the Mediterranean for an easy, make-ahead party appetizer.
Jump to:
Ingredients
Our Greek dip has - you guessed it - SEVEN layers of goodness made from the Mediterranean-inspired ingredients, including hummus, feta cheese, Kalamata olives, tomatoes and cucumbers.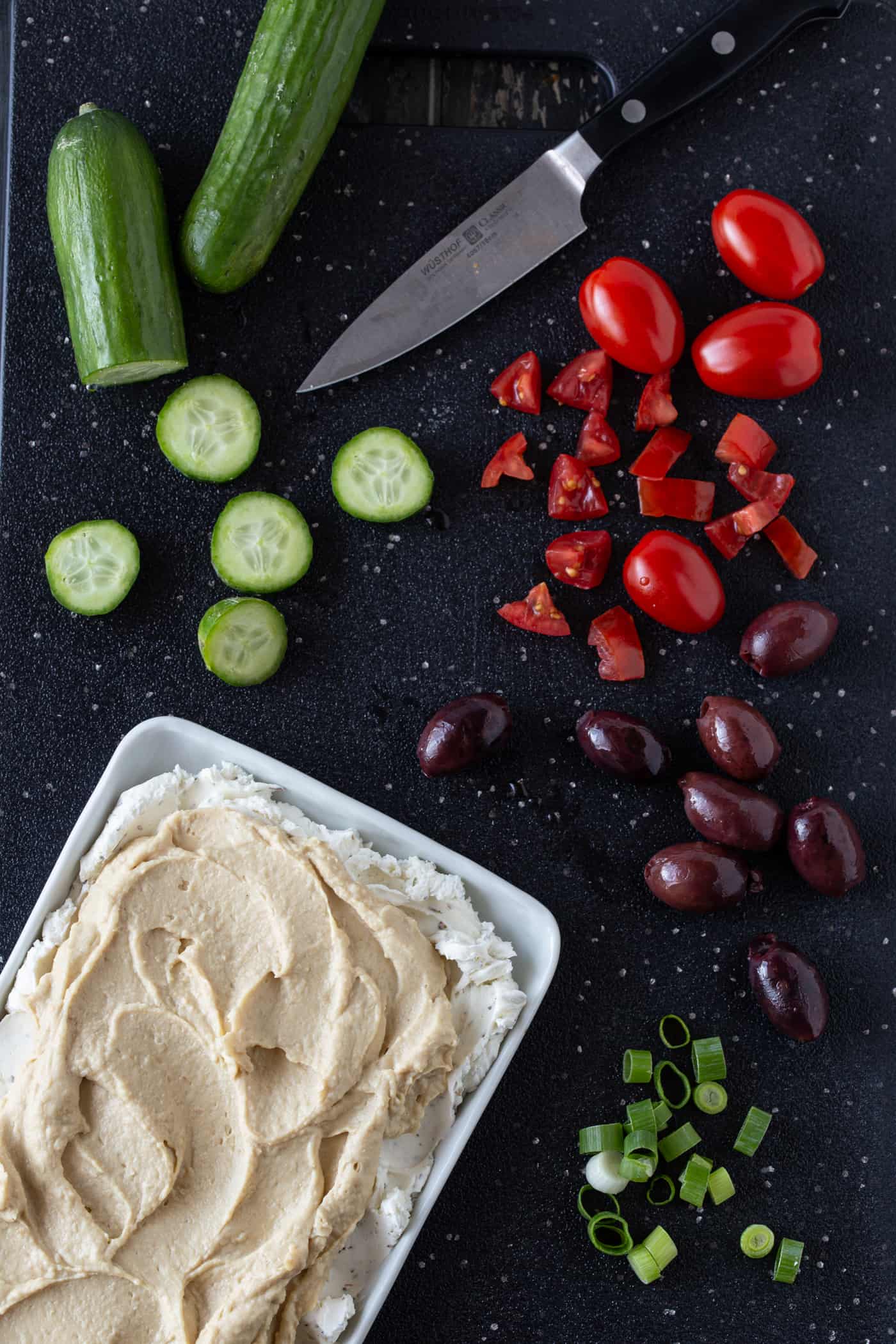 Instructions
If you can spread, chop and dump, consider yourself an expert Layered Greek Dip maker. Follow these steps for making this easy party dip recipe:
1. Pick a serving dish. Most 7-layer dips are made in a shallow, glass casserole dish. That way you can easily eyeball and measure the layers. You can definitely do that with this Layered Greek Dip, but I go another route.
I make this dip on a serving platter or plate and "build" the layers pyramid-style so there is a wider base and a narrower peak. You can still see each layer individually on the platter but building the dip this way gives the whole thing a little more wow factor. Again, no right or wrong here. Purely an aesthetic choice.
2. Use room temperature cream cheese. Softened, or room temperature, cream cheese is so much easier to work with. If you try to mix ingredients into cold cream cheese, you'll end up with a lumpy mess. Save yourself the frustration by taking the cream cheese out of the refrigerator about an hour before you want to make this recipe.
3. Grape tomatoes for convenience. The little salad tomatoes are my go-to for this dip because I almost always have them on hand. Regular tomatoes work equally as well but just be sure to remove as much of the seeds as possible to avoid a watery layer of tomatoes in your dip.
4. Block vs pre-crumbled feta cheese: Is there a difference? The short answer is yes. Although I love pre-crumbled feta cheese for its convenience, there is no question that I prefer block feta for flavor.
Do a side by side test yourself and see what you think! Block feta is usually vacuum packed in brine which keeps it a bit more milky and moist. That little bit of brine also seasons the cheese and imparts extra flavor.
Bonus: block feta cheese is usually less expensive than a similar amount of pre-crumbled feta.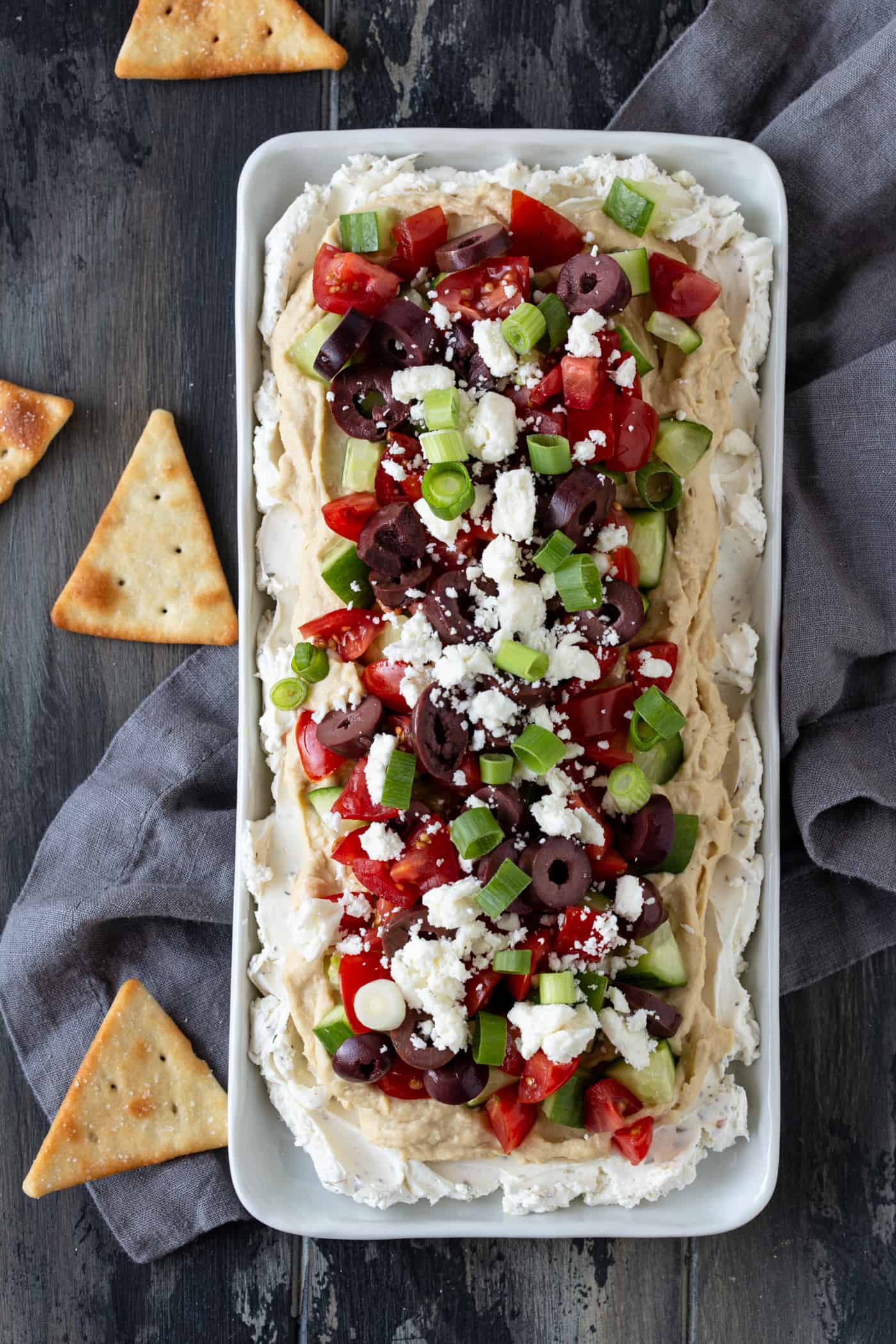 Serving suggestions
While tortilla chips are the go-to dipper for traditional 7-layer dip, this Mediterranean version demands pitas.
If you have extra time on your hands, feel free to toast fresh pita bread wedges to dunk in this dip. Short on time? Tear open a bag of pita chips from the store.
Tip: Toufayan makes a darn good gluten-free pita chip that your gluten-sensitive guests will appreciate.
Make ahead tips
Even with all the layers and fresh veggies, you can definitely make this dip ahead of time. I usually make it a few hours in advance and then keep it covered in the fridge until I'm ready to serve it.
I've also prepped the ingredients separately ahead of time (i.e. chopped the veggies, mixed the cream cheese and crumbled the feta) and then quickly assembled the dip right before guests arrive. Either way works very well!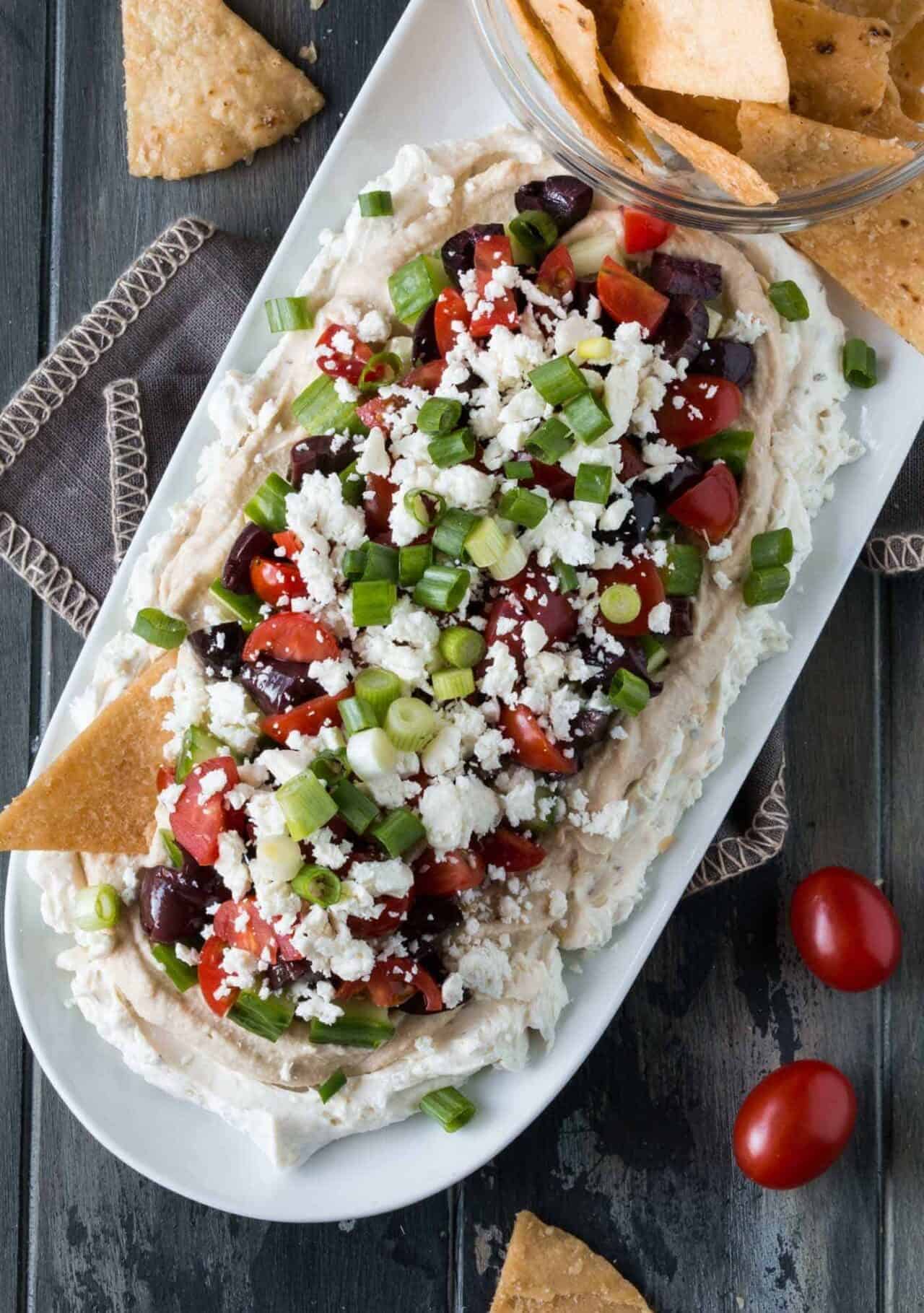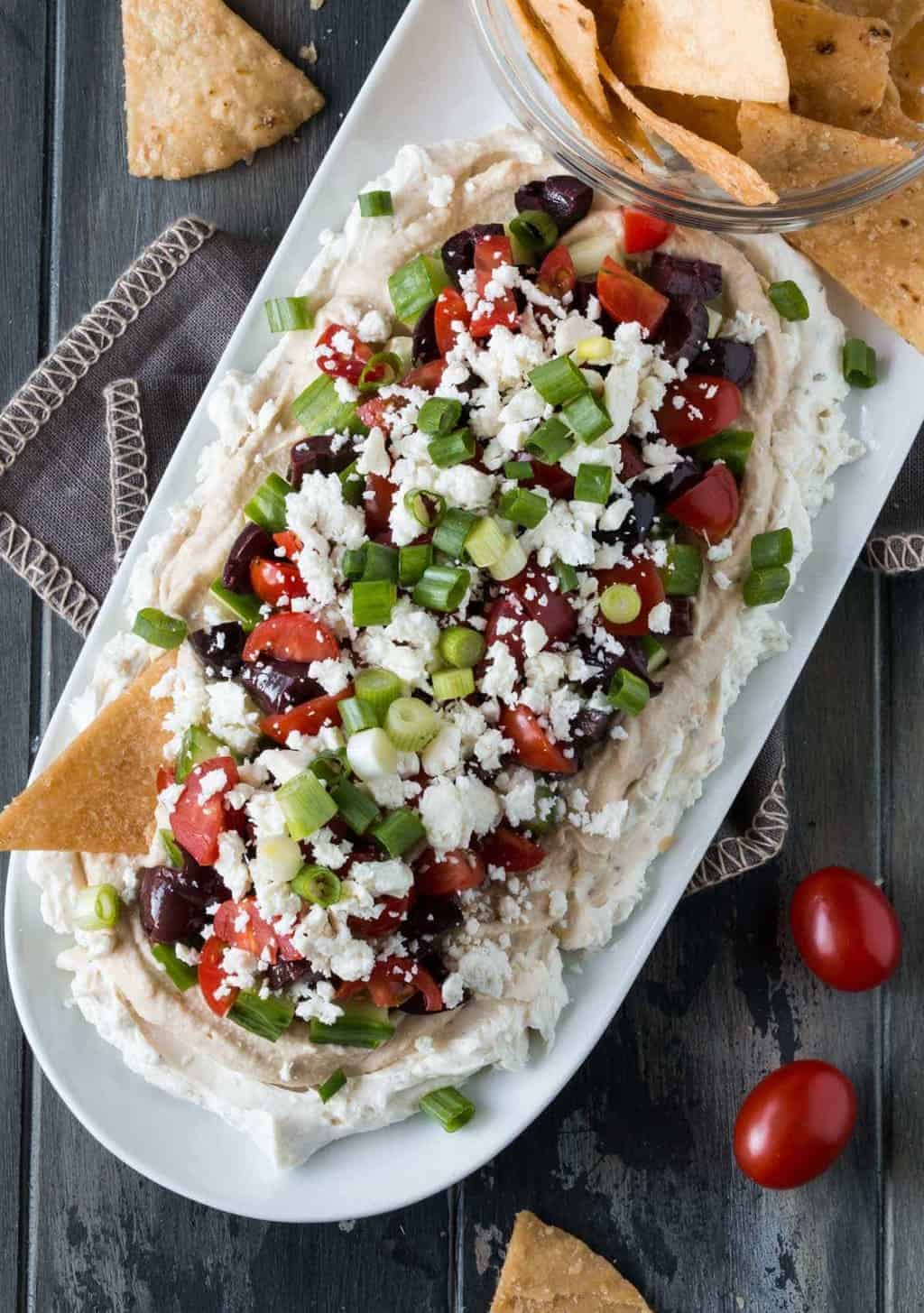 FAQs
What do I do with leftovers?
In the rare event you have leftovers (seriously, it always disappears around here), I have two suggestions:

1) Mix a few scoops of the dip with chopped romaine lettuce for a Greek-inspired salad. Top with additional cucumbers, tomatoes and/or olives.
2) Stir together the leftover dip and spoon it into tortillas. Roll them up, refrigerate for 30 minutes and then slice into pinwheels.
Is there a healthier option to the cream cheese?

The lemon- and herb-flavored cream cheese adds substance and creaminess to this dip. I enjoy it in this recipe because it helps hold up all those tasty veggies. You can easily swap in a light cream cheese for the full fat variety with no issues.

I've also seen other recipes that use whole milk Greek yogurt in place of the cream cheese, but I haven't tried that substitution. My gut says it would be too runny to be made on a platter or serving plate but might work just fine in a shallow casserole. If you try it, please let me know!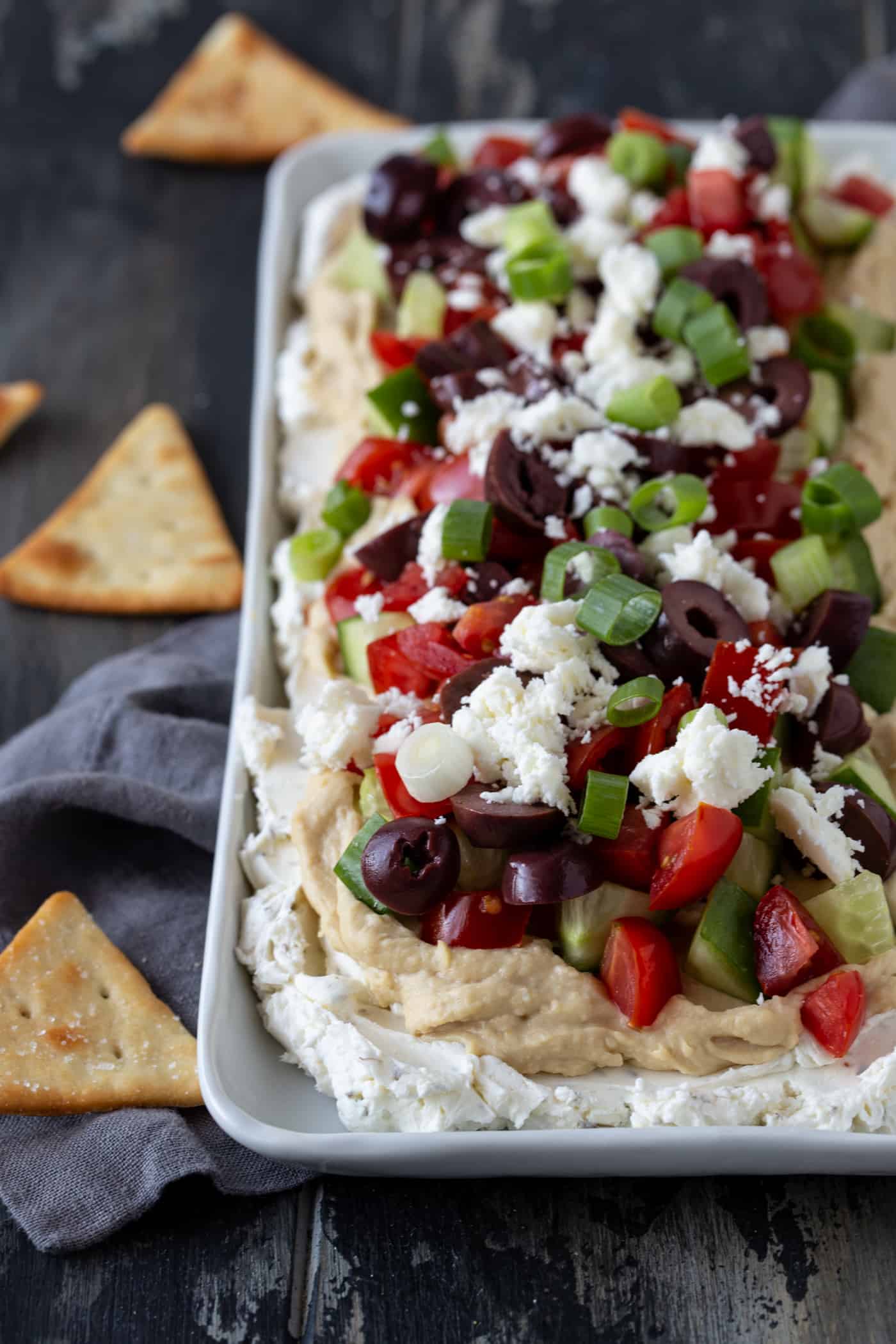 More dip recipes
Good-for-you appetizers don't get much easier than this creamy, healthy Avocado Dip with Greek yogurt. Use a blender & make this healthy snack in minutes!
There's a reason this Chipped Beef Dip recipe a family favorite for years; everyone loves it!
This warm Cheese Dip made with Asiago cheese is an updated, lighter version of a traditional artichoke dip. We love to slather it on baguette slices.
You can make this Lemon Artichoke Dip ahead of time - it's best served cold!
Adding protein-packed chicken to this Taco Dip means eating dip for dinner is completely acceptable.
Special occasions call for special appetizers like this Hot Crab Dip.
You know that one dip that you just can't stop eating no matter how hard you try? This Green Olive Dip recipe gets me every time.
Not all dips are savory! Make a crowd-pleasing dessert in less than 10 minutes with this Cream Cheese Apple Dip recipe.
Check out all of our appetizer recipes in our archives!
Recipe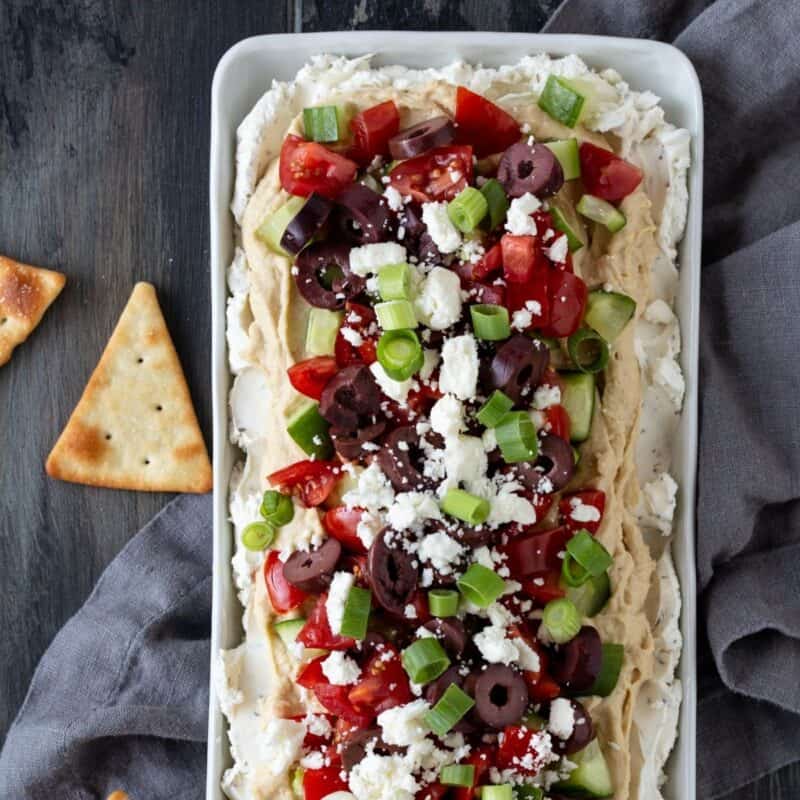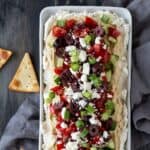 Layered Greek Dip
Need an easy, flavorful appetizer for a crowd? Look no further than this Layered Greek Dip recipe. It's the veggie-packed, Mediterranean version of the popular 7 Layer Dip!
Ingredients
8

ounces

cream cheese

softened

1

tablespoon

fresh lemon juice

1

teaspoon

dried Italian seasoning

2

cloves

garlic

minced

1

cup

prepared hummus

¾

cup

chopped cucumber

¾

cup

chopped tomato

½

cup

chopped pitted Kalamata olives

½

cup

crumbled feta cheese

¼

cup

sliced green onions

Pita chips
Instructions
Add cream cheese, lemon juice, Italian seasoning and garlic in a medium mixing bowl. Beat with an electric mixer until combined.

Spread cream cheese mixture into a serving dish. Spread the hummus on top of the cream cheese mixture then top with the remaining ingredients.

Cover and refrigerate for at least 2 hours and up to 12 hours. Serve with pita chips.
Notes
Feel free to use whatever dish you have on hand: an oval gratin dish, a pie plate, an 8 x 8 or 11 x 7 baking dish or even a large plate or platter.
Nutrition
Serving:
8
tablespoons
Calories:
215
kcal
Carbohydrates:
11
g
Protein:
6
g
Fat:
17
g
Saturated Fat:
8
g
Polyunsaturated Fat:
8
g
Cholesterol:
37
mg
Sodium:
374
mg
Fiber:
3
g
Sugar:
2
g
Nutrition info not guaranteed to be accurate.
Need an easy, flavorful appetizer for a party? Look no further than this make-ahead Layered Greek Dip recipe with pita chips. It's the veggie-packed, Mediterranean version of the popular 7 Layer Dip!