No matter the occasion, a chili bar party is one of the easiest ways to host a group of people. It's affordable, approachable and most everything can be made in advance. Plus everyone loves to pile the toppings on a hearty bowl of chili!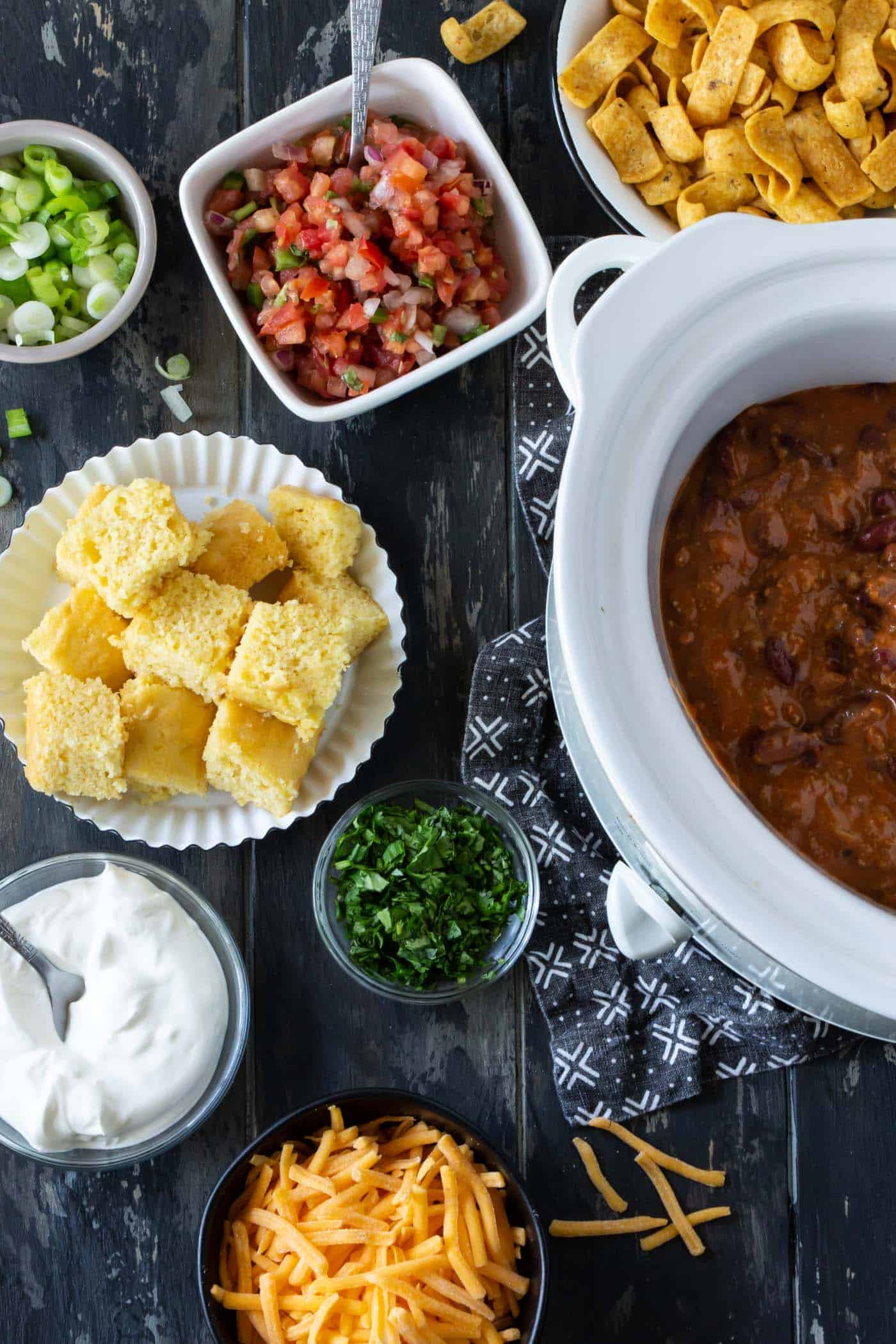 Any football tailgating plans this fall? Or maybe you're up next for dinner with the neighbors. Whatever the event, a Chili Bar Party is a simple and tasty way to feed a crowd.
Nearly everything in a chili bar can be made in advance, making hosting a Chili Bar Party a fantastic option for busy schedules. Check out our tips below for creating an epic Chili Bar Party!
1. Assess your chili party supplies
It goes without saying that you should stock up on napkins for any Chili Bar Party. But do you have enough bowls?
If not, purchase inexpensive melamine or disposable bowls. Just make sure that disposable options are sturdy enough to stand up to a loaded serving of chili.
Since counter space is always at a premium when you're hosting a party, consider using smaller slow cookers to keep your chilis warm. Lisa and I both have this 4-qt model and it's super versatile. It's great for dips and meatballs, too.
2. Offer a few different types of chili
One of the best things about chili is that it always tastes better when it's made a few days beforehand as the flavors have time to mingle and develop.
This is a huge advantage as it gives you time to make a couple recipes to include in your chili spread. Or if time is tight, ask your guests to bring their favorite chili to the party.
This Slow Cooker White Chicken Chili is always a hit with our friends as is this Slow Cooker Chicken Tortilla Soup (not technically a chili but full of the same flavors).
Be sure to also include one vegetarian option in the buffet, too. (Our friend, Aimee, has a recipe that looks super delicious!)
3. What are the best toppings for chili?
The sky is the limit for toppings at a chili bar party. Use our list of options below for inspiration:
Sour cream
Shredded cheese
Fresh cilantro
Chopped green onions
Sliced radishes
Fritos
Chopped avocado
Cornbread or biscuits
Pickled jalapeños
Tortilla chips
Chopped tomatoes or pico de gallo
Food safety note: As with any buffet, set your perishable items, like sour cream, over ice. Nothing fancy is needed here; simply place the bowl of sour cream in a larger bowl filled with ice.
4. Every DIY Chili Bar Party needs a thirst-quenching cocktail
I love to offer at least one signature drink to cool the fires of any five-alarm chili recipe. It's usually made in batch form or have only two or three ingredients so guests can easily make their own at a self-serve drink station.
Our simple Beer Margaritas and Elderflower Hard Cider cocktails make a great chili paring.
Or if you're feeling particularly seasonal, whip up a pitcher of these tasty Cranberry Whiskey Sours in advance and pop it in the fridge until party time.
5. Don't forget dessert!
No self-respecting Chili Bar Party is complete without a sweet treat to end the meal.
Bars and brownies are my go-to for large numbers of guests because they can be made in advance and folks can help themselves.
A platter of these Snickerdoodle Bars, Chewy Peanut Butter Brownies and Coconut Lemon Bars offers something for everyone. Plus you can easily freeze the extras for another party or event if you have any leftovers!
Looking for more chili inspiration? Check out these tasty chili recipes:
Classic Beef Chili - Brown-Eyed Baker
Chili Recipe (No Beans) - Mama Loves Food
Spicy Five Bean Chili with Steak and Sausage - Barefeet in the Kitchen