Make snacking simple with these 3-ingredient, protein-packed Apple Sandwiches with Almond Butter and Granola.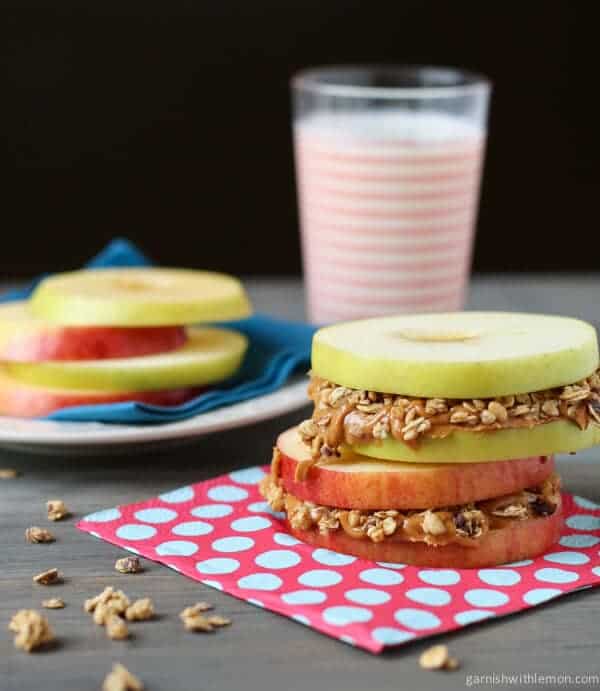 These Apple Sandwiches with Almond Butter and Granola are portable and don't require refrigeration, which makes them ideal for those afternoons when we have errands or appointments right after school.
My kids come home from school completely ravenous. They drop everything (right in the doorway, usually), and make a beeline for the kitchen.
Through trial and error, I've learned that it's pointless to have a meaningful discussion with Bridget about her day until after she's had an after-school snack.
That's why I love these Apple Sandwiches with Almond Butter and Granola. Although they are a snap to whip together, they are totally kid-friendly and pack a protein-rich punch to ensure their bellies stay full until dinner.
These apple sandwiches make great nibbles to have on hand either before or after sports practices. Just a little something to stave off the "I'm going to die of hunger!" complaints.
What's even better is that assembly couldn't be simpler allowing you to have snacks prepared and get out the door as quickly as possible.
Tips
Buy an apple corer: You might want to consider buying an inexpensive apple corer just to make the whole process even easier.
Leave the skin on: I prefer to leave the skin on because it gives you a little something to hold onto instead of the bare apple core. If you truly are an apple skin hater, don't worry, it works just as well with no skin at all.
Try to cut even slices: Cutting even slices will make it a lot easier to match up the same size slices for each half of the sandwich and make it seem more like bread. Think of it as that you wouldn't eat a sandwich with a thick cut bread on one side and a thinly sliced bread on the other.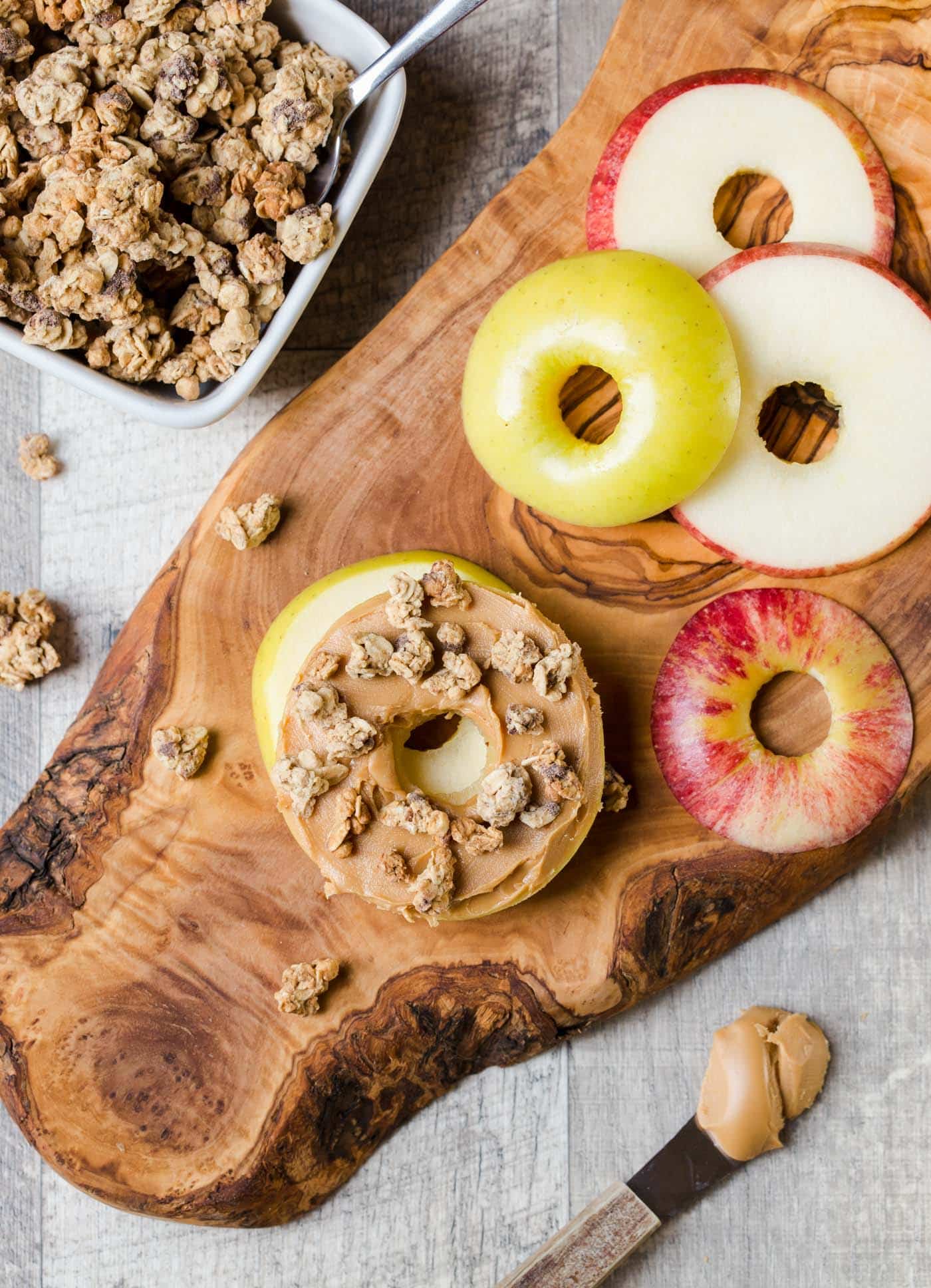 Ingredients
There's so much opportunity to make this recipe your own. From the apple to the granola, and all the almond butter in between, the possibilities are endless when it comes to this beautiful combo.
Pick the Right Apple:
As well all know, there are many apple types to choose from at the grocery store. All with their unique and fun names, it can be hard to decide which apple is right for what you need. Apples come in flavors that range from tart (best for baking) and sweet (best for snacking).
For this recipe, I suggest going with a mid-range apple that's not too tart but isn't overly sweet. Fuji and gala are my personal gotos.
How To Find the Best Almond Butter:
Whether you make your own or pick up a jar at the store, almond butter can be a great alternative to peanut butter, be wary of almond butter with a lot of added flavors and sugars. While those choices make for a tasty product, they can turn a healthy snack into a sugar-filled dessert in no time.
Try to find a jar that only has almonds in the ingredients, and if they are flavored check to see if it's natural flavoring. You don't have to break the bank buying almond butter either. Stores like Aldi and Costco have great options at a fraction of the price others sell it for.
Don't forget about the granola:
The granola in this recipe really takes the cake. So don't just forget about it, or throw in just any old granola you find in the depths of your pantry. Make it something special by choosing your favorite brand at the store, or whipping up a batch at home. Right now we are crushing on the Oats 'n Dark Chocolate Nature Valley Protein Crunchy Granola.
You can also turn this snack into a festive treat with some granola recipes that are perfect for any season.
Salted Chocolate Granola perfect for any time of the year
Pumpkin Granola for fall
Recipe
Apple Sandwiches with Almond Butter and Granola
Need a healthy snack to take on the go? Look no further than these quick & easy Apple Sandwiches with Almond Butter & Granola!
Ingredients
1

apple

cored and sliced into rings

2

tbsp

Almond butter

2

tbsp

Granola
Instructions
Generously spread almond butter on one apple slice.

Sprinkle granola over almond butter and top with another apple slice.

Repeat using remaining apple slices and almond butter.
Nutrition
Serving:
1
g
Calories:
246
kcal
Carbohydrates:
31
g
Protein:
6
g
Fat:
12
g
Saturated Fat:
2
g
Polyunsaturated Fat:
9
g
Sodium:
9
mg
Fiber:
6
g
Sugar:
16
g
Nutrition info not guaranteed to be accurate.
Healthy snacks on the go don't get much tastier or easier than these protein-packed Apple Sandwiches with Almond Butter and Granola!