One of my resolutions was to feed my family more whole grains. And this Mediterranean quinoa salad is the way to do it. I'm lucky that my family loves olives and will eat them in anything. Who wouldn't love a quinoa salad filled with red onion, red pepper, tomatoes, kalamata olives and feta cheese? So many great flavors in one bite and finished off with the freshness of the cilantro….Delish! Quinoa itself doesn't have much flavor; it's what you put with it that gives it the flavor. I've found that letting the quinoa cool to room temperature and then adding the red wine vinegar and olive oil before all of the other ingredients really lets the flavors seep into the quinoa. And a flavorful quinoa salad can't be beat. Serve it for lunch, as a side with dinner or as a quick after school snack. It keeps well in the fridge and can be eaten at room temperature or cold. All great options when trying to please a family. 
My family wasn't big on whole grains, but I have been slowly incorporating more into their meals. And maybe I just haven't given them enough credit, because when I serve it, they eat it. Maybe more of the blame should go on me here. Brown rice, quinoa salad, steel cut oats and couscous all make regular appearances on our table. I'm still looking to do more – what great recipes do you have for whole grains?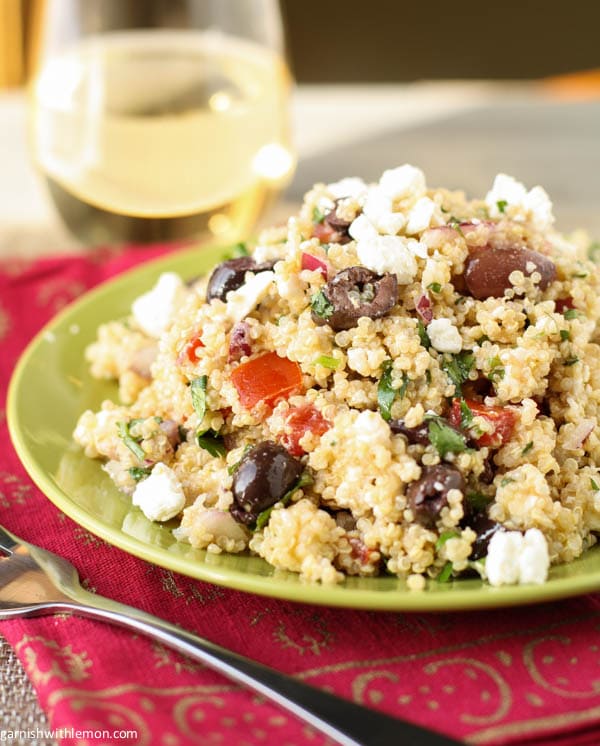 Mediterranean Quinoa Salad
A quinoa salad filled with olives, red onion, tomatoes, and feta cheese.
Recipe type: sides and salads
Serves: 4-6
Ingredients
2 cups water
1 cup uncooked quinoa
⅓ cup red wine vinegar
¼ cup olive oil
1 small red onion, diced
1 red pepper, diced
2 Roma tomatoes, seeded and diced
½ cup chopped kalamata olives
½ cup crumbled feta cheese
½ cup chopped fresh cilantro
1 tsp salt
½ tsp freshly ground pepper
Juice of one lemon
Instructions
Bring quinoa and water to a boil over medium heat. Reduce to a simmer and cook for 15-20 minutes or until water is absorbed in quinoa. Fluff with a fork and cool for 5 minutes.
Add the oil and vinegar and let quinoa come to room temperature.
Add onion, tomatoes, pepper, olives, cilantro, and salt and pepper. Stir gently. Add feta cheese and gently combine. Chill for 2 hours to let flavors combine. Squeeze lemon juice over salad right before serving to brighten flavors.