Chicken with Feta Cheese Sauce is one of our first recipes on Garnish with Lemon – and it's still one of the most popular to date. Come see why so many people love this quick and easy dinner! 
In a hurry and missing an ingredient? Get our free Ingredient Substitution Cheat Sheet.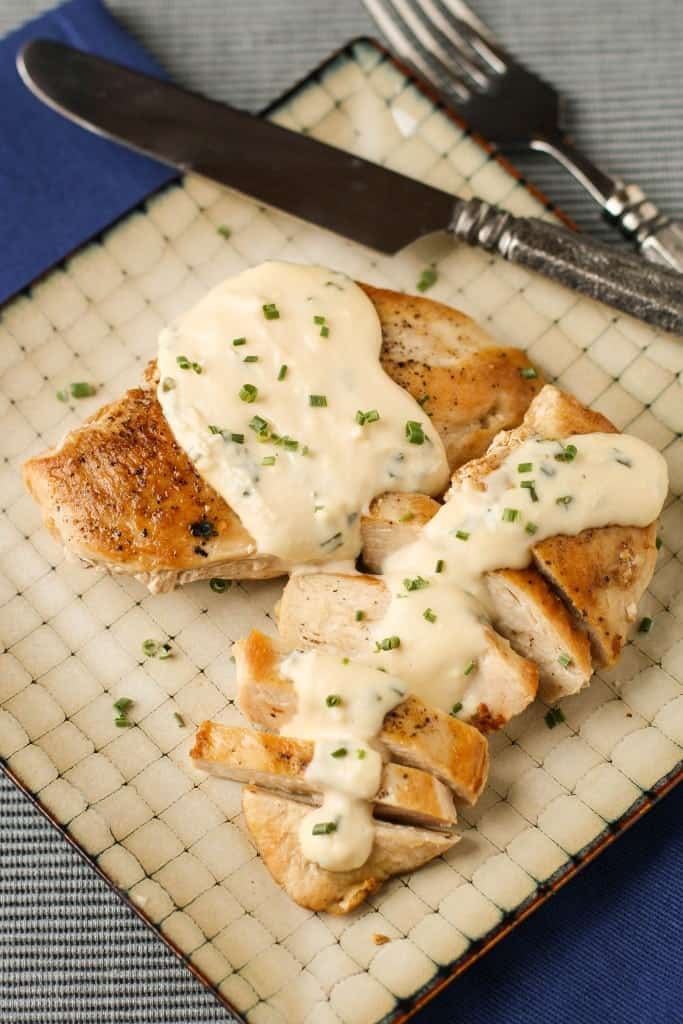 School is officially back in session, and our whole family is getting an education in how to juggle the demands of a new year. The kids came home from the first week of school with glowing reports: "School was so much fun today!" And, "I love my new teacher!" Flash forward a few weeks, and the chorus has changed: "There is so much homework!" "There was no free time at all today – just work time!" I get it; change is hard. Learning new rules, meeting new classmates and teachers, trying new extracurricular activities and adjusting to increased academic expectations is stressful. But as much change as a new school year brings, some things don't change. Like a favorite family meal.
Chicken with Feta Cheese Sauce has long been a crowd-pleaser at my house. It's not super fancy food, and it's not complicated to make, but it's always a hit. This recipe is flexible: throw the chicken on the grill, sear it on the stovetop, or bake it in the oven. The sauce comes together pretty quickly, but you can always make it in advance and reheat at mealtime. My family loves to eat this dish with couscous to soak up the savory sauce, but feel free to improvise with what you have in your pantry. Add a veggie of choice and, voila, dinner is served.
I made this dish for my family the other night after a particularly tough day for my daughter. It's one of those reliable meals that always produces smiles around the dinner table. As we ate and chatted, you saw her shoulders relax and heard her giggles return. Given all the uncertainty of a new school year, chicken can be just what the doctor ordered.
Yes, you guys love Chicken with Feta Cheese Sauce, but we've noticed that you also have a few other favorites. Don't miss three more of our most popular posts on Garnish with Lemon!
Apple Sandwiches with Almond Butter and Granola
Thai Curried Butternut Squash Soup
Crock Pot Ribs
Chicken with Feta Cheese Sauce
Author:
Adapted from Cooking Light
Ingredients
4 boneless, skinless chicken breasts
Olive oil
Salt
Pepper
1 tablespoon butter
4 teaspoons all-purpose flour
1 12-ounce can evaporated milk
2-3 tablespoons fresh chives, chopped
1 cup feta cheese
Instructions
Heat skillet over medium-high heat. Lightly coat chicken breasts with olive oil. Sprinkle with salt and pepper. Add chicken to pan when hot. Cook 4-5 minutes per side or until cooked through. Remove from heat and keep warm.
Melt butter in a saucepan over medium heat. Add flour and whisk constantly for one minute. Gradually add milk, stirring constantly.
Stir in chives and reduce heat to medium-low. Simmer 5-7 minutes or until thick, stirring occasionally.
Add cheese and stir until cheese is melted.
Spoon sauce over chicken.
Notes
You may have extra sauce, depending on how saucy you like your chicken.