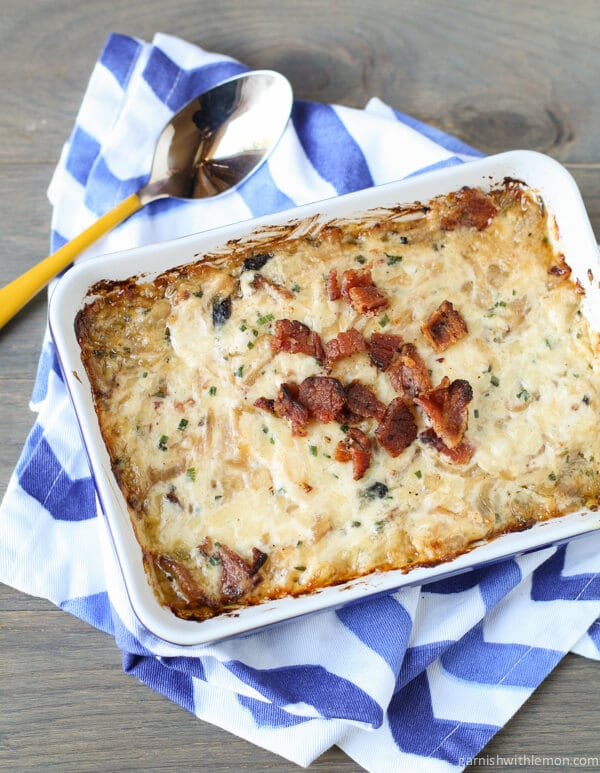 It's the middle of October, and that means it is time for me to start planning for holiday entertaining! And no, I'm not talking Halloween, I'm talking Christmas. Now I am not one of those people who puts their tree up in the beginning of November. No, no, no. I never put it up until the Thanksgiving weekend is complete. But we do have a Holiday Party every year in the beginning of December, and I start planning and cooking for that now. Yup, now. Over the next few months we will be sharing different tips and recipes as to how make holiday entertaining STRESS FREE. Promise. Stay with me. It IS possible.
Each year, I look for new additions to my menu. And man do I have one that is going to be a huge hit this year: Warm Gruyere, Bacon and Caramelized Onion Dip. Um, hello? How can that not be spectacular? The flavors together are a-mazing, and it has just the right cheesiness without being messy. I always strive to have easy to eat foods at the party. And ones I don't have to deal with once guests arrive. This Warm Gruyere, Bacon and Caramelized Onion Dip fits that bill. I can already tell you which two of my friends will be conveniently camped right next to it. (They are very protective of their party food, especially this Chocolate Chip Cheese Ball.) 
How can I say that something with caramelized onions lends itself to easy holiday entertaining when caramelizing the onions themselves takes a while? Trust me, they are perfect because you can make them months ahead. They freeze beautifully, so make them now, pop them in the freezer, and you'll have caramelized onions on hand that you can toss into recipes in no time flat. Recipes like this Flatbread with Goat Cheese and Caramelized Onions. See where I'm going with this? Using the same ingredient in a few dishes and making the appetizers easy for your friends to eat are keys to low-stress holiday entertaining. 
Does holiday entertaining stress you out? It doesn't need to. With some careful planning and menu selection, holiday parties can appear easy peasy…and you can enjoy the party, too.
Have a specific question about holiday entertaining? What kinds of tips would you find most useful?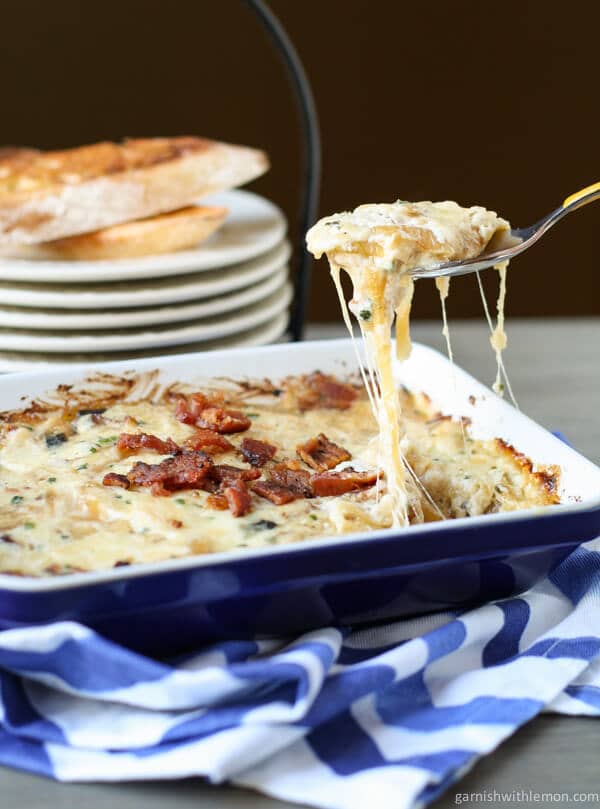 Ingredients
2 tablespoons Olive Oil
31/2 cups chopped onion
1 teaspoon sugar
2 ounces Gruyère cheese, shredded plus additional for sprinkling on top
2 tablespoons chopped fresh chives, divided
1/3 cup canola mayonnaise
1/3 cup light sour cream
1/4 teaspoon salt
1/4 teaspoon black pepper
3 bacon slices, cooked and crumbled
Instructions
Preheat oven to 425 degrees.
Swirl the olive oil in the pan and add the onions. Cook on low for 20 minutes, sprinkle onions with sugar and cook on low for an additional 45 minutes to one hour. Stir occasionally so they don't burn.
In a medium bowl, mix mayonnaise, sour cream, bacon, 1 tablespoon chives, salt and pepper until well mixed. Stir in shredded Gruyere and caramelized onions. Place in one quart baking dish, sprinkle 2 tablespoons Gruyere on top and bake for 20 minutes or until bubbly.
Sprinkle with remaining chives and serve warm with crostini or crackers.
Notes
If you are using frozen caramelized onions, simply thaw and add to the rest of the ingredients before baking.
http://www.garnishwithlemon.com/warm-gruyere-bacon-and-caramelized-onion-dip/