Don't let zucchini season pass you by without making this irresistible Zucchini Bread with Craisins and Vanilla Bean Glaze.
I know you may already have a favorite zucchini bread recipe at your house. Zucchini bread is kind of like banana bread; once you find a winner, why mess with success? But this version – Zucchini Bread with Craisins and Vanilla Bean Glaze – is totally worth a test drive. And since I know you have zucchini to spare this time of year, you can totally afford to experiment a bit.
What makes this quick bread so noteworthy? Let's start with the tangy dried cranberries. They are a bit of an unexpected addition to the bread, but they fit in so well with the warm cinnamon and spicy nutmeg. The shredded zucchini gets some help from Greek yogurt to keep the bread moist while still giving it a nice crumb. But the proverbial "cherry on top" is definitely the pure vanilla bean glaze. It's just the right amount of sweetness for each bite.
So get baking and let me know what you think. Who knows? You may just discover a new favorite.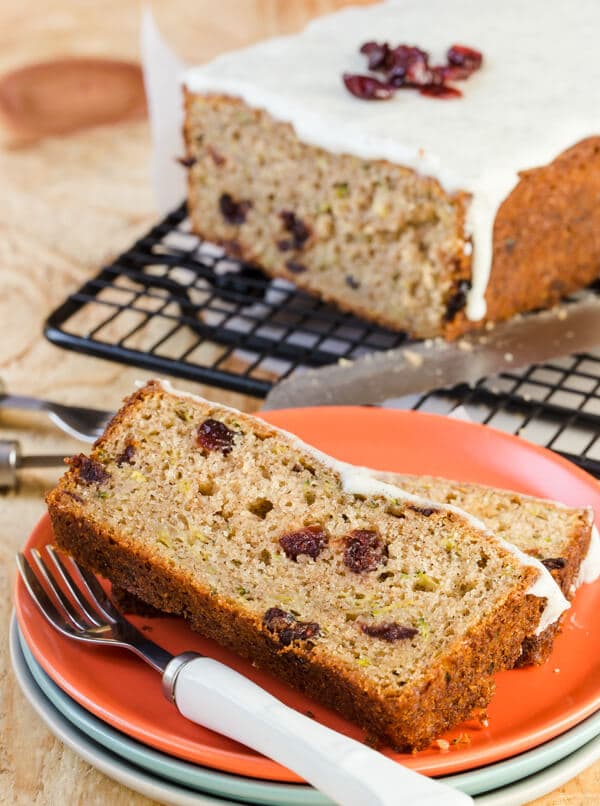 Zucchini Bread with Craisins and Vanilla Bean Glaze
Ingredients
Bread
11/4

cups flour

3/4

cup granulated sugar

1

teaspoon baking powder

1

teaspoon salt

1/2

teaspoon baking soda

1

teaspoon cinnamon

3/4

teaspoon grated nutmeg

1

cup craisins

1

stick unsalted butter, melted and cooled

2

large eggs

1/2

cup Greek yogurt

1

teaspoon vanilla extract

1

cup shredded zucchini, squeezed to remove most of moisture
Glaze
1

cup powdered sugar

1

- 2 tablespoons milk

1

vanilla bean, split in half and seeds scraped
Instructions
To make the bread:
Preheat the oven to 350 degrees. Grease the inside of a loaf pan.
Whisk the first seven ingredients (flour through nutmeg) together in a large bowl. Stir in the craisins.
In another bowl, stir together the butter, eggs, greek yogurt and vanilla extract. Stir in the zucchini.
Gently fold together the wet and dry mixtures until they are just combined.
Pour the batter into the loaf pan and bake for about 50 minutes or until toothpick inserted in the center of the bread comes out clean.
Cool for 30 minutes in the pan on a cooling rack then remove from pan to cool completely.
To make the glaze:
Whisk the powdered sugar, milk and vanilla in a bowl until smooth. Pour over the zucchini bread and let set for 30 minutes.
Recipe Notes
You may need to add more or less milk to get the glaze the consistency you want. Start slowly and add more as needed.
Did you make this recipe? We'd love to see it! Snap a pic of your creation and tag it #GarnishWithLemon. We might even feature your photo on social media!