Add a handmade, personal touch to your gift giving this year. These White Chocolate, Cherry and Almond Biscotti make excellent food gifts!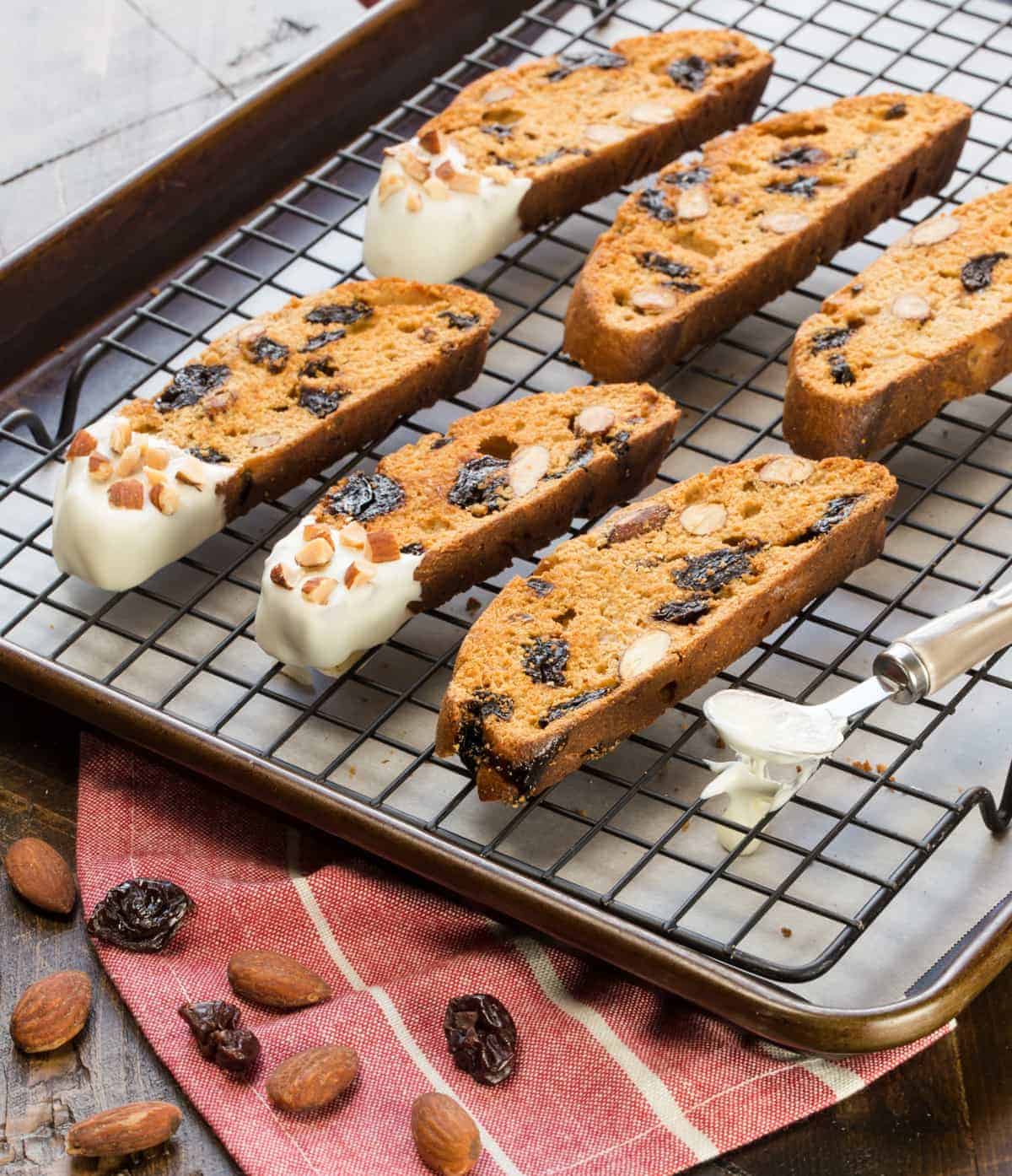 So we've been at this blog thing for over three years now, and we have yet to include a single biscotti recipe on Garnish with Lemon. How did that happen? Biscotti are one of my favorite afternoon snacks, and they make some of the best food gifts for friends, teachers, bus drivers, etc. I am a huge fan of anything cherry and almond, so it seems only fitting that our inaugural biscotti recipe be these White Chocolate, Cherry & Almond Biscotti.
For the biscotti-novice, these biscuits are actually baked two times to achieve their crunchy goodness. But before you decide that baking anything twice is too much work, let me point out that you can prep the dough and chill it for up to two days before you bake the biscuits. (Given how crazy the holidays can be, we appreciate every bit of flexibility we can get.) Plus, much of the charm of biscotti lies in their rustic, homey appearance. Perfect corners or fancy icing need not apply.
The white chocolate is completely optional with these biscotti, but c'mon, how can you say no? I sprinkled a few chopped up almonds on the end of the dipped biscotti just to pretty them up a bit.
The irresistible combination of the white chocolate, dried cherries and roasted almonds is perfect for gift giving. Just don't forget to treat yourself to a few, too.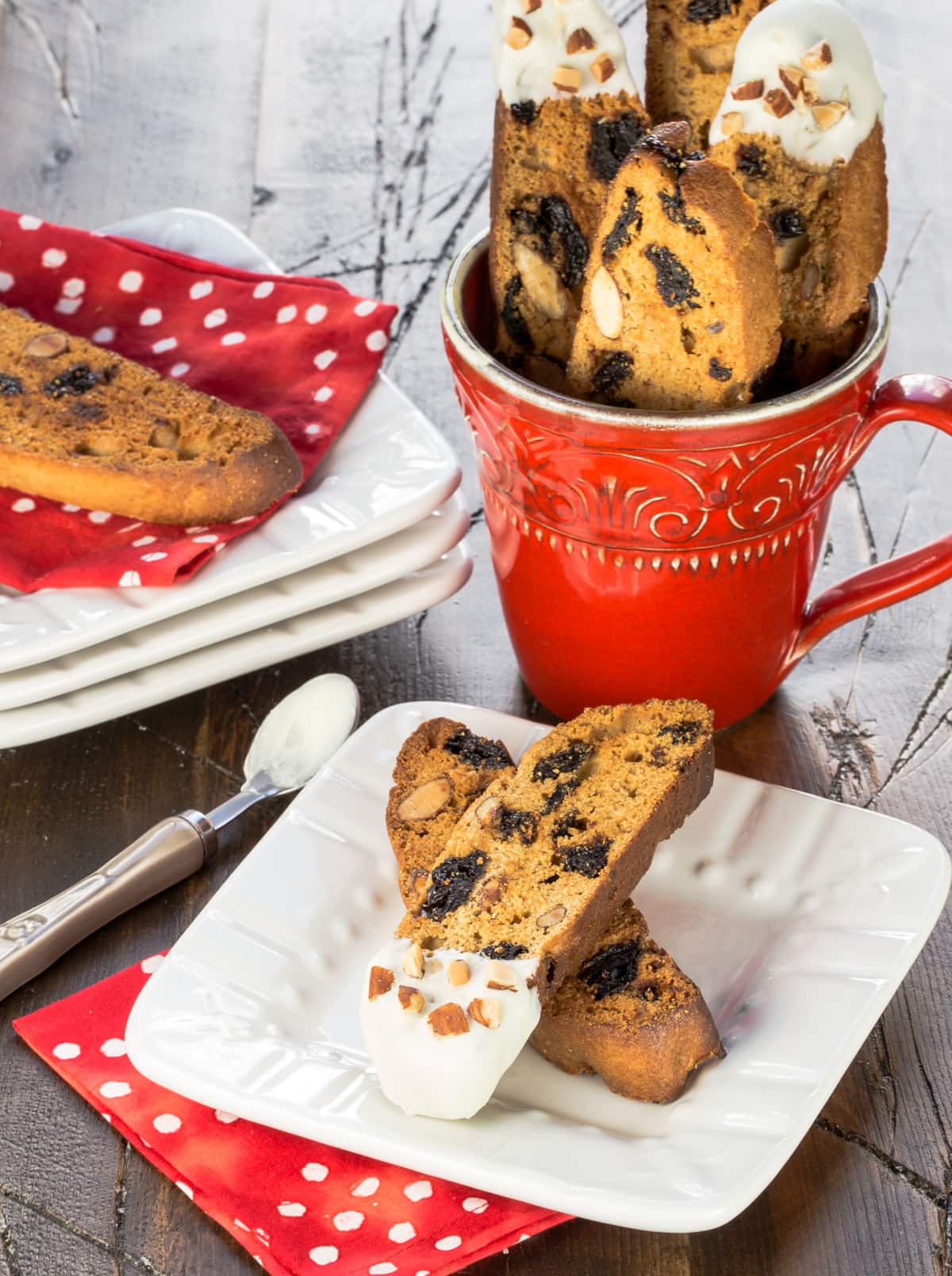 Recommended Equipment & Ingredients
Yield: 15-18
White Chocolate, Cherry and Almond Biscotti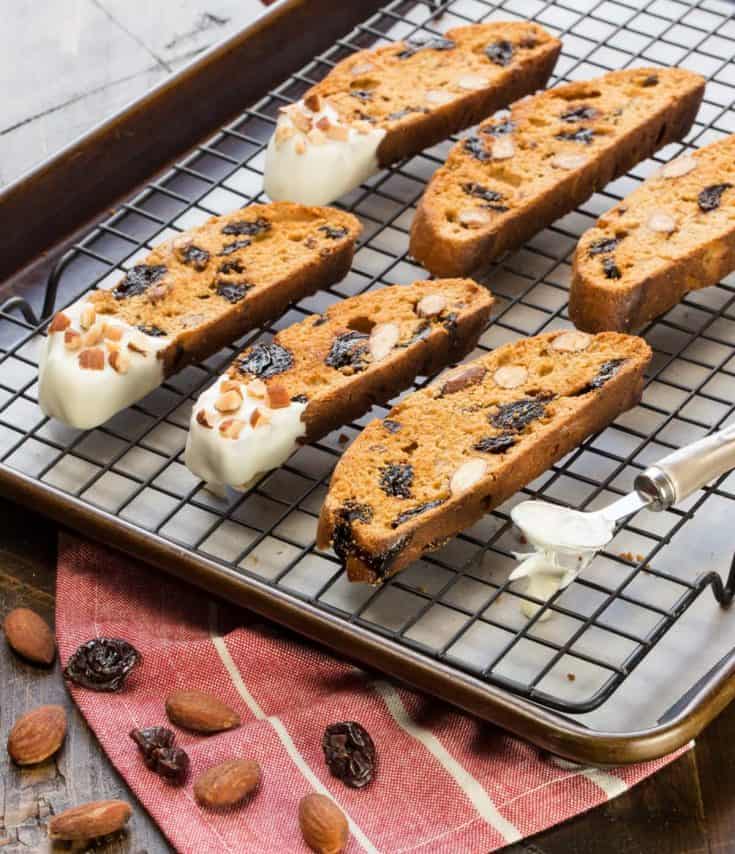 Prep Time
4 hours
45 minutes
Cook Time
1 hour
5 minutes
Total Time
5 hours
50 minutes
Ingredients
Biscotti:
1 cup whole wheat flour
1 cup all-purpose flour
1/3 cup light brown sugar
1 teaspoon baking powder
1/4 teaspoon salt
2 eggs, beaten
1/3 cup milk
3 1/2 tablespoons olive oil
2 tablespoons honey
1/2 teaspoon almond extract
1 cup dried cherries
1/3 cup roasted almonds
Chocolate garnish:
3/4 cup white chocolate chips
1 1/2 teaspoons coconut oil
Chopped almonds for garnish, optional
Instructions


To make the biscotti:


Stir together flours, brown sugar, baking powder and salt in a large bowl. Set aside.
Place eggs, milk, oil, honey and almond extract in a small bowl and whisk together. Add the wet ingredients to the dry ingredients and stir until just combined. Gently fold in the cherries and roasted almonds.
Scoop the dough into a rough log shape onto a large piece of plastic wrap. (It will be very sticky.) Fold over one edge of the plastic wrap onto the dough and gently mold it into a log about 12 inches long and 2-3 inches wide. Wrap completely with rest of plastic wrap and refrigerate for at least 4 hours or up to 2 days. (I chilled mine for at least 1 day.)
Preheat oven to 350 degrees.
Unwrap dough and place it on a parchment lined baking sheet. Bake for 30-35 minutes. Cool completely on a wire rack.
Preheat oven to 325 degrees. Slice the biscotti log into 3/4" thick pieces using a serrated knife. (I ended up with about 17 pieces.) Place biscotti slices on their sides on a parchment lined baking sheet and bake for 15 minutes. Flip the slices over and bake for another 15 minutes or until golden brown. Remove from pan and cool completely on a wire rack.
To make the chocolate garnish:


Place chocolate chips and coconut oil in a heatproof bowl. Microwave for 60 seconds on medium power. Stir and microwave in 30 second increments until fully melted. Dip ends of biscotti in white chocolate and sprinkle with chopped almonds. Place on wire rack to dry.
Notes
Store in an airtight container.