Get your own slice of island life with this Tropical Fruit Pizza with Coconut Cream Cheese Frosting!
My grocery store had a major sale on tropical fruit a few weeks ago. I shook my head in disbelief at the artfully arranged display of warm-weather pineapples, mangos and papayas as snowflakes fell right outside the grocery store doors. Seemed a bit out of place to me. But as I shopped, my mind kept wandering back to our Hawaiian vacation the year before, and all the gorgeous fruit we enjoyed during our time there. Needless to say, I made a beeline right back to the produce section and filled my cart. (If you can't beat 'em, join 'em, right??) We enjoyed reliving our vacation all week long with tropical fruits at nearly every meal and culminated our Hawaiian "staycation" with this Tropical Fruit Pizza with Coconut Cream Cheese Frosting. 
What's not to love about fruit pizza? Tender sugar cookie crust, a rich cream cheese frosting and sweet bites of fruit on top. Plus they are easily adapted to whatever fruit is in season at the moment. This sugar cookie base is simply my mom's tried and true recipe that she's made for years. It's my favorite, but also know that a refrigerated cookie dough works just fine, too.
As a nod to my tropical theme, I added some sweetened cream of coconut into my cream cheese frosting. It's a subtle flavor but a perfect partner for the juicy pineapple, mango, papaya and kiwi. I also shaped the cookie into a roundish shape by hand because I don't own a pizza pan (What?! Odd, I know).  
This Tropical Fruit Pizza with Coconut Cream Cheese Frosting is great for groups and is easy to make ahead of time, too. Simply bake the cookie and make the frosting a few days beforehand, slice the fruit the night before the party and assemble the cookie before guests arrive. 
Easy AND beautiful; that's my kind of entertaining. The only thing that would make this better is if I was entertaining IN Hawaii….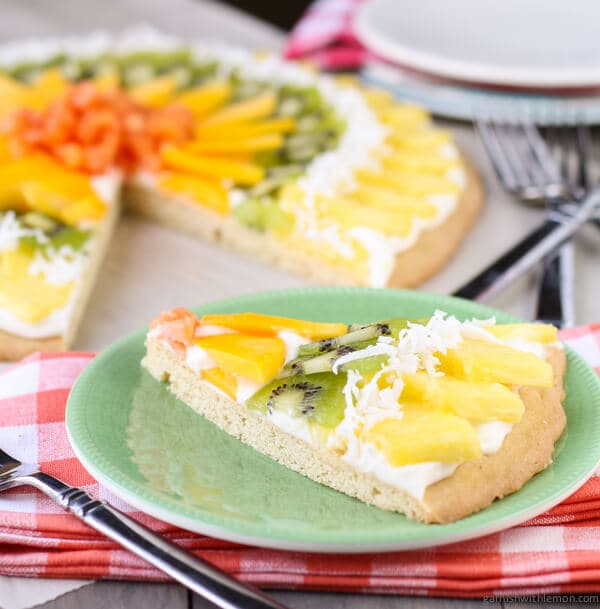 Tropical Fruit Pizza with Coconut Cream Cheese Frosting
10-12
adjust servings
Ingredients
Cookie Crust
3/4

cup powdered sugar

1/2

cup butter, softened

1

egg

1

teaspoon vanilla

1 1/4

cups flour

1/2

teaspoon baking soda

1/2

teaspoon cream of tartar
Coconut Cream Cheese Frosting
8

ounces cream cheese, softened

4

tablespoons butter, softened

2/3

cup powdered sugar

1/4

cup cream of coconut, stirred well
Toppings
1/2

pineapple, cored and sliced thinly

2

kiwi fruit, peeled and sliced thinly

1

mango, peeled and sliced thinly

1/2

papaya, peeled, seeded and diced

3-4

tablespoons sweetened flaked coconut
Instructions
To make the crust:
Place powdered sugar, butter, egg and vanilla in a mixing bowl. Beat until creamy. Whisk together flour, soda and cream of tartar and add it to sugar mixture. Mix until just combined. Cover and refrigerate for an hour.
Preheat oven to 375 degrees. Place cookie dough on a Silpat or piece of parchment and roll flat (You may need to sprinkle on some flour when rolling to prevent the dough from sticking to the rolling pin). Shape into a 12-inch round and place on a baking sheet. Bake for 20-24 minutes, or until just starting to brown on the edges. Remove from oven and cool completely.
To make the frosting:
Place cream cheese, butter and powdered sugar in a bowl and mix until creamy. Pour in cream of coconut and mix until well combined. Refrigerate until ready to use.
To assemble the pizza:
Evenly spread frosting over crust. Place fruit as desired. Refrigerate until ready to serve.
Recipe Notes
Cream of coconut is often located in the Latin food section of your grocery store. You can use the remainder of the cream of coconut in a variety of recipes, including curries, other desserts and tropical drinks. Just ask Google for ideas.
Did you make this recipe? We'd love to see it! Snap a pic of your creation and tag it #GarnishWithLemon. We might even feature your photo on social media!