This Tres Leches Cake balances the warm flavors of cinnamon and cloves with fresh strawberries and just a dollop of sweetened whipped cream. 
My daughter is a Cinco de Mayo baby. At 11, she's grown past the themed party phases of her early years (so long Disney princesses and Fancy Nancy) and moved into more "sophisticated" party ideas (which is code for whatever it takes to get her a cell phone). Oddly, we've never done a Cinco de Mayo themed event for her. That might need to change after trying this Tres Leches Cake with Strawberries. 
For the Tres Leches newbies out there, this cake takes its name from a combination of three milks – evaporated milk, condensed milk and heavy cream – that is poured over the cake after it finishes baking. The cake is refrigerated and soaks up the extra moisture, so you're left with a rich, moist (obviously), homey cake. This recipe is a bit unique from others as a cinnamon stick and whole cloves are steeped with the three milks, giving the cake a warm, spicy flavor. Also, this cake is not completely frosted with whipped cream like many others. All personal preferences, but I loved how a few sweetened strawberries added freshness and chew to balance out the rich cake, and a dollop of whipped cream was the perfect amount of frosting for me. 
Are there any Cinco de Mayo parties in your future? Stay with us this week as we'll have more Mexican themed recipes coming your way to help you plan your fiesta!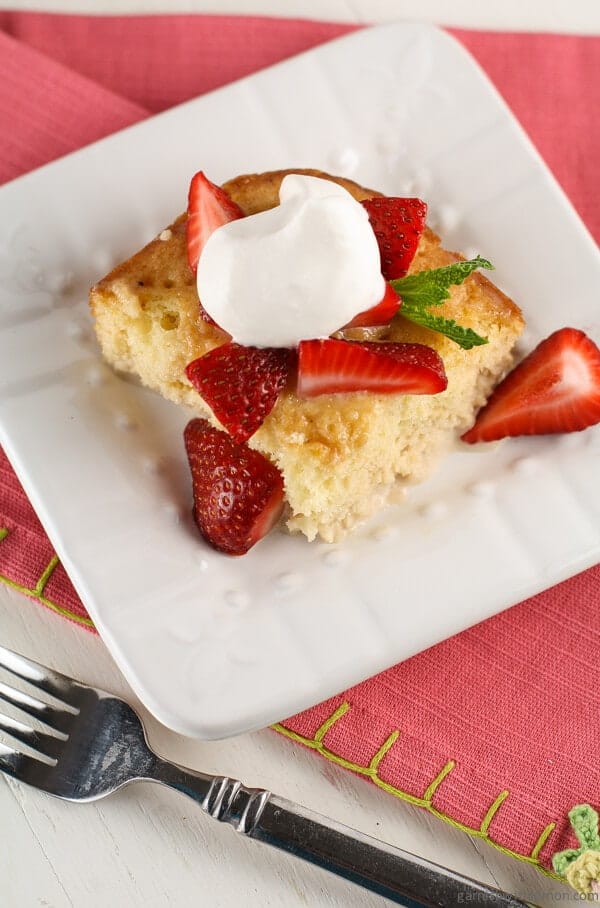 Tres Leches Cake with Strawberries
12
adjust servings
Ingredients
1 1/2

cups all-purpose flour

2

teaspoons baking powder

1/2

teaspoon salt

3

large eggs, room temperature

1

cup sugar

2

teaspoons vanilla extract, divided

1/2

cup whole milk, room temperature

1 1/2

cups heavy cream

1

(12-ounce) can evaporated milk

1

cinnamon stick

2

whole cloves

1

(14-ounce) can sweetened condensed milk

1/2

teaspoon ground cinnamon

1

pound strawberries, quartered

3

tablespoons sugar

Sweetened whipped cream
Instructions
Preheat oven to 350 degrees. Lightly grease a 9 x 13 baking pan. Set aside.
Combine the flour, baking powder and salt in a small bowl. Whisk to combine and set aside.
Place the eggs, 1 cup sugar and 1 teaspoon vanilla extract in the bowl of a stand mixer. Using the paddle attachment, beat egg mixture on medium high speed until it is light and fluffy (around 12 minutes). Lower the speed of the mixer and add half of the flour. Gradually add the whole milk and the rest of the flour mixture until just combined.
Pour the cake batter into the prepared baking pan and bake for 22-26 minutes, or until the top of the cake is lightly browned and the center springs back when you touch it. Allow cake to cool for at least 30 minutes.
Pour the heavy cream and evaporated milk into a medium saucepan and whisk to combine. Add the cinnamon stick and cloves and bring to a boil over medium heat. Reduce the heat to low and simmer for 3 minutes. Remove the pan from heat, cover and let steep for 10 minutes.
While the cream mixture is steeping, add condensed milk, ground cinnamon and remaining teaspoon of vanilla extract to a medium bowl. Whisk to combine. When cream mixture is done steeping, gently add it to the condensed milk mixture and stir well. Let cool for 20 minutes.
Poke holes all over the cake with a fork. Evenly pour the milk mixture over the entire cake. Cover cake and refrigerate for at least 4 hours or overnight.
Before serving, combine strawberries and 3 tablespoons sugar and allow to sit for at least 20 minutes. Cut cake and serve with strawberries and a dollop of whipped cream.
Did you make this recipe? We'd love to see it! Snap a pic of your creation and tag it #GarnishWithLemon. We might even feature your photo on social media!