Don't forget to save a box of your Girl Scouts cookies for this Thin Mint Chocolate Chip Ice Cream Pie.

Raise your hand if you were a Girl Scout. 
I knew there would be a lot of you. 
I was never a Girl Scout. My daughter wasn't interested, either. Secretly, I always thought their uniform sashes were alluring and the after-school meetings sounded cool, but not enough to make me want to commit to the club. But one Girl Scout tradition that I never pass up is cookie season. Do you have a favorite cookie? I love Samoas, but Thin Mints-in-the-freezer (yes, they MUST be kept in the freezer) are top notch, too, so it makes only perfect sense that I profess my love for frozen cookies with this Thin Mint Chocolate Chip Ice Cream Pie. 
Ice cream pie as a whole is a little putzy but not hard, and the end result is always worth the effort. Thin Mints are crushed up and mixed with a bit of butter to make a crunchy, minty crust. I used two different ice creams – chocolate and mint chocolate chip – because I have major chocolate lovers in my house, but you can switch it up to use as many or few flavors as you like. And because gluttony loves company, a healthy dose of hot fudge sauce is nestled in between the ice cream layers.
Do Girl Scouts make ice cream pie in those top-secret, sash-wearing meetings? If they don't, they should. I'd be first in line to sign up for that club. 
Thin Mint Chocolate Chip Ice Cream Pie
8
adjust servings
Ingredients
25

Thin Mint cookies

4

tablespoons butter, melted

1

pint chocolate ice cream

3/4

cup hot fudge sauce

3

pints mint chocolate chip ice cream

extra Thin Mints for garnish
Instructions
Place Thin Mints in the bowl of a food processor and pulse until finely ground. Combine cookie crumbs and melted butter in a small bowl and mix until thoroughly combined. Press into a 9-inch pie plate. Freeze for at least 1 hour.
Soften chocolate ice cream to a spreadable consistency and spread in cookie crust. Freeze for at least 3 hours. (You want this layer frozen solid so the warm fudge sauce doesn't melt it.)
Gently warm hot fudge until just pourable and pour over chocolate ice cream layer. Freeze for at least 2 hours.
Soften 1 pint of mint chocolate chip ice cream to a spreadable consistency and layer over hot fudge. Freeze at least 1 hour.
Scoop remaining mint chocolate chip ice cream into balls and place on top of pie. Garnish with extra Thin Mints, if desired. Freeze at least one hour.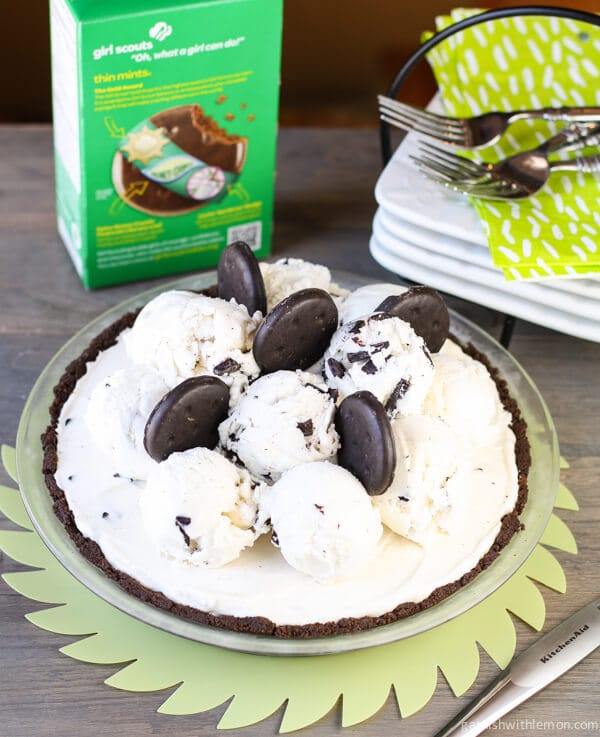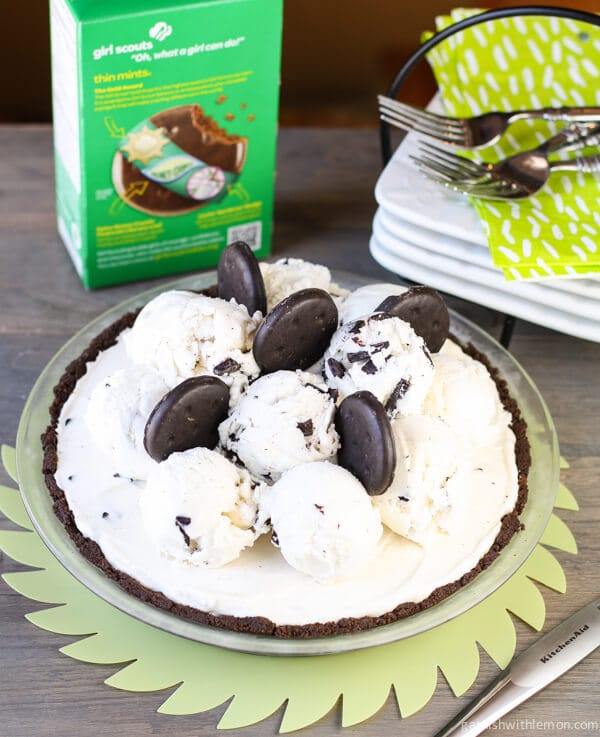 Did you make this recipe? We'd love to see it! Snap a pic of your creation and tag it #GarnishWithLemon. We might even feature your photo on social media!