Zesty chorizo sausage is tucked into this gorgeous sweet potato breakfast hash and topped with a sunny side up fried egg.

 
If you have been a regular Garnish with Lemon reader, it's no secret that I love breakfast food. I'm usually good during the week and start my day with either a smoothie or some Greek yogurt topped with granola. And don't get me wrong; I love those breakfasts. They are satisfying and healthy, to boot. But I live for breakfast on the weekends. That's when I go a little crazy. Especially this time of year when we have a slight lull in our kids' sporting activities. We don't need to be anywhere on Saturday mornings for games, and there are no practices that someone is running off to (well, at least not for a few more weeks). 
Kevin makes breakfast for me most weekend mornings (double win), but sometimes I get my hands dirty in the kitchen, too. Last weekend, we had this Sweet Potato Hash with Chorizo and Green Pepper. But what hash is complete without a fried egg on top? Talk about out-of-this-world flavor! And the runny egg yolk? That, my friends, is my idea of heaven on a plate.
While this Sweet Potato Hash with Chorizo and Green Pepper is a great breakfast, it also makes a killer breakfast-for-dinner option. It's filling, flavor-packed and just a little out of the ordinary.
In my defense, when I indulge in huge breakfasts like this on the weekend, I skip lunch. Brunch is my happy place. The crisp sweet potatoes, crunchy green pepper, smoky rosemary and zesty chorizo sausage flavors blend perfectly with the runny yolk oozing through the dish. It's pretty much a magical meal. The hearty sausage makes it more filling than some breakfasts. so it can carry me until dinner without a grumbling stomach. Add a Bloody Mary and some fruit and you have yourself a killer brunch. A perfectly blissful way to spend a lazy Saturday morning.
Does anyone have the newspaper?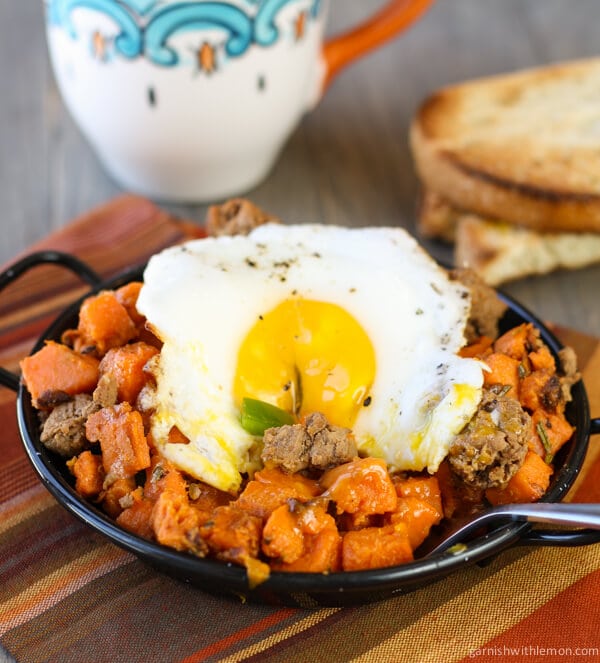 Sweet Potato Hash with Chorizo
4
adjust servings
Ingredients
2

large sweet potatoes, peeled and cut into 1/2-inch pieces

1/2

pound chorizo sausage

1

green pepper, chopped

1

small onion, chopped

1

clove garlic, thinly sliced

1

teaspoon fresh rosemary, chopped

Salt and pepper to taste

4

eggs, fried
Instructions
Bring a medium-sized pot of water to a boil and add diced sweet potatoes. Boil for 4 minutes or until potatoes are just tender. Drain well. (This will speed the frying process.)
Add the sausage to a large skillet and cook over medium heat until browned and crumbly, about 10 minutes. Remove sausage from pan and set on paper towels to drain.
Add the bell peppers, onion and garlic and cook until softened and fragrant, about 5 minutes. Add the sausage, rosemary and sweet potatoes and cook for 5 minutes more or until potatoes are at desired doneness.
Season to taste with salt and pepper.
While the hash is finishing up, fry eggs to desired doneness in another frying pan.
To serve, place a spoonful of hash on a plate and top with a fried egg. Serve immediately.
Did you make this recipe? We'd love to see it! Snap a pic of your creation and tag it #GarnishWithLemon. We might even feature your photo on social media!