Showcase some of spring's best colors and flavors with these Sugar Snap Pea Crostini with Goat Cheese and Arugula!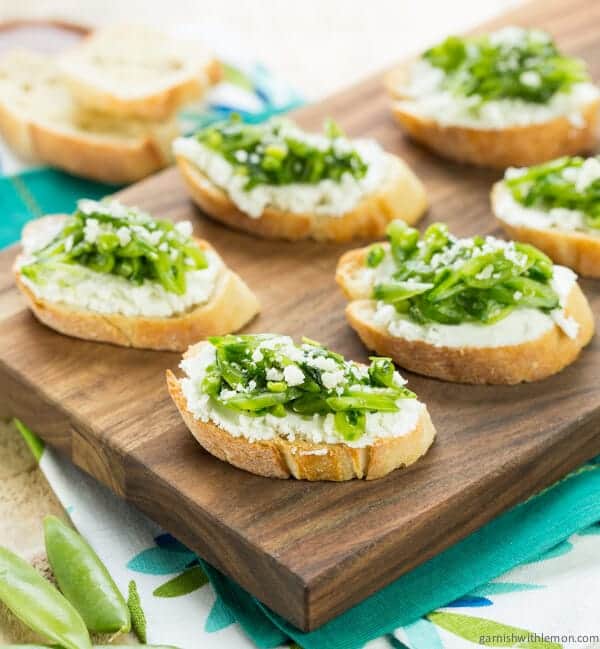 Spring is definitely my favorite season. There is just something so refreshing and invigorating about watching everything come to life again.
Bridget was born in early May, and I will always remember how vividly green the trees and leaves seemed when we drove home from the hospital. (Pat might argue that it was the post-delivery drugs talking, but let's not rain on my parade, OK? It's a really nice memory for me.) Total food nerd confession here, but I get nearly the same giddiness when seasonal foods come back to market. A whole new palette of colors and flavors to choose from makes munchies like these Sugar Snap Pea Crostini with Goat Cheese and Arugula absolutely irresistible to me.
It's one thing to be drawn in by their gorgeous green hue, but these crostini have a really fresh flavor combination going that just screams spring. Think sweet sugar snap peas, basil, mint and peppery arugula. Spread some creamy goat cheese on a toasted crostini, top it with a spoonful of these bright greens and then sprinkle a small bit of salty grated Parmesan cheese on top. Perfect munchies for a party or shower!
Now if only my muddy, brown backyard would magically transform itself into something half as pretty as these crostini…
Yield: 10-12
Sugar Snap Pea Crostini with Goat Cheese and Arugula
Sugar snap peas are a fun twist to your typical bruschetta toppings.
Ingredients
1 baguette, sliced thinly
Extra-virgin olive oil
1/2 pound sugar snap peas, thinly sliced on a diagonal
2 large handfuls of arugula, chopped
1 1/2 tablespoons freshly chopped mint
1 1/2 tablespoons freshly chopped basil
2 teaspoons extra-virgin olive oil
Salt and pepper
8 ounces goat cheese, softened
1/4 cup grated Parmesan cheese
Instructions
Preheat oven to 400 degrees.
Place baguette slices on a baking sheet. Brush or spray with olive oil. Bake for 7-10 minutes or until golden. Remove from oven and set aside to cool.
Combine peas, arugula, mint, basil and olive oil in a bowl. Season to taste with salt and pepper.
Equally spread goat cheese on crostini. Top crostini with pea mixture and sprinkle with grated Parmesan. Serve immediately.
More peas, please!
Lemony Snap Peas
Pesto Pasta Salad with Peas
5 Pea Recipes to Shake Up Your Weeknight Meals