What's not to love about crunchy, cheesy parmesan panko chicken? Thanks to our friends at Stubb's Bar-B-Q for sponsoring this post.  
Chicken sometimes gets a bum rap. It can be dry, flavorless and boring. But, prepared properly, it can really steal the show at dinner. Now I'm not talking tons of work or super-fancy food here – just simple, flavorful chicken that you can get on the table quickly. Which is why I love Stubb's All-Natural Marinades. These kitchen workhorses pack in the flavor with little effort on your part. Take this Stubb's Panko Parmesan Chicken, for example. All you need to do is pop the chicken in the Stubb's Chicken Marinade in the morning. At the end of the day, you'll be rewarded with meat that is filled with citrus, onion and garlic flavors. When you're ready to eat, dredge the meat in a crunchy panko Parmesan mixture before sliding the dish into the oven. In less than 30 minutes, dinner is served. But wait! Did you forget to marinate the meat in the morning? Not a big deal. As long as you can give the marinade at least an hour, you'll still get great flavor. (Now that is the sign of a good marinade!)
I used chicken thighs in this recipe for a couple of reasons. First, most of my family prefers dark meat. Secondly, chicken thighs are a lot more forgiving when you bake them. I love not fretting about overcooking the meat. These thighs stay nice and juicy! Not to mention the fact they are less expensive than chicken breasts. How's that for a fabulous, economical weeknight dinner? 
My kids love this chicken straight up simple with a sprinkle of cheese melted on top. My husband and I like a little sauce with our chicken, so I made a sun-dried tomato and caper tapenade to spoon on top. The sun-dried tomatoes and capers are the perfect complement to the cheesy, citrus chicken. Love recipes that are easy to adapt to the whole family and that are the table in less than 30 minutes. Winner, winner, chicken dinner!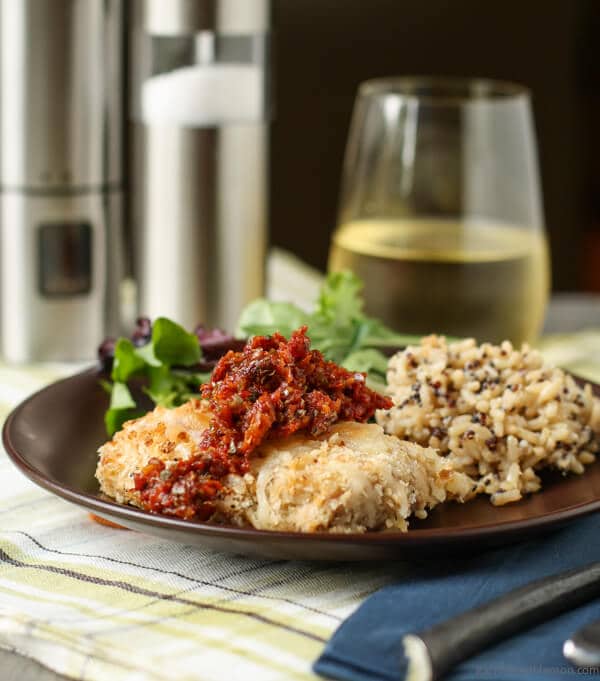 This is a sponsored post on behalf of Stubb's Bar-B-Q. All opinions are my own. 
Yield: 6
Stubb's Panko Parmesan Chicken Sun-Dried Tomato and Caper Tapenade
An easy, delicious chicken dinner that can be on the table in less than 30 minutes.
Ingredients
1/2 bottle Stubb's Chicken Marinade
6 chicken boneless, skinless chicken thighs
2 cups panko crumbs
1/3 cup Parmesan cheese
1/2 teaspoon pepper
1/2 teaspoon salt
Olive oil spray or 2 tablespoons melted butter
6 tablespoons shredded Monterey Jack cheese
1 - 8 ounce jar sun dried tomatoes, packed in oil, drained
2 tablespoon capers
2 garlic cloves
1 teaspoon red wine vinegar
1 teaspoon basil
1 teaspoon oregano
1/2 teaspoon salt
2 tablespoons olive oil
Instructions
Marinate chicken in Stubb's Chicken Marinade for at least one hour or up to 8.
Preheat oven to 400 degrees and line a jelly roll pan with foil.
Mix panko, Parmesan, salt and pepper in a bowl.
Shake excess marinade off each chicken thigh and press in panko crumb mixture to coat.
Place each breaded chicken piece on pan. Spray with olive oil or brush with melted butter.
Bake for 20- 25 minutes until cooked through.
Sprinkle 1 tablespoon Monterey Jack cheese on top of each piece and broil for 30 seconds or until melted.
Pulse all ingredients in a food processor until mixture is combined, but still chunky. Add additional olive oil if needed to get to desired consistency. Keeps for two weeks in refrigerator.
Nutrition Information:
Yield:
6
Serving Size:
1
Amount Per Serving:
Calories:

699
Total Fat:

43g
Saturated Fat:

12g
Trans Fat:

0g
Unsaturated Fat:

28g
Cholesterol:

131mg
Sodium:

1884mg
Carbohydrates:

41g
Net Carbohydrates:

0g
Fiber:

4g
Sugar:

5g
Sugar Alcohols:

0g
Protein:

38g