The flavors of the Southwest shine through in these quick and easy Green Chile Fish Nachos.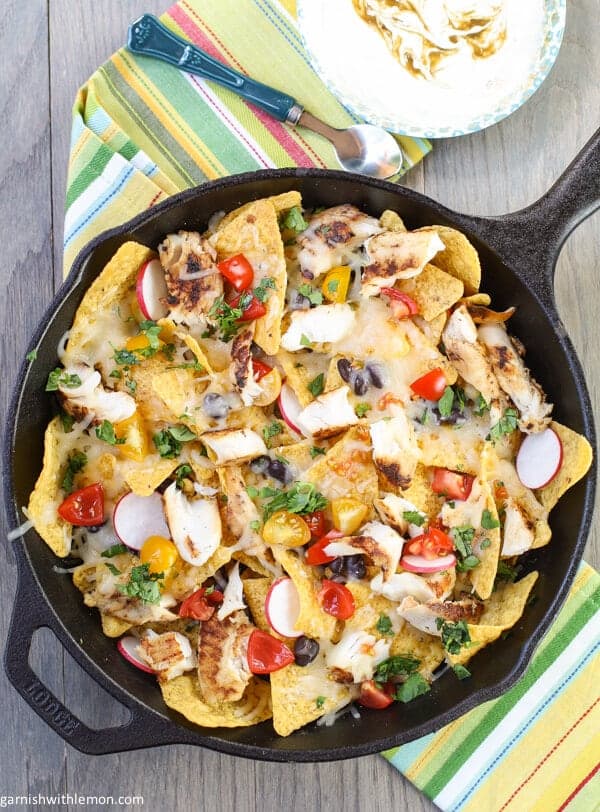 Fish…on nachos?
Stick with me, folks, because I guarantee you WON'T be disappointed. These fast, flavorful Green Chile Fish Nachos come together quickly after a generous soak in in one of my kitchen's secret weapons, Stubb's Green Chile Marinade.
I know I'm usually harping on the fact that Grady is my picky eater, but Bridget has a few holdouts on the food front, too. I've already mentioned her dislike for eggs, but I also need to add fish to the list of things she will not eat.
Why? She says she doesn't like the flavor.
I say, she hasn't tried the RIGHT flavor.
Enter Stubb's Green Chile Marinade.
I'm not shy about my love of Stubb's products. (My enthusiasm is evident here, here and here.) The all-natural and gluten free ingredients in their products make them something I'm proud to serve my family. But this Green Chile Marinade might just be my favorite Stubb's product yet as the flavors of the Southwest – think Hatch green chiles, garlic and lime – shine through anything it touches. Since the whole family loves (read: is obsessed with) nachos, I thought this might just be the secret ingredient to turn the tables on Bridget's opposition to seafood.
After a leisurely bath in the Green Chile Marinade, the fish (I used tilapia) can be pan seared, baked or grilled. Nacho toppings are always a matter of personal preference, but we load our tortilla chips with the marinated & cooked tilapia, fresh tomatoes, black beans, cilantro, sliced radishes and melty Monterey Jack cheese. The crowning jewel on these nachos is an additional swirl of Stubb's Green Chile Marinade in the sour cream. A dollop of that on top is the perfectly flavorful finishing touch.
The Bridget verdict? I think a clean plate says it all.
Disclosure: This post was sponsored by Stubb's. All opinions are my own. Thanks for supporting the companies that allow us to create unique content for you.
Yield: 4
Stubb's Green Chile Fish Nachos
Total Time
8 hours
10 minutes
Ingredients
Nachos:
3/4 pound tilapia fillets (or other mild white fish)
1/2 bottle Stubb's Green Chile Marinade
Tortilla chips
2 cups Monterey Jack Cheese
1 can black beans, drained and rinsed
Optional toppings, including: Sliced radishes, Diced tomatoes and/or salsa, Diced avocado, Chopped cilantro
Green Chile Sour Cream:
2/3 cup sour cream
1/4 cup Stubb's Green Chile Marinade
Instructions
Place tilapia in a large plastic bag. Pour 1/2 of the bottle of Stubb's Green Chile Marinade over the tilapia and seal bag. Marinate in the refrigerator for 4-8 hours.
Preheat oven to 400 degrees.
Remove tilapia fillets from bag and shake off excess marinade. Preheat a skillet to medium heat. Spray skillet with canola oil. Add tilapia and cook for 3 minutes per side or until cooked through. Remove from heat. Cool slightly and break into bite-sized pieces.
Spread tortilla chips on sheet pan. Evenly divide tilapia over chips. Follow with cheese and black beans. Bake for 7-10 minutes or until cheese is completely melted.
While nachos are baking, mix together sour cream and 1/4 cup Stubb's Green Chile Marinade. Set aside.
Remove baked nachos from oven and add additional toppings like radishes, tomatoes, salsa, avocado, cilantro, green chile sour cream, etc. Serve immediately.
Notes
You can also bake or grill the marinated tilapia, if you prefer.
Nutrition Information:
Amount Per Serving:
Calories:

842.96
Total Fat:

68.4g
Carbohydrates:

1.52g
Protein:

55.28g