Showcase your spring strawberries in a savory way with this Strawberry Flatbread with Balsamic Onions and Goat Cheese.
I think if I had to choose one word to describe my cooking style, it would be savory-sweet. (Yes, that's technically two words, but let's not get all grammatically correct on me right now, OK?) I love, love, love the combination of savory foods that you wouldn't necessarily think to put with sweet things, and vice versa. So once I saw this Strawberry Flatbread with Balsamic Onions and Goat Cheese, I knew it had my name written all over it. Sweet berries? Caramelized balsamic onions? Tangy goat cheese? Yes, yes and YES!!
The original version of the recipe was written as a homemade focaccia bread. There was yeast and proofing and rising and kneading and, well, that was just way too much work for this girl. So I improvised with a ready-made naan bread. I prepped the onions ahead of time and kept them in the fridge so the actual assembly took mere minutes – perfect for those "I'm hungry NOW!" moments. Luscious, ruby red spring strawberries are like little jewels on top of the flatbread when it comes out of the oven. A sprinkle of fresh basil on top is all you need to send your sweet and savory tastebuds into deliriously delicious confusion.
Sweet, savory AND easy? Sounds like the perfect trifecta to me.
P.S. I like to whip up this Strawberry Flatbread with Balsamic Onions and Goat Cheese as a quick and easy "meatless Monday" lunch, but you can easily make it en mass and serve it as snacks when hosting friends and family this spring.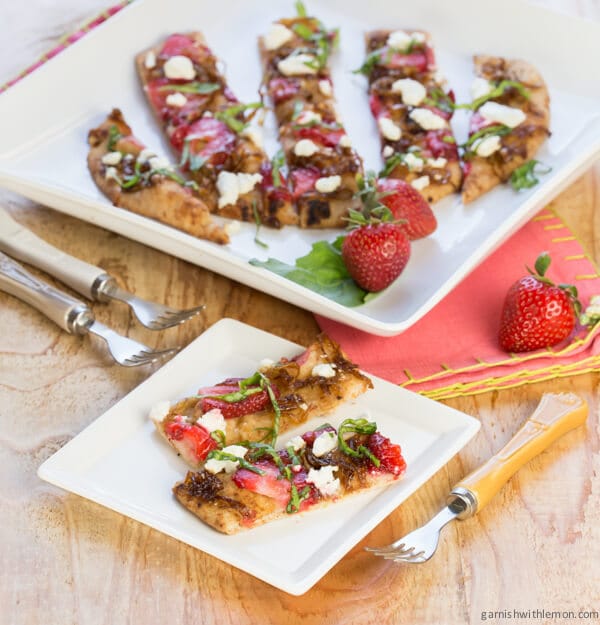 Yield: 2-4
Strawberry Flatbread with Balsamic Onions and Goat Cheese
Ingredients
1 tablespoon olive oil
1 medium onion, thinly sliced
2 1/2 teaspoons balsamic vinegar
1 1/2 teaspoons maple syrup
2 prebaked Naan breads (I used Stonefire brand)
4-6 strawberries, cored and thinly sliced
2 ounces goat cheese, crumbled
olive oil spray
sea salt
6 large fresh basil leaves, thinly sliced
Instructions
Place olive oil in a large skillet and heat over medium-low heat. Add onions and cook for 20-25 minutes until browned and slightly caramelized, stirring occasionally. Stir in vinegar and maple syrup and cook through until liquid is nearly gone, about 1-2 minutes. Remove onions from pan and allow to cool slightly.
Preheat oven to 400 degrees.
Place Naan breads on a baking sheet. Equally divide strawberries, goat cheese and onions on flatbreads. Generously spray Naan breads with olive oil spray and sprinkle with coarse sea salt. Bake for 9-12 minutes or until desired crispness. Allow to cool slightly, slice and serve.
Can you ever have enough strawberry recipes?
Strawberry Rhubarb Muffins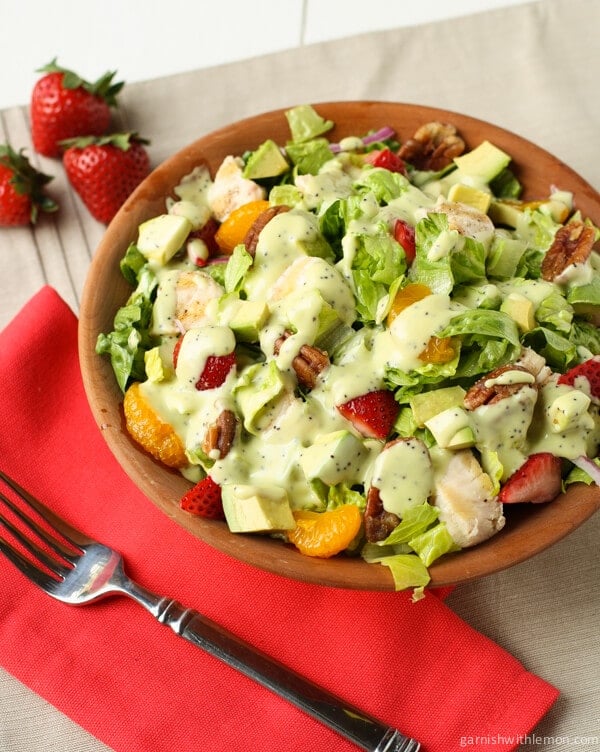 Chicken Strawberry Salad with Avocado Poppy Seed Dressing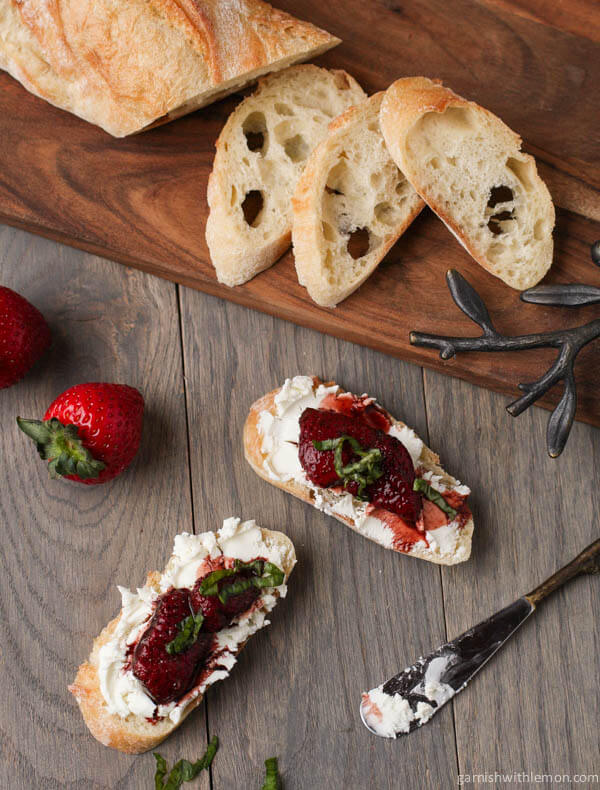 Balsamic Roasted Strawberries