No excuses for skipping breakfast! This healthy, protein-packed Easy Banana Spinach Smoothie recipe takes minutes to make and will keep you full until lunch. It's a great option to refuel post-workout, too!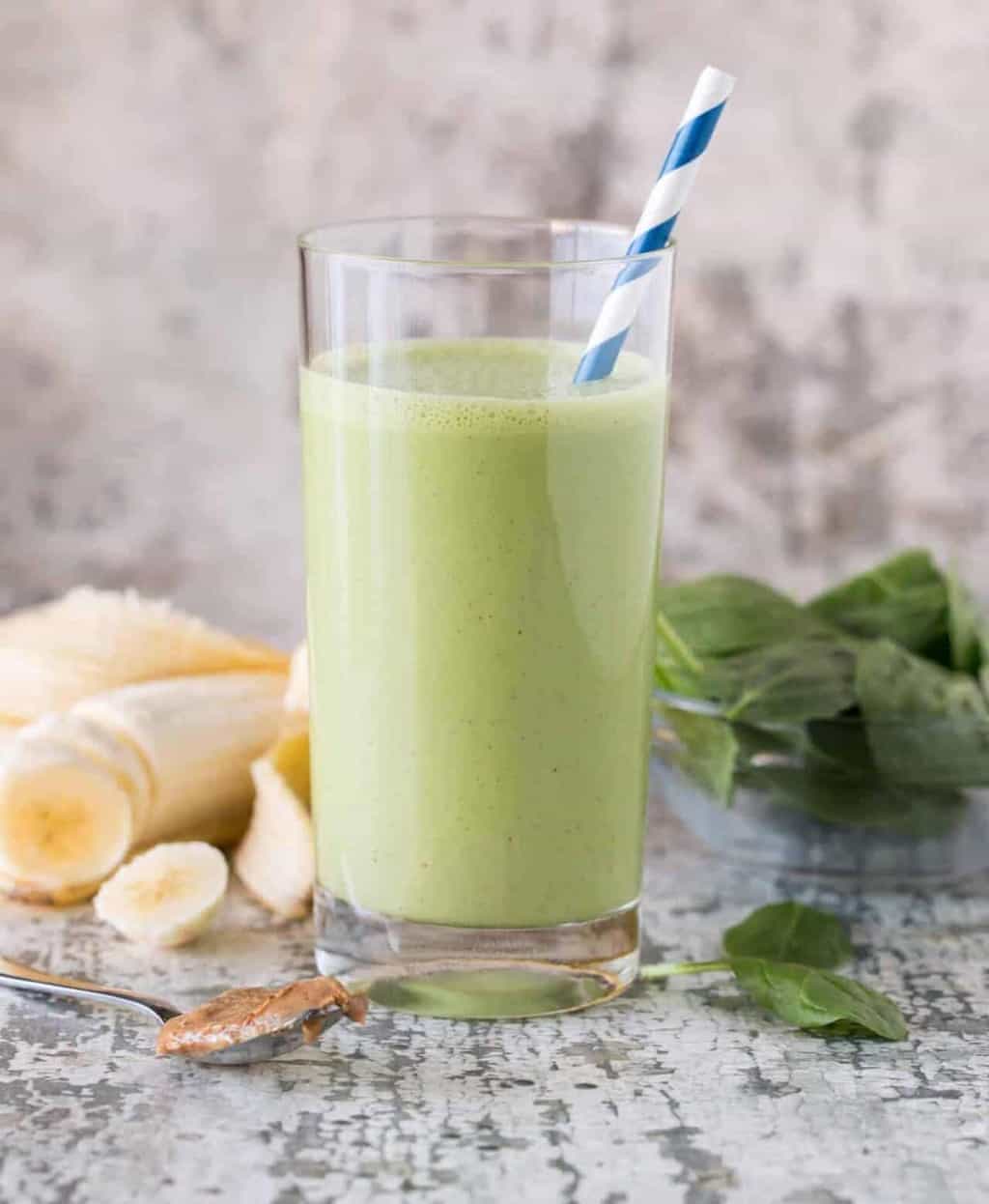 Breakfast is my favorite meal of the day, but I'm definitely guilty of grab-and-go convenience when mornings are rushed. Which is why I love this Easy Banana Spinach Smoothie recipe.
Jump to:
Why this recipe works
Not only is it the best green protein shake recipe (in my opinion), it couldn't be easier to make and can even be frozen ahead of time to make healthy eating a snap. Plus you can't taste the spinach - promise!
Ingredients
This smoothie is filled with a combination of protein, carbs and fiber - a delicious mix of ingredients to tide you over until your next meal, including nut butter, Greek yogurt and protein powder.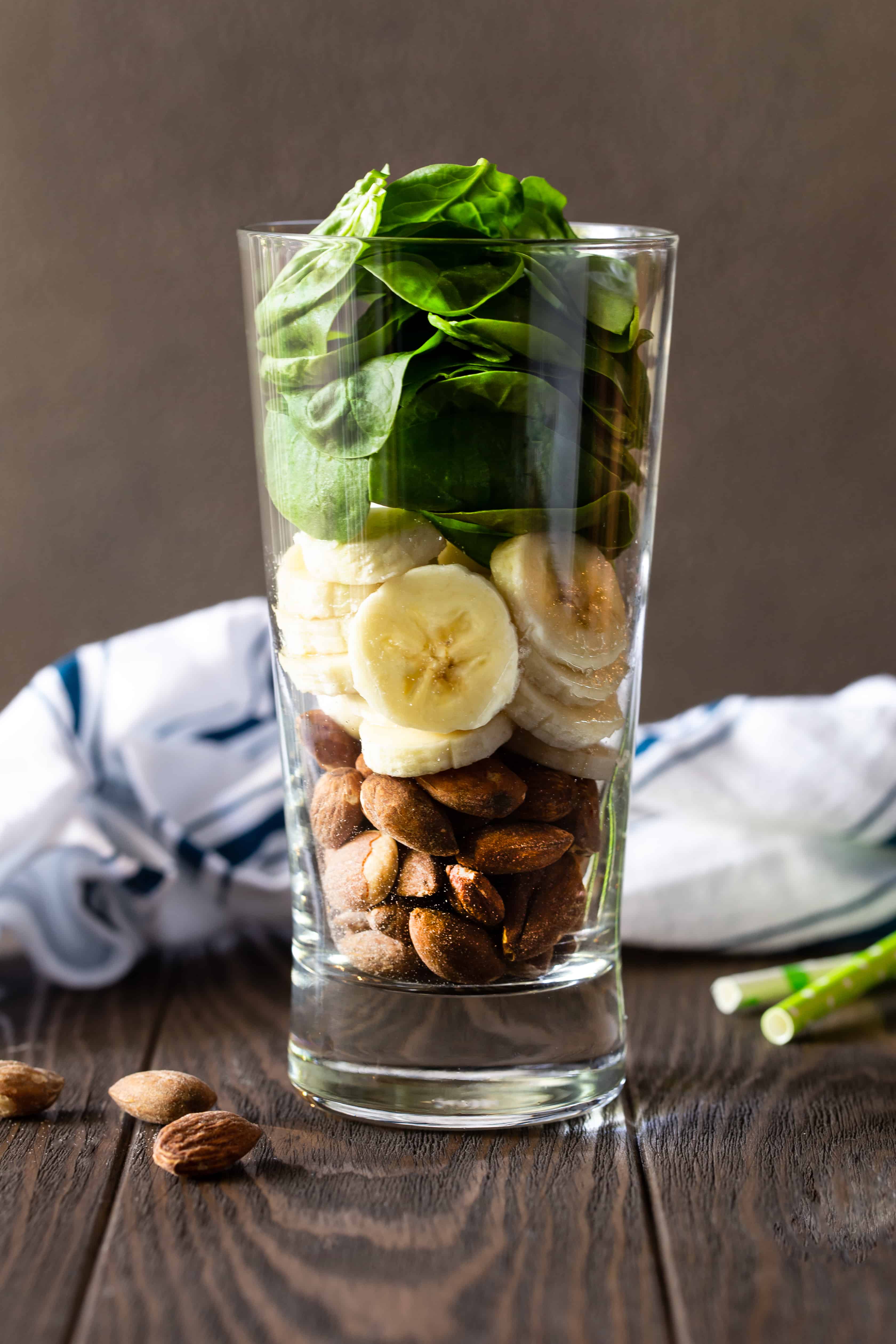 Instructions
The order in which you add ingredients to the blender can make a bit difference in how smooth your smoothie actually is (as well as avoid getting ingredients stuck in the blender's blades).
Add liquids first. Always. It doesn't matter if your recipe calls for cow's milk, almond milk, coconut milk or just plain old water, you should always add your liquid(s) to the blender first. Why? The blender uses the liquids to create that cool tornado inside the jar and helps it pull down the other ingredients into the blade action more easily.
Next up are protein powders. Add these directly to the liquid in the blender jar to avoid any chance of a chalky aftertaste that could result from it not being fully incorporated into the smoothie during the blend time.
Get those greens in! Who knew that greens in smoothies are so tasty? There are a variety of greens that you can add to smoothies. Spinach seems to blend the easiest because its leaves are so tender, but heartier greens like kale or collard greens can be tougher to incorporate easily. I suggest removing the tough ribs and any woody stems from these greens before adding to the jar.
Layer in the solids next starting with the softest ingredients first. This can include yogurts and nut butters if you're using them as well as seeds and raw nuts.
Fresh fruit and veggies (that are not greens) can now be added. This mostly includes softer fruits like berries and melons as well as avocados.
The final add to any smoothie should always be your frozen ingredients, including ice. These guys can be rock hard and you want them on top so the sheer weight of them pushes everything else down into the blade action.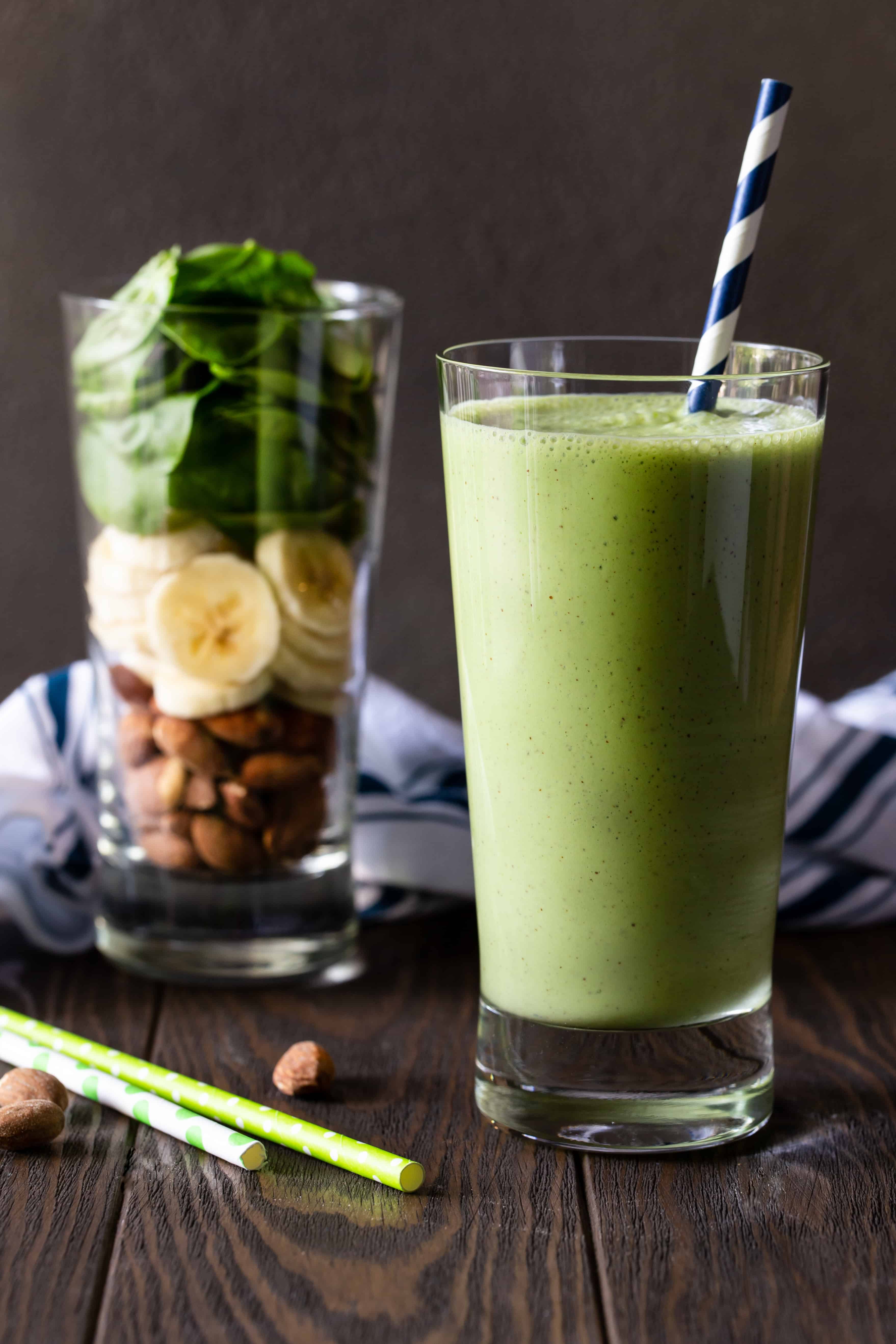 FAQS
Why put protein powder in smoothies?

Adding protein powder to smoothies is an easy way to increase your protein intake during the day. I always feel fuller longer when I add more protein to my diet. 

This recipe includes protein powder PLUS protein-rich Greek yogurt AND almond butter for a triple punch of protein goodness.

Can green smoothies taste good?

Absolutely! Even my kids love this smoothie. Why? Because you can't taste the spinach! Seriously.

Personally I love spinach in any form, but the flavors of banana, yogurt and almond butter are what shine in this protein-rich recipe

So feel free to be generous with your handful of nutrient-rich spinach in this gorgeous spinach smoothie. (I swear you can't taste it.)
Can I make this dairy-free?

Yes! There are a number of different dairy-free yogurts on the market - made with almonds, soy or coconut milk, to name a few - that will keep this smoothie rich and creamy.
Can I use a different nut butter?

Of course. Almond, peanut, cashew or any number of seed butters would all be tasty in this smoothie.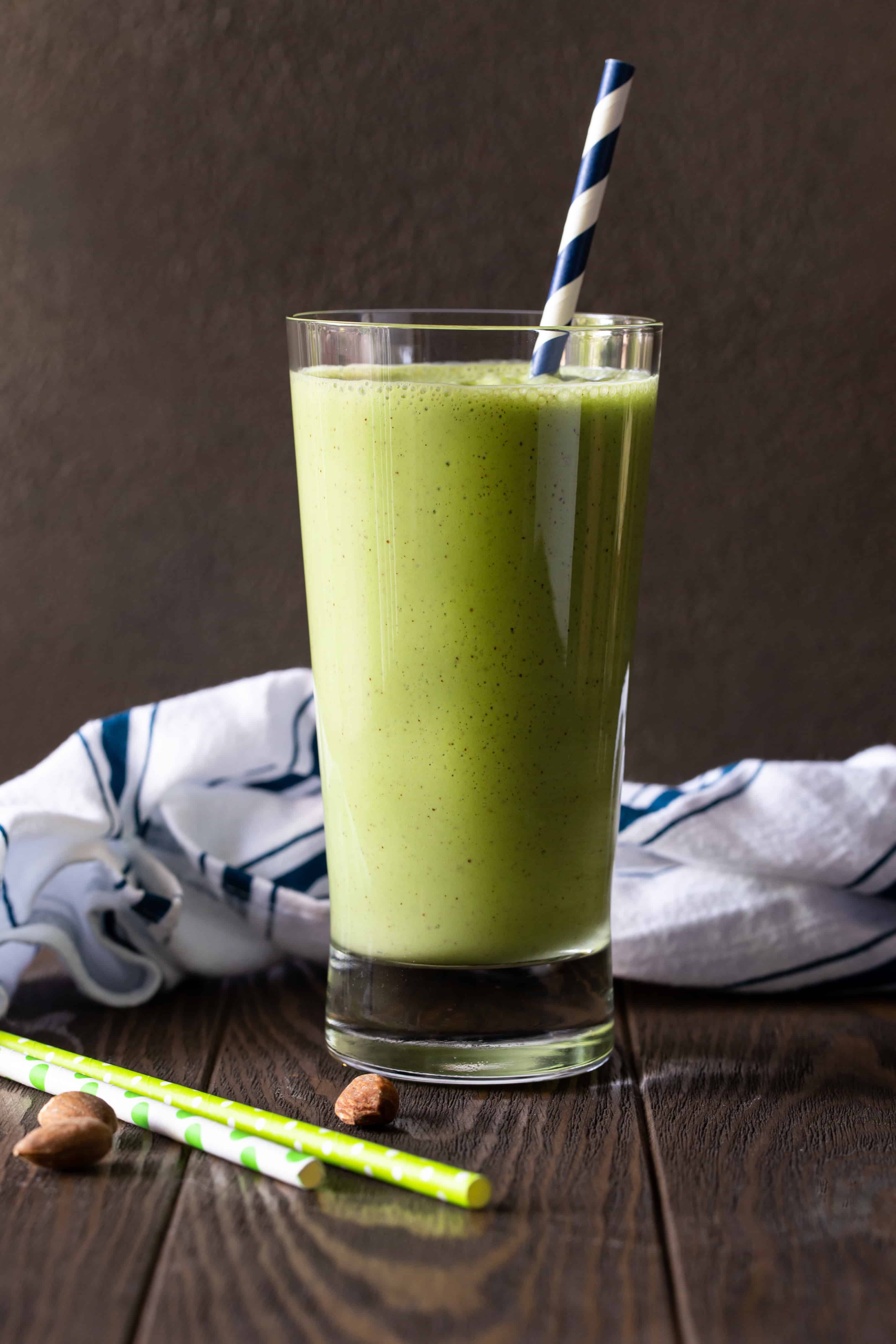 Freezing smoothies
I have two options for making this smoothie in advance:
Make a quadruple batch

of this recipe and freeze it in individual portions. Simply pop one container in the fridge the day before so it defrosts overnight. (Note: If you enjoy large smoothies, you may also need to pop it in the microwave to defrost it a bit.)

You can also

freeze individual portions of ingredients

for this smoothie in zip top bags:
Portion out your Greek yogurt in ice cube trays and freeze. (These silicone ice cube trays work well for smoothie ingredients as well as fancy ice for cocktails!) You can do the same with almond butter if you don't keep it on hand normally.
Add a couple cubes of frozen yogurt to a zip top bag along with your banana, almond butter (if frozen) and spinach (YES, you can freeze spinach for smoothies!).
When you're ready to make your smoothie, grab a pre-made bag from the freezer and dump it in the blender along with your remaining ingredients and enjoy a freshly made smoothie in no time flat!
Tip: Trying to pulverize a frozen banana in the blender can be challenging. Pop any rock solid ingredients in the microwave before adding to the blender. They don't need to be completely defrosted. Even thirty seconds will help ensure they evenly distribute in the smoothie.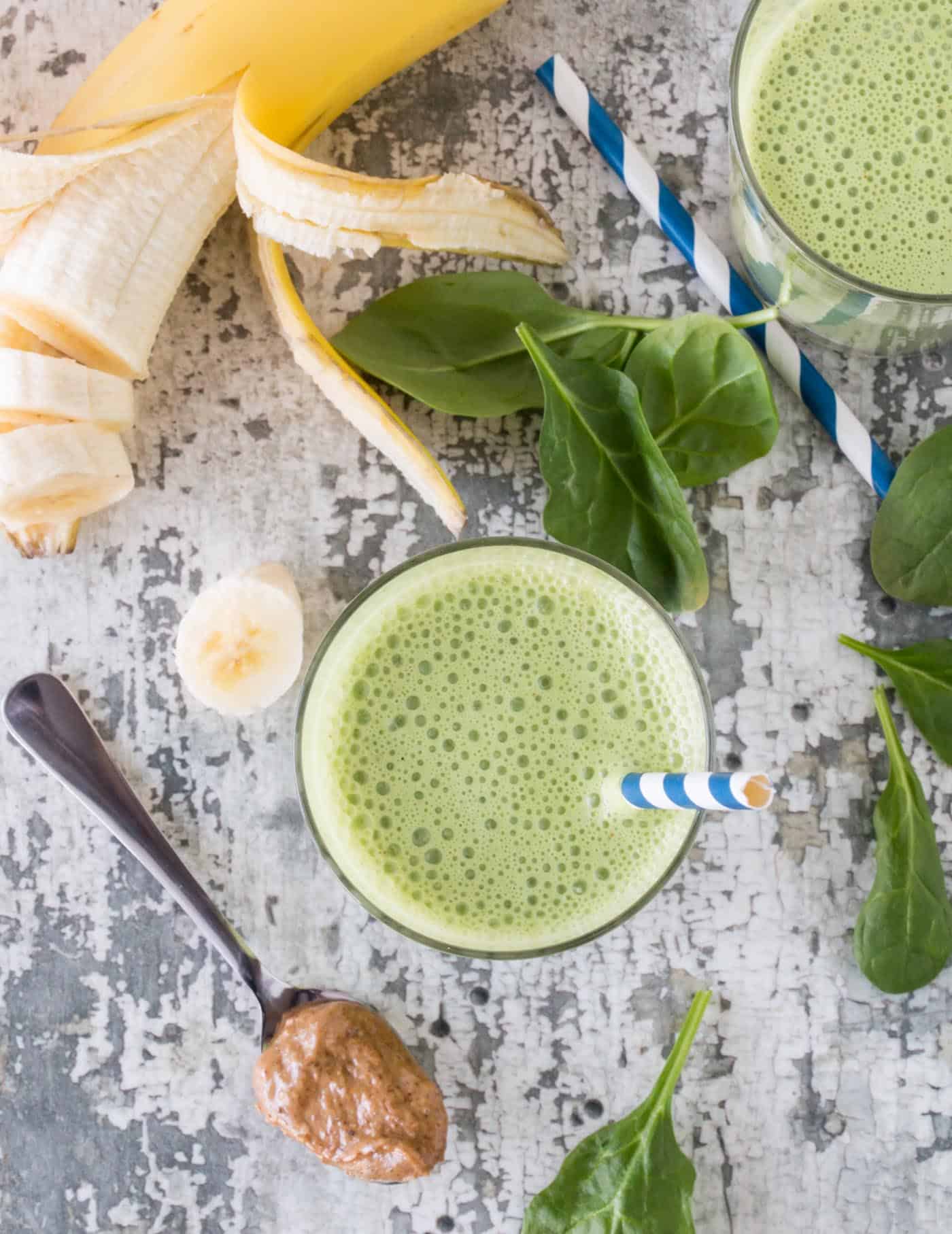 More smoothie tips
So you've read all the tips, followed all the guides and your smoothie is still not how you want it. Try a few of these troubleshooting techniques to see if it can help save your smoothie:
Smoothie too thick? Add more liquid and give it a good stir to incorporate the liquid before blending again. You're trying to get that liquid as close to the base as possible to help with the blending action.
Smoothie not sweet enough? Add any number of sweeteners to the jar, including honey, maple syrup, stevia or even a whole pitted date. Start with a small amount, blend and then taste and adjust as needed.
Smoothie not blending well? Start the blender on low and then gradually increase it to higher speeds to fully blend everything together. You can also try adding a bit of additional liquid to see if that will help smooth out the texture during blending.
Smoothie not cold enough? Use frozen fruit. This keeps the smoothie chilled instead of adding ice. Bonus: frozen fruit also makes smoothies thicker.
Equipment
These measuring cups are awesome because they are magnetic and stick together. No more lost measuring cups!
This vanilla protein powder is our current favorite. We've tried a number of them but keep coming back to this one. It's organic, too!
A good blender. Now I know not everyone can splurge on a top-tier blender, but I highly suggest you save up your birthday gift cards because they make a huge difference in how quickly you can pull together one of these green smoothie beauties.
Note: I own Blendtec and love it, but many people are also thrilled with their Vitamix blenders. These high-powered blenders do a much better job of tackling rock hard items like ice and frozen yogurt cubes and are able to decimate that spinach into microscopic pieces (which is key when you're trying to convince a non-green smoothie person to try a green smoothie). It's not a "must have" to make this recipe. But if you're someone who is a smoothie junkie, you'll appreciate not having to reblend your ingredients repeatedly just to get rid of the big frozen chunks of fruit.
More smoothie recipes
Don't miss any of our tasty breakfast and brunch recipe ideas!
Recipe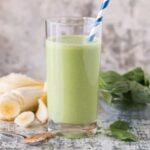 Easy Banana Spinach Smoothie
Refuel post-workout with this Easy Banana Spinach Protein Smoothie. Freeze them in advance for a quick and healthy breakfast on the go, too!
Ingredients
1

tablespoon

almond butter

⅔

cup

Greek yogurt

½

banana

¾

cup

water

1

scoop vanilla protein powder

1

huge handful spinach
Instructions
Add all ingredients to blender and puree to desired consistency.
Notes
Want to make a batch of smoothies? Freeze individual portions in jars or freeze ice cube trays with individual ingredients and pop in the blender when the smoothie craving hits. More details in the post!
Nutrition
Serving:
12
ounces
Calories:
365
kcal
Carbohydrates:
26
g
Protein:
46
g
Fat:
10
g
Saturated Fat:
1
g
Polyunsaturated Fat:
8
g
Cholesterol:
13
mg
Sodium:
153
mg
Fiber:
6
g
Sugar:
13
g
Nutrition info not guaranteed to be accurate.
Craving a healthy breakfast on the go? Make these Easy Banana Spinach Smoothies in advance at home and store them in the freezer until you're ready to enjoy them. This green spinach smoothie recipe is packed with protein from three sources: protein powder, Greek yogurt and almond butter!