Spinach Artichoke Stuffed Mushrooms are a classic party favorite for good reason - they are absolutely delicious!
So what happens when you take one of my favorite party snacks (spinach artichoke dip) and cram it into one of my most craved veggies (mushrooms)?
Heaven, pure and simple.
It's hard to challenge this logic, people. Don't even try. My position is rock solid.
Don't get me wrong; I love my chips and dips, but I totally crave warm appetizers this time of year. And these Spinach Artichoke Stuffed Mushrooms pack a flavorful punch. A little bit garlicky, a whole lot creamy, and totally "healthy" because of that spinach, right? (ha, ha) So while this recipe is not going to win any awards for being health conscious, trust me when I say they will fly off the plate.
A couple notes about this recipe:
1) If you've made stuffed mushrooms in the past, you know they have a high water content and tend to emit their juices as they bake. To reduce this and to make sure your mushrooms are cooked through, try roasting them unstuffed for about 10-15 minutes. Let them cool slightly, wipe the pan of any excess liquid, then stuff and bake.
2) This recipe makes far more stuffing (spinach artichoke dip) than you need for the mushrooms. I usually bake the rest in a separate pan and serve it with crostini for those anti-mushroom people (Yes, they do exists…shocking, don't you think?).
Now excuse me while I go stuff my face with warm, cheesy goodness.
Yield: 36
Spinach Artichoke Stuffed Mushrooms
These stuffed mushrooms are a tasty twist on your typical stuffed mushrooms.
Ingredients
Mushrooms:
36 Baby Bella mushrooms
Olive oil spray
Spinach Artichoke Dip:
1/2 cup sour cream
3 garlic cloves, minced
1 (14-ounce) can small artichoke hearts, drained and coarsely chopped
1 (10-ounce) package frozen chopped spinach, thawed, drained and squeezed dry
2 (8-ounce) blocks 1/3-less-fat cream cheese, softened
1 1/2 cups shredded mozzarella cheese
1/3 cup grated Pecorino cheese, divided
Salt and pepper
Instructions
To roast the mushrooms:
Preheat the oven to 400 degrees. Clean and destem the mushrooms. Place them cap side down on a baking pan and lightly spray with olive oil. Roast for 10-15 minutes. Let cool slightly and wipe away any released juices.
To prepare the dip:
While mushrooms are roasting, combine sour cream, garlic, artichoke hearts, spinach, cream cheese, mozzarella cheese and 2 tablespoons Pecorino in a bowl. Stir until thoroughly incorporated. Season to taste with salt and pepper.
To stuff the mushrooms:
Generously stuff the mushrooms with dip and then sprinkle with remaining Pecorino cheese. Bake for 20-25 minutes or until cheese starts to brown. Serve warm.
Notes
Extra spinach artichoke dip can be placed in a small baking dish and baked alongside the stuffed mushrooms. Serve with toasted crostini or pita chips.
Nutrition Information:
Yield:
15
Serving Size:
1
Amount Per Serving:
Calories:

76
Total Fat:

5g
Saturated Fat:

3g
Trans Fat:

0g
Unsaturated Fat:

2g
Cholesterol:

14mg
Sodium:

122mg
Carbohydrates:

4g
Fiber:

1g
Sugar:

1g
Protein:

4g
Cold weather is perfect for warm appetizers! Check out more of our favorites below.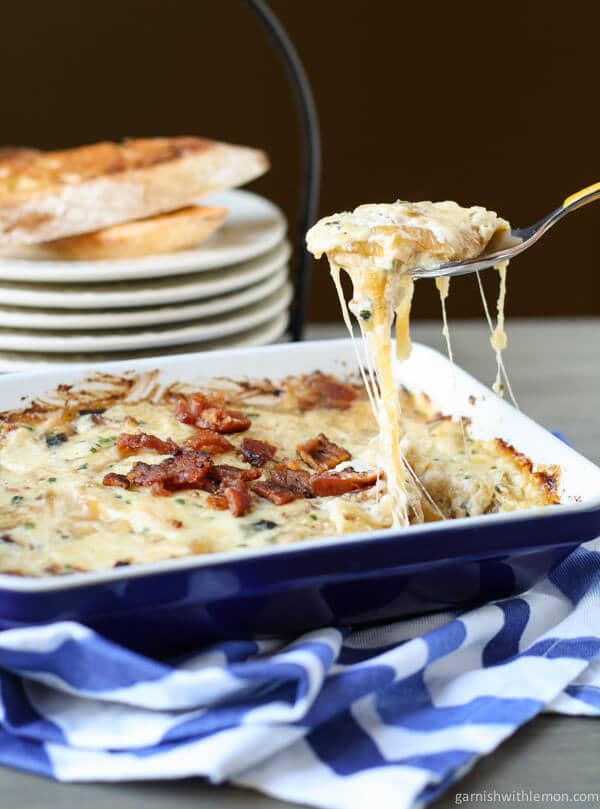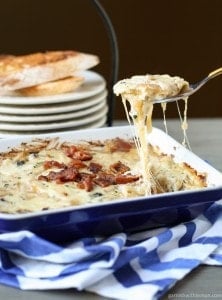 Warm Gruyere, Bacon and Caramelized Onion Dip
Baked Goat Cheese and Tomato Dip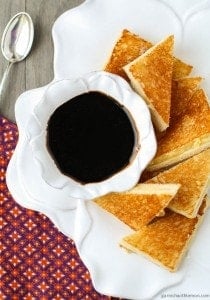 Grilled Cheese Sandwiches with Balsamic Glaze