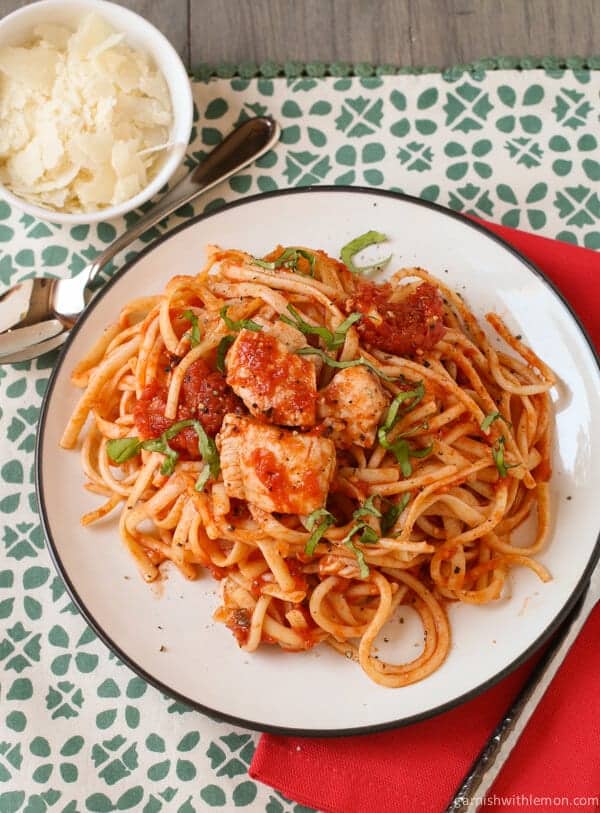 During the dog days of summer, this Spicy Tilapia with Linguine is the perfect family dinner – light, spicy, and flavorful. When the temps heat up, I crave spicy food. Seems kind of counterintuitive, but that is the time spicy food tastes best to me. Makes me think I'm vacationing in the Caribbean, even though I'm sitting here in good ol' Minnesota enjoying our fabulous summer!
I discovered this Spicy Tilapia with Linguine in the latest issue of Food Network Magazine, and it has quickly moved into the family meal rotation. Anytime I can find a recipe where my daughter will happily eat fish is an immediate winner in my book….and this was a hit with the whole family. It is has a slightly spicy tomato sauce, generous pieces of tilapia and is finished with a sprinkle of basil. 
I love the frozen tilapia fillets from Costco. They are frozen individually and thaw in a flash. It's almost like this recipe was made with these in mind. And it's so much easier to cut the fish into chunks when the fillets are slightly frozen. This is the perfect go-to dinner for those nights you just can't bring yourself inside for very long to make dinner. Add some crusty bread, a bagged salad and a glass of Chardonnay, and you have a restaurant-worthy dinner at home in less than 45 minutes with items from your freezer and pantry.  
Yield: 4
Spicy Tilapia with Linguine
A classic spicy red sauce with tilapia and pasta.
Ingredients
1/2 pound tilapia fillets, cut into small chunks
2 tablespoons extra-virgin olive oil (divided)
3 teaspoons minced garlic (divided)
1/2 to 3/4 teaspoon red pepper flakes (divided)
1/2 cup dry white wine
1/2 cup water
1 28-ounce can San Marzano tomatoes, crushed by hand
1/2 cup chopped fresh basil, juilenned (divided)
10 ounces linguine, cooked al dente
Salt and pepper to taste
Instructions


Place the tilapia in a medium bowl. Whisk together 1 tablespoon olive oil, 1 teaspoon minced garlic and 1/4 teaspoon red pepper flakes and pour over the tilapia. Cover and refrigerate.
In a large nonstick deep skillet, heat the remaining 1 tablespoon olive oil over medium heat. Add 2 teaspoons minced garlic and 1/4 to 1/2 teaspoon red pepper flakes (depending on the amount of spice you want) and cook, stirring, until the garlic softens. Add the wine and simmer for about 3 minutes (or until liquid is reduced by half) Next, add the crushed San Marzano tomatoes, 1/4 cup basil and 1/2 cup water.Stir until combined and bring mixture to a boil. Cook until sauce is slightly thickened, stirring occasionally, about 15 minutes.
Add the tilapia to the skillet with the tomato sauce and simmer, stirring gently, until just cooked through, about 3 minutes. Season to taste with salt and pepper. Add the cooked pasta and 1/4 cup basil to pan and toss to coat. Divide among bowls and top with more basil.


Nutrition Information:
Amount Per Serving:
Calories:

2401.29
Total Fat:

39.73g
Carbohydrates:

423.76g
Protein:

70.16g