These Spiced Pumpkin Cookies with Cream Cheese Frosting are a delicious way to kick off your fall baking.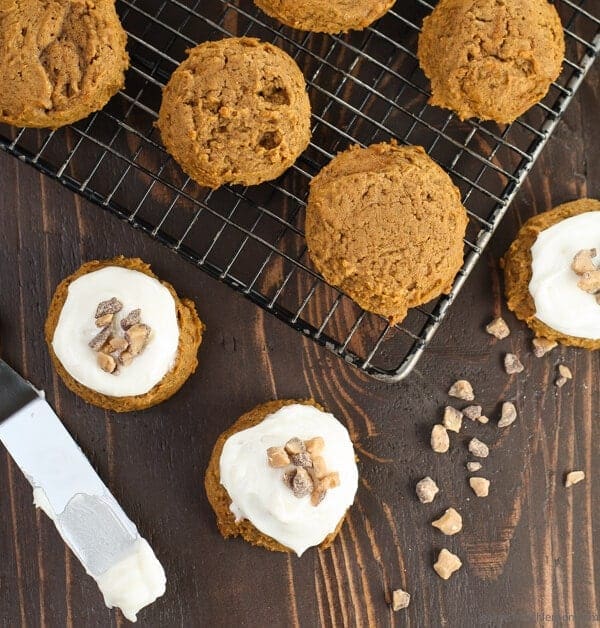 Last week was unseasonably cool here which makes me want to do nothing more than crank up the oven and start my fall baking. We've been dabbling in a lot of apple recipes lately, which are perfect for everyone making their annual trips to the orchards, but now it's time to turn our attention to another fall baking star: pumpkin. And we're kicking off pumpkin season with a classic: Spiced Pumpkin Cookies with Cream Cheese Frosting. 
There is nothing better than the smell of baking a sweet pumpkin dessert. All that cinnamon and cloves and ginger make me swoon. These cookies would be perfectly delicious on their own without the cream cheese frosting, but why choose good when you can choose great? Grady was lobbying hard for me to add chocolate chips to the recipe. I didn't bend to his request, but I did throw him a bone and topped the cookies with a sprinkle of crunchy chocolate toffee. See? I'm a giver. 
A few tips for these beauties: 
The dough is a bit wet and sticky, but don't let that put you off. Using a cookie scoop helps immensely. 

These cookies don't spread a lot, so keep that in mind when you're prepping your pan. 

If you want flatter rather than thicker cookies, spray the back of a spoon with cooking spray and use it to flatten the dough drops before putting the pan in the oven

These cookies will soften as they sit, so keep them loosely covered so they don't stick together. 

This is a personal preference, but I only frosted about a dozen of the cookies at a time and then refrigerated the rest of the frosting until I was ready to top another batch of cookies. What can I say? I like fresh frosting. 🙂 
These Spiced Pumpkin Cookies with Cream Cheese Frosting are perfect with a cup of afternoon tea or coffee. Or as an after school treat. Or even breakfast. (Yeah, that happened.) 
What can I say? I'm a proud pumpkin addict. 
Spiced Pumpkin Cookies with Cream Cheese Frosting
3
adjust servings
Ingredients
Cookies
2 1/2

cups all-purpose flour

1

teaspoon baking powder

1

teaspoon baking soda

2

teaspoons ground cinnamon

1

teaspoon ground nutmeg

1/2

teaspoon ground cloves

1/2

teaspoon allspice

1/4

teaspoon ground ginger

1/2

teaspoon salt

1/4

cup butter, softened

1/4

cup coconut oil

1/2

cup white sugar

1/2

cup packed brown sugar

1

cup canned pumpkin puree

1

egg

1

teaspoon vanilla extract
Frosting
8

ounces cream cheese, softened

4

tablespoons butter, softened

1

teaspoon vanilla extract

2

cups powdered sugar

Heath Chocolate Toffee Bits (optional)
Instructions
To make the cookies:
Preheat oven to 350 degrees. Line a baking sheet with parchment, silpat or lightly spray with cooking oil.
Place dry ingredients (flour through salt) in a medium bowl. Whisk to combine. Set aside.
Place butter, coconut oil and both sugars in a large bowl. Beat together for 2-3 minutes or until creamy. Add pumpkin, egg and 1 teaspoon vanilla and mix well. Gently stir in dry ingredients.
Drop dough on cookie sheet using a small cookie scoop or a generous tablespoon. Flatten slightly, if desired.
Bake for 14-16 minutes. Remove cookies from baking sheet and cool completely on a baking rack. Frost with cream cheese frosting and top with chocolate toffee bits (optional).
To make the frosting:
Mix together cream cheese and butter in a medium bowl until smooth. Gently stir in vanilla. Add powdered sugar one cup at a time, mixing thoroughly after each addition. Refrigerate until ready to use.
Did you make this recipe? We'd love to see it! Snap a pic of your creation and tag it #GarnishWithLemon. We might even feature your photo on social media!
 Not a pumpkin fan? No worries. We have delicious cookie recipes for you, too!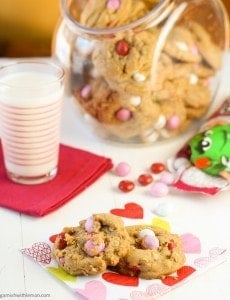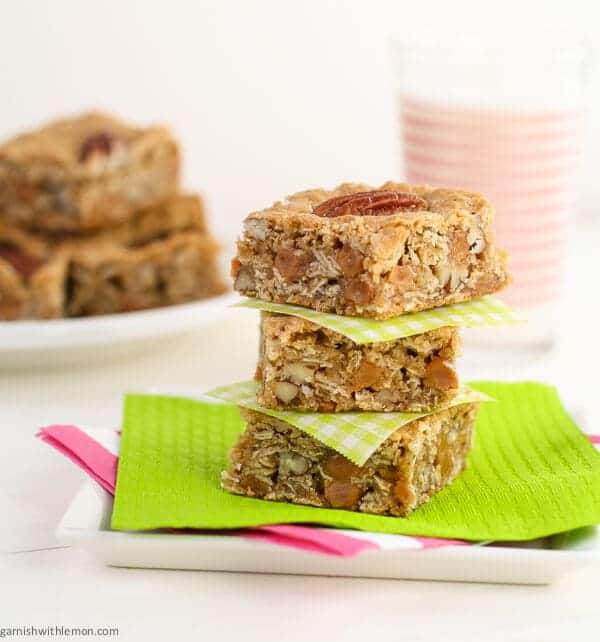 Salty Caramel Pecan Oatmeal Cookie Bars