Get all of the deliciousness of a s'more without the mess with this S'mores Ice Cream Cake.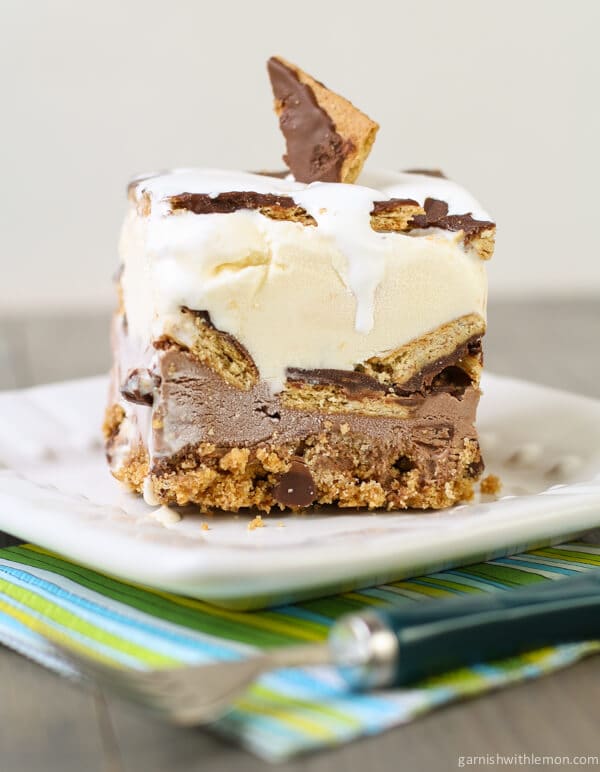 We have a fire pit in our backyard and frequently have bonfires, which translates into a lot of s'mores requests. I have a secret to share with you today: I'm not really a s'more lover. (Gasp! I know, but it's true.) Don't get me wrong; every once in a while, one is ok, but overall I'd prefer something else. I mean can you blame me? Sticky marshmallows and chocolate with kids wielding sticks by a fire = a whole lot of issues. So I was thrilled when I found this recipe for S'mores Ice Cream Cake. It combines all of our favorites into one fantabulous dessert. S'mores Ice Cream Cake takes the whole s'more dessert to another level. A graham cracker crust sprinkled with chocolate chips, layers of chocolate and vanilla ice cream, and chocolate covered graham crackers nestled in between and on top for a eye catching, drool-worthy dessert. But wait, we aren't done yet! Don't forget the creamy marshmallow drizzled on top. As you can imagine, it took exactly 10 minutes for my family to devour this and wonder when seconds where available.
So I guess I may need to rethink my relationship with s'mores because clearly there is something for everyone. Ice Cream, chocolate, graham crackers and marshmallow. You cannot go wrong. And another bonus? It lets me sit by the fire without worrying about who is getting poked in the eye. All I need to do is field requests for who wants S'mores Ice Cream Cake. I'll take that any night of the week.
Have you tried these precut
parchment sheets
? I use them all of the time when I am baking desserts to make lining the pan a snap!
Ingredients
Crust:

1 1/2 cups graham cracker crumbs
1 tablespoon sugar
7 tablespoons melted butter, divided
1/2 cup chocolate chips (milk or semi-sweet)

Chocolate Coating:

9 ounces chocolate (milk or semi-sweet)
1 1/2 tablespoons canola oil

Cake:

8 whole graham crackers, broken in half
1 (28-ounce) container vanilla ice cream, softened (I used Haagen-Daaz)
1 (28-ounce) container chocolate ice cream, softened
1 (7-ounce) jar marshmallow cream
Instructions
Line a 9-inch square pan with parchment paper, with parchment hanging over sides. Butter bottom of pan with 1 tablespoon melted butter and set aside.
Preheat oven to 325 degrees.

To make the crust:

Combine graham cracker crumbs in a small bowl with sugar and add remaining 6 tablespoons butter and stir to moisten crumbs. Stir in chocolate chips and gently press crust in the bottom of the pan. Bake for 8 minutes and set aside to cool completely.

To make the chocolate covered graham crackers:

Melt chocolate chips and 11/2 tablespoons oil in the top of a double boiler. Stir until smooth. Using a large spreader, frost the top of each of the 16 graham cracker halves and place on a wire rack to set. (I put mine in the refrigerator to speed the process.)

To assemble the cake:

Break 8 of the graham cracker halves into little pieces and cut the remaining in half, making triangles.
Scoop the chocolate ice cream onto the crust and use a spatula to flatten and make a smooth surface. Sprinkle broken chocolate covered graham crackers on top of chocolate ice cream.
Use the same process to spread the vanilla ice cream on top of the broken graham cracker crumbs.
Press graham cracker triangles on top of vanilla ice cream. Cover tightly with plastic wrap and freeze for at least 5 hours.

To serve:

Heat marshmallow cream with 2 tablespoons of water in microwave until just melted (about 30 seconds). Stir until smooth.
Grab the edges of the parchment paper and lift ice cream cake out of pan. Place cake on cutting board. Cut into squares and drizzle cake with sauce.
Notes
1) An easy way to soften ice cream is to place in the refrigerator for 20 minutes.
2) Cook time in this recipe actually equals the baking time for crust plus the freezer time for the cake
https://www.garnishwithlemon.com/smores-ice-cream-cake/