Salted caramel fans, these Salty Caramel Pecan Oatmeal Cookie Bars are for you!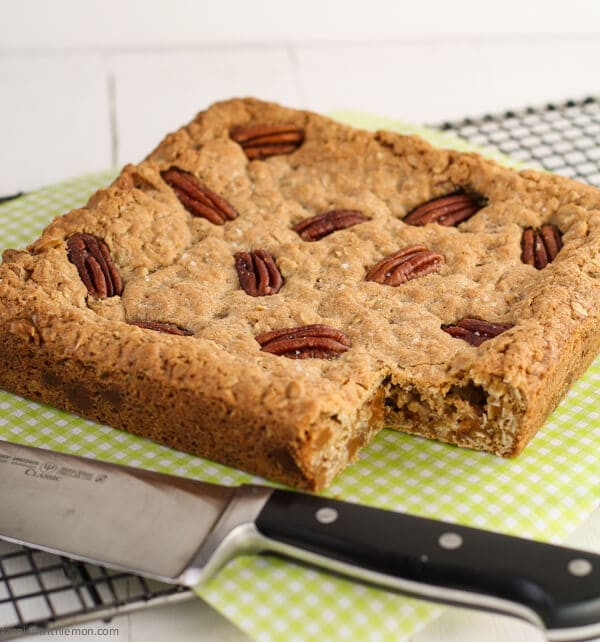 This was a recipe that almost didn't happen. I had a heck of a time trying to translate these traditional cookies into bar form. My first go completely stuck to the pan. (I'm talking super-glued to the pan.) I lined the pan on my second attempt and swapped coconut oil in place of the butter to keep them from sticking. Simply put, that was a greasy disaster. Fortunately, the third time was the charm. The name might be a mouthful – Salty Caramel Pecan Oatmeal Cookie Bars – but there is no mistaking the goodness here.
Are you a bar cookie fan? I almost think I prefer them over straight up regular cookies. (Not that I've been known to turn down either.) I prefer a bit of crunch on my cookies but like a tender middle. That's why these Salty Caramel Pecan Oatmeal Cookie Bars are so perfect. The right combination of butter and coconut oil keeps these bars softer on the inside (my love!) while the edges take on a delightful caramelized crunch. Toasted pecans and rolled oats provide some girth to the bars and a sprinkle of sea salt on top is the perfect foil for the sweet caramel bits.
Seriously irresistible, especially for salted caramel fans. Bring them to your next BBQ, and see what I mean (that is, if you feel like sharing).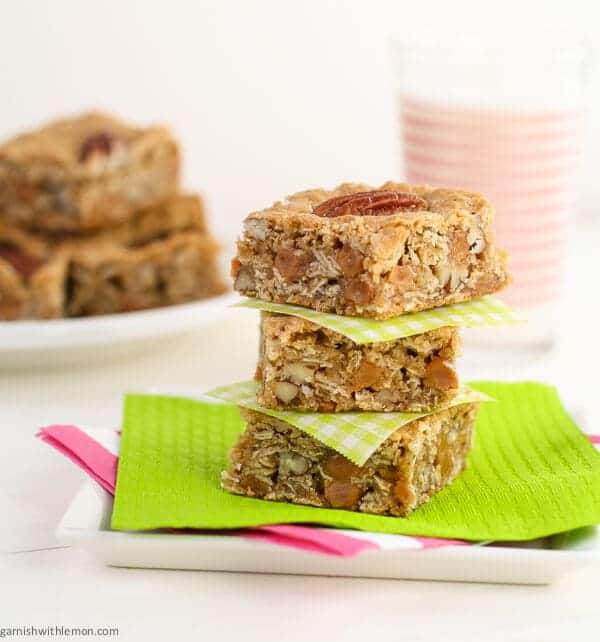 Salty Caramel Pecan Oatmeal Cookie Bars
12
adjust servings
Ingredients
6

tablespoons butter, softened

2

tablespoons coconut oil

1/2

cup sugar

1/2

cup brown sugar, packed

1/2

teaspoon salt

1/4

teaspoon baking soda

1/2

teaspoon baking powder

1/2

teaspoon ground cinnamon

1

egg

1

teaspoon vanilla

3/4

cup flour

11/2

cups rolled oats

1/2

(11-ounce) package caramel baking bits

1/2

cup pecans, toasted and coarsely chopped

8-10

whole pecan halves, toasted (optional)

Coarse sea salt (optional)
Instructions
Preheat oven to 350 degrees. Line an 8 x 8 pan with parchment, leaving overhang on the sides. Spray pan and parchment lightly with cooking spray.
In the bowl of a stand mixer, beat butter and coconut oil on medium high speed for 30 seconds. Add sugars, 1/2 teaspoon salt, baking soda, baking powder and cinnamon and mix thoroughly, stopping occasionally to scrape the sides of the bowl. Beat in egg and vanilla. Gently mix in flour. Pour in oats, caramel bits and chopped pecans and stir with a spoon to combine.
Spread batter in pan and evenly smooth top. Place pecan halves on top (if using) and sprinkle with coarse sea salt (optional). Bake for 25-30 minutes or until the top is evenly browned. Allow to cool completely.
Remove from pan by lifting edges of parchment and cut into squares.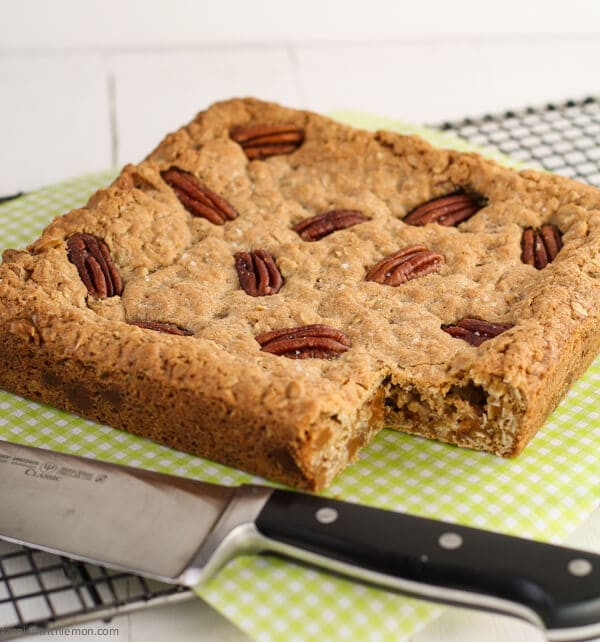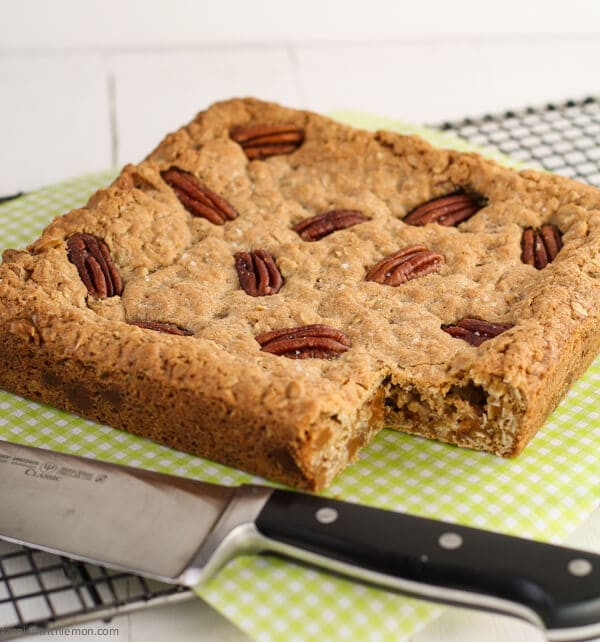 Did you make this recipe? We'd love to see it! Snap a pic of your creation and tag it #GarnishWithLemon. We might even feature your photo on social media!