Simple and refreshing, Rosemary Gin Spritzers are the perfect way to update your traditional gin and tonic.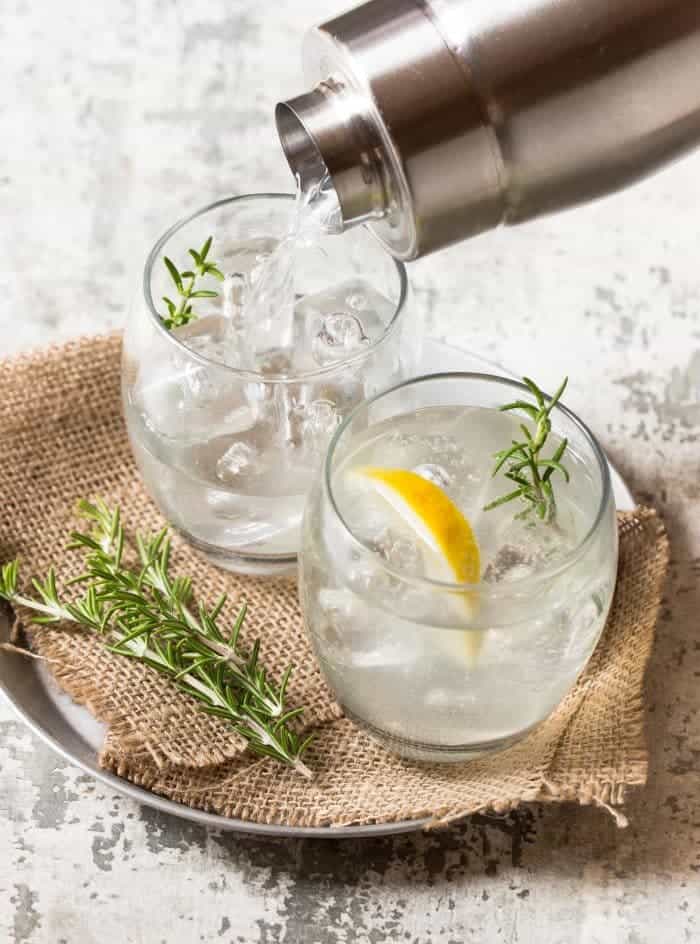 Labor Day weekend = the end of summer vacation in Minnesota and the beginning of football season. And this Rosemary Gin Spritzer is the perfect way to kick off the season and celebrate the long weekend.
Summer, meet fall.
Fall, meet summer. Usually when football season starts, I'm chomping at the bit for my favorite fall foods (apple pie anyone?) and pulling my sweatshirts from my closet.
This year, however, I'm still hanging on to the end of summer. While it has been a fabulous summer, all good things must come to an end. So we are toasting with a Rosemary Gin Spritzer before our bbq. Refreshing and light, this cocktail has the bright flavor of fresh lemon juice and the rosemary syrup gives the gin and club soda the perfect dose of fall. Just a hint, but not leaf-changing…yet.
These easy to make Rosemary Gin Spritzers are just what your next cocktail party or tailgate needs. They make a fabulous batch cocktail and are the perfect way to bridge summer into fall. Simply add some Asiago Dip, an easy Caramelized Onion and Goat Cheese Flatbread and some Greek Salad Skewers, and you are well on your to party perfection. Prepare a batch of the Rosemary Gin Spritzers and the menu is complete. A delicious way to toast the end of summer and embrace the beginning of all things fall! 
Batch Cocktail Tip: To make as a batch cocktail, simply multiply the ingredients by the number of cocktails you would like and mix in a pitcher. Pour desired amount of cocktail mix in glass and top with club soda.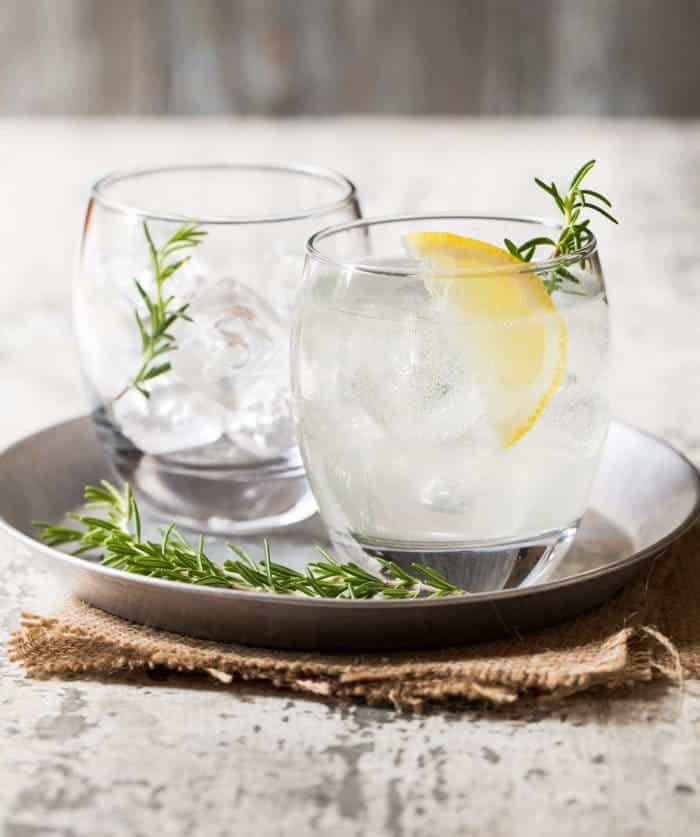 Recommended Equipment
Yield: 1 cocktail
Rosemary Gin Spritzer
Ingredients
Rosemary Simple Syrup:
4 sprigs of rosemary, roughly chopped
½ cup sugar
½ cup water
Rosemary Gin Spritzer:
2 ounces Gin
1 ounce fresh lemon juice
1 ounce Rosemary Simple Syrup
Club soda
Rosemary sprigs for garnish
Instructions
To make the Rosemary Simple Syrup:
Combine all ingredients in a pan and bring to a boil for the sugar to dissolve. Boil for 10 minutes and then let the rosemary sit in the syrup for the flavors to infuse together. (30 min - overnight) The longer it sits, the more pronounced the rosemary flavor.
To make the Spritzer:
Fill a low ball glass with ice. Add gin, lemon juice and rosemary syrup. Stir to combine. Top with Club Soda and garnish with a rosemary sprig before serving.
Nutrition Information:
Amount Per Serving:
Calories:

3