Add a bite of savory sweetness to your holiday dessert buffet with these crazy simple Rosemary Cracker Toffee Bars. They make great homemade food gifts, too!
I like sweets, don't get me wrong, but I do find my taste changing as I get older. I like things a little less sugary than I used to, and if you can throw in a bit of savory into my treats, I'm one happy camper. Which is why I put a twist on these iconic holiday toffee bars and used buttery rosemary crackers.
Wait…rosemary crackers? Don't judge until you try. The sweet, salty and just a little bit savory crunch of these Rosemary Cracker Toffee Bars is utterly addicting!
The process to make these bars couldn't be easier. Place the crackers on a sheet pan, cover with melted butter and sugar, bake, melt chocolate on top of toffee crackers and sprinkle with sea salt. The hardest part is waiting for them to cool enough to cut. Slice them generously or into mini pieces depending on how you plan to use them.
Packaging for a gift? Stack like-sized pieces into a cellophane bag and tie with a pretty ribbon. Serving as nibbles on a buffet? Offer a variety of sizes to fit different appetites. And then watch them disappear…
Tip:
I love my
offset spatula
in recipes like this where even spreading is important. It's one of those kitchen tools that felt like a splurge when I bought it (a $10 splurge, mind you), but it's one I find myself reaching for again and again. I have a shorter one, but I'm thinking of adding a longer option to my Christmas list…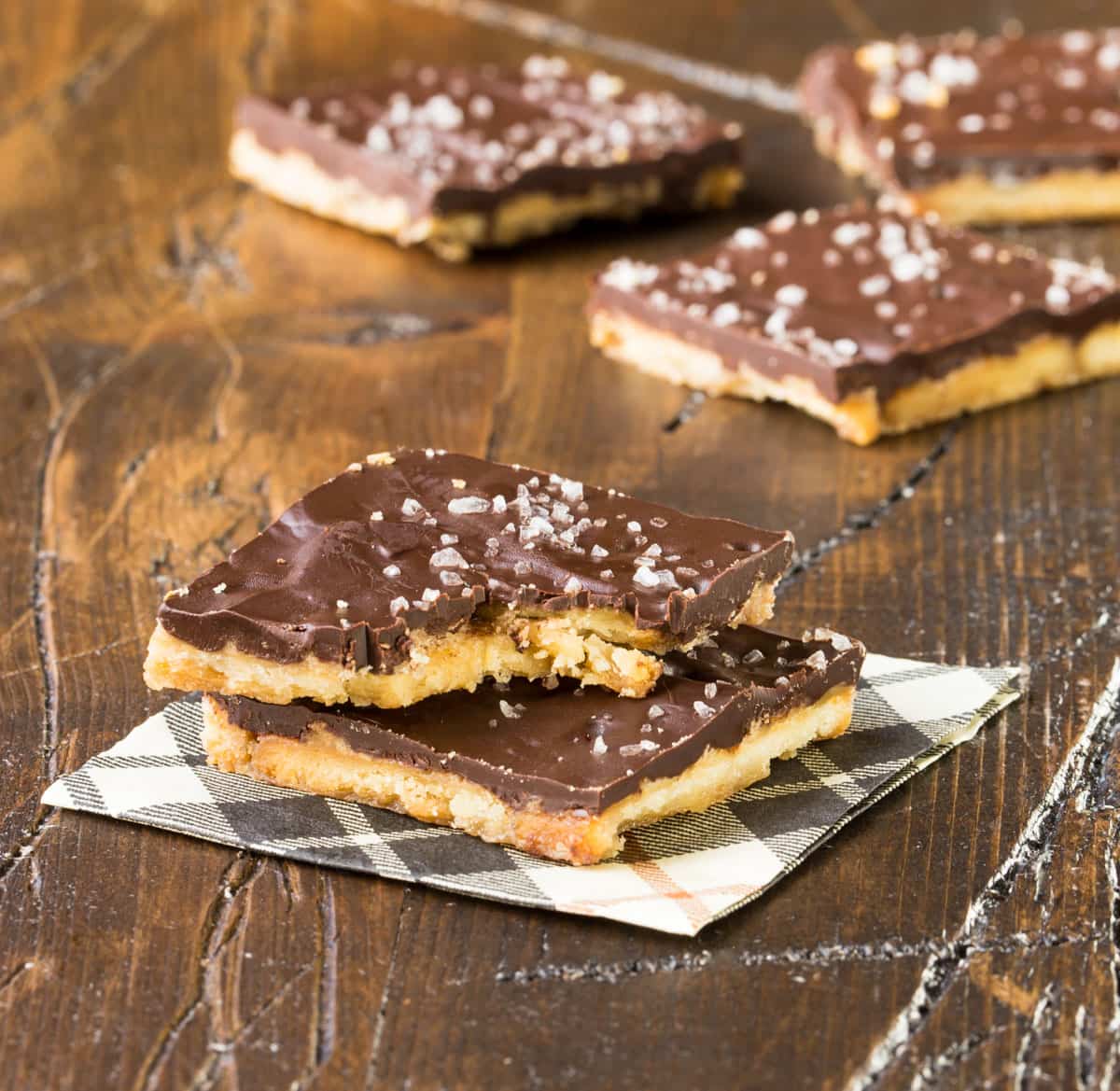 Recommended Equipment & Ingredients
Rosemary Cracker Toffee Bars
Ingredients
1 (9-oz) box Keebler Town House Focaccia Rosemary & Olive Oil Crackers (You'll need about 40 crackers)
1 stick unsalted butter
1/2 cup packed brown sugar
1/2 teaspoon salt
1 bag dark chocolate chips
1/2 tablespoon coarse sea salt
Instructions
Preheat oven to 375 degrees. Line a 9 x 13 baking sheet with parchment paper long enough to overlap on the sides.
Arrange the crackers in 4 rows of 10 on the baking sheet.
Melt the butter in a small saucepan. Add the brown sugar and salt and whisk until completely incorporated. Pour over the crackers. Bake for 7 minutes or until the toffee topping bubbles.
Remove pan from oven and evenly sprinkle chocolate chips over the top. Bake for another minute. Remove pan and use an offset spatula to evenly spread the melting chips over the toffee crackers. Sprinkle with sea salt.
Allow to cool completely then cut into desired size.


Notes
Store in an airtight container for up to 5 days.
Nutrition Information:
Amount Per Serving:
Calories:

28
Total Fat:

1g
Carbohydrates:

4g
Protein:

1g