Welcome spring produce with a batch of these Roasted Potatoes with Arugula Pistachio Pesto!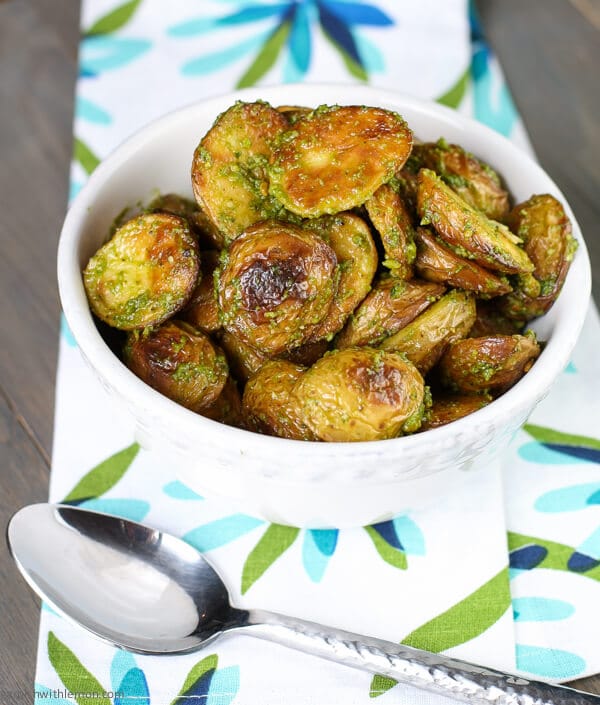 The cruelty of April weather is always one step forward and two steps back. We're having one of those "two steps back" weeks right now. I received a bunch of gardening catalogs in the mail the other day, and I was so envious of all the people out there who are digging in the dirt and planting their summer gardens. I can't wait to have fresh herbs right outside my patio door once again! But since that is still a ways off for us here in Minnesota, I'm resigned to enjoying the produce I do have access to and making the most of it. Spring greens will soon flood the markets, and these Roasted Potatoes with Arugula Pistachio Pesto are a perfect way to kick off pesto season everywhere.
The beauty of this Arugula Pistachio Pesto is you can use it so many ways. Its cheery green color and mild peppery bite makes it a unique option to jazz up roasted potatoes, but it is an equally delicious way to fancify your grilled fish or chicken. Or slather it on your favorite sammie for a fun change of pace. Another bonus? It will last for a few weeks in the fridge without discoloring, unlike traditional pesto made with basil. It freezes beautifully, too.
I know spring will arrive eventually, but, in the meantime, I'll just keep dreaming warm thoughts, earmarking pages of my gardening catalogs and wistfully watching the forecast.
(And stuffing my face with spring pesto.)
Yield: 8
Roasted Potatoes with Arugula Pistachio Pesto
These Roasted Potatoes are a great companion to anything from the grill!
Ingredients
2 1/2 pounds small potatoes (baby reds, fingerlings, etc.), cut in half or quarters
1 tablespoon olive oil
Salt and Pepper
Arugula Pistachio Pesto
1/3 cup olive oil
1 clove garlic
2 cups arugula, lightly packed
1/4 cup pistachios
1/3 cup asiago cheese
pinch of salt and pepper
Instructions
Preheat oven to 400 degrees.
Place potatoes in a large bowl and toss with olive oil. Pour potatoes onto a sheet pan and sprinkle with desired amount of salt and pepper. Roast in the oven for 25 minutes, toss potatoes, and continue roasting for another 25-30 minutes, checking after 15 minutes and tossing again if necessary.
Immediately toss hot potatoes with enough Arugula Pistachio Pesto to coat. Serve warm.
Combine all ingredients in blender or food processor and pulse until thoroughly combined. Store covered in refrigerator for up to 2 weeks. Makes almost 1 cup of pesto.
Nutrition Information:
Yield:
8
Serving Size:
1
Amount Per Serving:
Calories:

303
Total Fat:

17g
Saturated Fat:

3g
Trans Fat:

0g
Unsaturated Fat:

14g
Cholesterol:

4mg
Sodium:

164mg
Carbohydrates:

32g
Fiber:

4g
Sugar:

2g
Protein:

7g