Lighter than most potato soup recipes, this Roasted Potato Leek Soup with Arugula bridges the gap between winter and spring effortlessly.
As the weather teases us with hints of warm temps to come, our thoughts turn to spring foods. But since our growing season isn't in lockstep with our cravings, we love recipes like this Roasted Potato Leek Soup with Arugula. Substantial enough to satisfy our hunger yet light enough to not weigh us down, this soup is a welcome addition to your menu planning.
How to make Roasted Potato Leek Soup with Arugula
A couple of things make this Roasted Potato Leek Soup with Arugula recipe stand out from other versions:
The addition of arugula, with its peppery bite, keeps this soup lighter than a lot of other potato soup recipes.

All of the veggies – the potatoes, the leeks and even the arugula – are roasted in the oven before being pureed and added to the soup. That extra step caramelizes the veggies and gives them a major flavor boost.

This soup combines half and half with plain Greek yogurt for added protein while still maintaining the creaminess and rich flavor that we all love from potato leek soup.
Tip: Try to keep the chunks of leeks intact when you roast them rather than pulling the layers apart. They will be less likely to burn if you keep them in bigger chunks. Alternatively, you can peel the layers apart but add them to the baking pan midway through roasting the potatoes.
You can make this Roasted Potato Leek Soup with Arugula a few days ahead of time, too. Cool completely, pop it in the fridge and simply reheat before serving. Add it to your spring brunch menu as a delicious first course or portion it out into containers to make easy lunches for the week!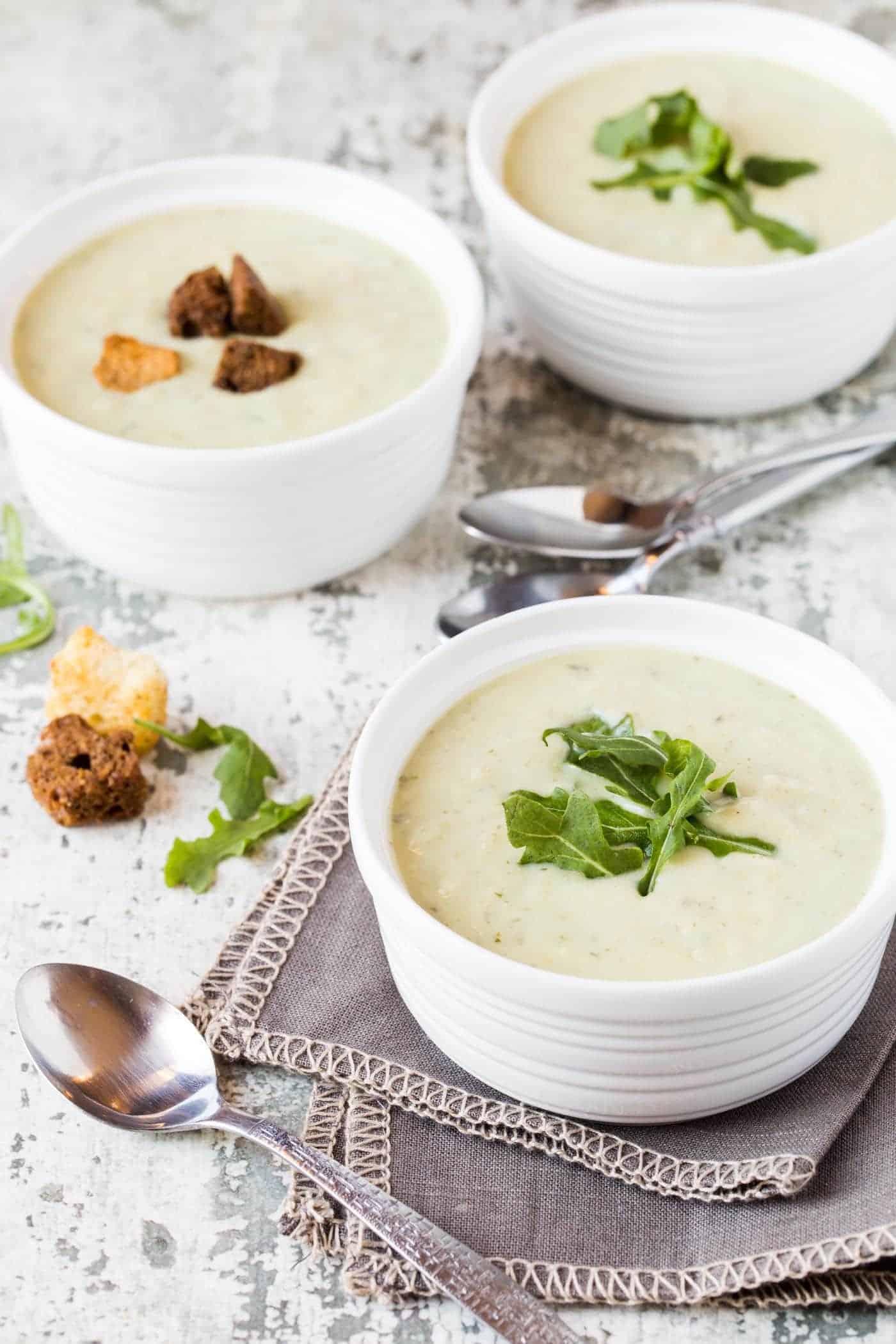 Recommended Equipment
Yield: 8
Roasted Potato Leek Soup with Arugula
Total Time
1 hour
25 minutes
Ingredients
2 pounds Yukon gold or other yellow potatoes, cut into small chunks
3 large leeks, cleaned and cut into 1-inch chunks (white and light green parts)
5 garlic cloves, peeled
3 tablespoons olive oil
Salt and Pepper
3 large handfuls baby arugula
1/2 cup dry white wine
4 (14-ounce) cans chicken broth
3/4 cup half & half
1 cup plain Greek yogurt
1/4 cup freshly grated Parmesan, plus extra for garnish
1/2 teaspoon salt (or to taste)
1/4 teaspoon pepper (or to taste)
Extra arugula or croutons for garnish, optional
Instructions
Preheat the oven to 400 degrees F.
Add potatoes, leeks and garlic to a large bowl. Drizzle with olive oil, sprinkle with salt and pepper and gently stir to coat vegetables. Pour vegetables on a sheet pan keeping everything in a single layer. Roast for 40 minutes, turning every 15 minutes with a spatula. Scatter arugula on pan and return to oven for 5 more minutes. The vegetables should be very tender and the arugula will start to wilt. Remove pan from oven and place on heat-proof surface (like the top of the stove). Pour wine on hot pan and scrape bottom of pan to remove brown bits.
Working in batches, add 1/4 of roasted vegetables and pan juices and 1 can chicken broth to blender and blend until smooth. Pour mixture into a large soup pot. Repeat until all vegetables are pureed and all chicken broth is used. Gently reheat soup on stovetop using medium low heat.
Once soup is warm, whisk in half and half, yogurt and Parmesan cheese. Stir in 1/2 teaspoon salt and 1/4 teaspoon pepper and adjust seasoning as desired.
Serve warm with croutons or extra arugula.
Nutrition Information:
Yield:
8
Amount Per Serving:
Calories:

0
Total Fat:

0g
Saturated Fat:

0g
Trans Fat:

0g
Unsaturated Fat:

0g
Cholesterol:

0mg
Sodium:

0mg
Carbohydrates:

0g
Fiber:

0g
Sugar:

0g
Protein:

0g