Roll out the welcome mat for spring with this Roasted Asparagus with Lemon Vinaigrette!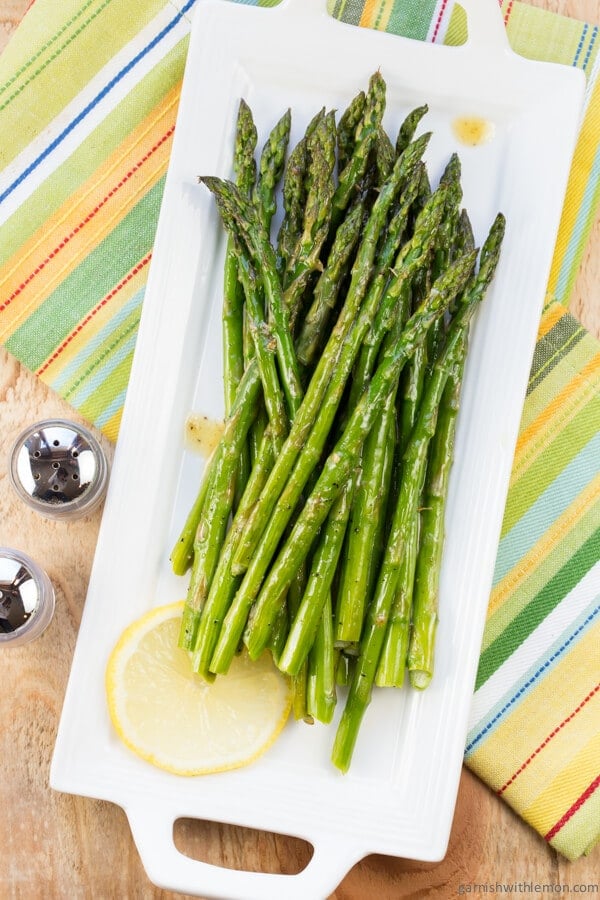 I think I bought asparagus three times last week. That's kind of obscene, don't you think?
I couldn't help myself; the display was just too irresistible. All of these bright green, thin soldiers lined up in a water bath complete with floating lemon slices. It's like they were beckoning me to take them home. So I did. Three times. We ate a lot of asparagus that week. Fortunately, spring asparagus requires little effort to make it shine, and this quick and easy Roasted Asparagus with Lemon Vinaigrette makes the most of one of spring's best veggies.
Roasting asparagus couldn't be simpler. Just a few minutes in a high heat oven greatly mellows the sometimes bitter taste of fresh asparagus. And you couldn't ask for a better complement to this spring side dish than this tasty lemon vinaigrette. Simple toss your vinaigrette ingredients in a glass jar and give it a good shake. Dressing.Done. You'll have some left over, but it's so irresistible that I'm pretty sure you won't run out of ideas for things to drizzle it on. (Hint: think salads, roasted potatoes and salmon.)
Not interested in turning on the oven? The asparagus can be easily grilled instead. it's also pretty darn good cold as part of a veggie antipasti platter. Just remember to slightly undercook the asparagus if you're going to serve them cold. No one likes wimpy asparagus.
Yield: 4
Roasted Asparagus with Lemon Vinaigrette
Oregano, mustard and lemon vinagrette adds some great flavor to oven roasted asparagus.
Ingredients
Vinaigrette:
2 tablespoons red wine vinegar
1 tablespoon Dijon mustard
1/2 teaspoon dried oregano
1 garlic clove, finely minced
1/4 cup extra-virgin olive oil
2 tablespoons freshly squeezed lemon juice
Salt and pepper
Roasted Asparagus:
1 pound fresh asparagus, trimmed
2 tablespoons extra-virgin olive oil
Instructions
To make the vinaigrette:
Combine vinegar through lemon juice in a small jar with a lid. Cover and shake to combine. Season to taste with salt and pepper.
To make the roasted asparagus:
Preheat the oven to 400 degrees.
Toss the asparagus with the olive oil and generously sprinkle with salt and pepper. Roast for 7-12 minutes, depending on the thickness of your asparagus. Be careful not to overcook it.
To serve:
Place warm roasted asparagus on a platter and drizzle with desired amount of vinaigrette. Serve immediately.
Notes
Store leftover vinaigrette in the fridge for up to 2 weeks.
Nutrition Information:
Yield:
4
Serving Size:
1
Amount Per Serving:
Calories:

211
Total Fat:

21g
Saturated Fat:

3g
Trans Fat:

0g
Unsaturated Fat:

17g
Cholesterol:

0mg
Sodium:

194mg
Carbohydrates:

6g
Fiber:

3g
Sugar:

2g
Protein:

3g
Did you overbuy asparagus, too? That's OK. We've got you covered.
Balsamic Brown Butter Asparagus
Bacon Asparagus Bundles