Make your favorite bar snacks at home with an Irish twist! These Reuben Potato Skins combine all of the flavors you love in a Reuben sandwich and pile them in a potato skin!
Are you a Reuben sandwich lover? If you are, we have the perfect party snack recipe for you. If not, you will be soon. We took the traditional potato skin and gave it an Irish twist with these Reuben Potato Skins. Reuben Potato skins are a great way to feed Reubens to a crowd without having to make a bunch of sandwiches. After all, who wants to spend all of their time in the kitchen when friends are over?
You know that we are big fans of prep work that can be done ahead of time for parties. These potato skins can be fully assembled and ready to go in the oven before your guests arrive. You can even bake the potatoes the day before and scoop out the potato pulp. Just be sure to let the skins cool completely before you refrigerate them, otherwise, you will have some soggy skins. And no one likes soggy skins. Trust us on this one.
When you are ready to assemble, pop the skins in the oven for 10 minutes. This will make them nice and crispy and then add the toppings. Simply bake them in the oven for 30 minutes before you are ready to serve and you will have cheesy, crispy skins that no one will be able to resist. Plus your prep work and clean up is done before your guest even arrive. How's that for a win? Add a great veggie tray, a cheese ball, and a batch cocktail to the menu, and your work in the kitchen is done.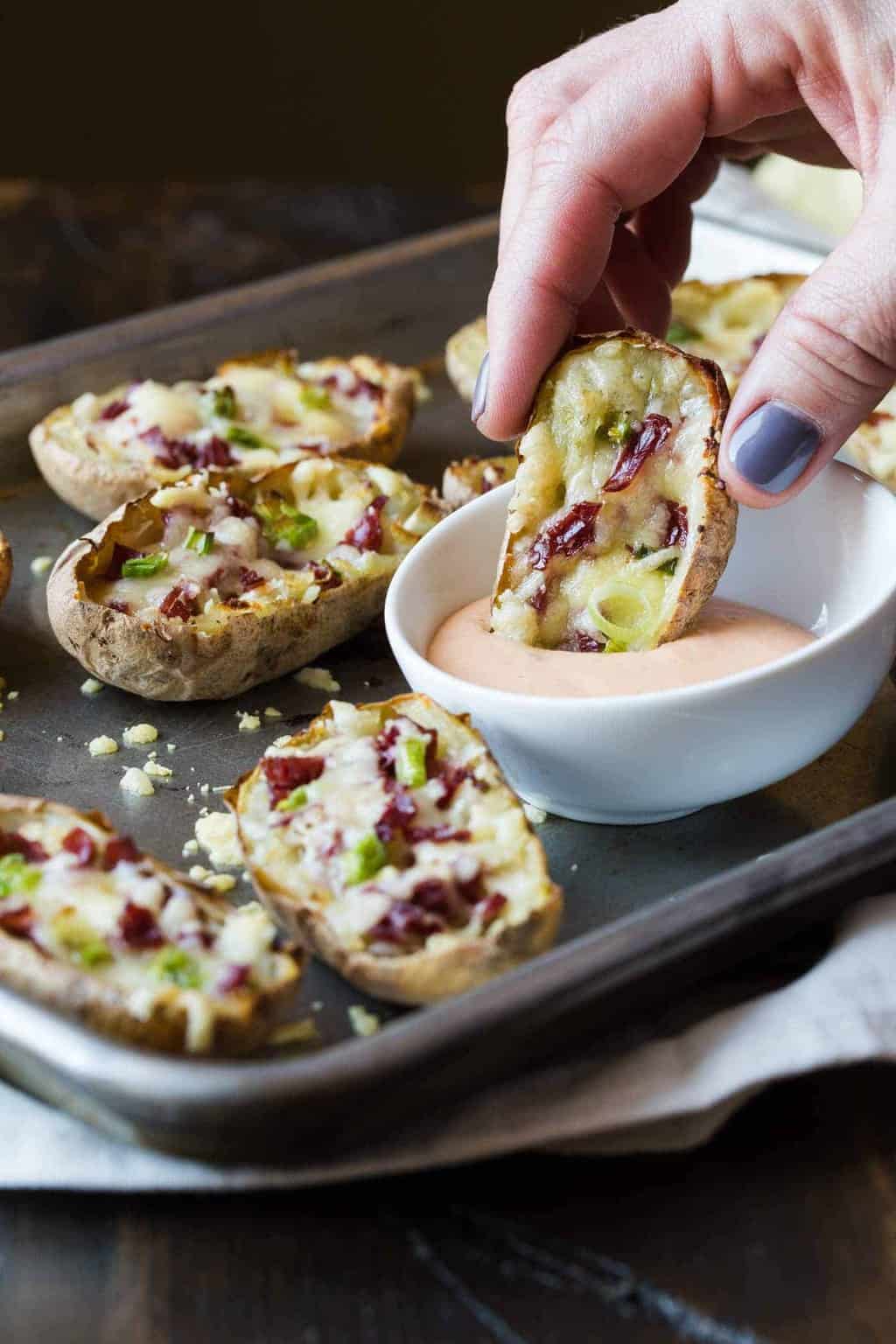 RECOMMENDED EQUIPMENT
Yield: 12 potato skins
Reuben Potato Skins
Ingredients
6 small baking potatoes, baked
1/2 cup canned sauerkraut, drained well
1 cup shredded Swiss cheese
1 cup corned beef, diced
4 green onions, sliced
Thousand Island dressing for dipping
Instructions
Let baked potatoes cool until easy to handle. Slice in half and scoop out most of the potato filling and reserve for another use.
To assemble potato skins:
Preheat oven to 350.
Fill skins with 2 tablespoons of sauerkraut. Divide the cheese, corned beef and onions among the potato skins. Bake for 30 minutes or until cheese is melted. Serve with Thousand Island dressing for dipping.