Enjoy bakery flavor at home with these baked Pumpkin Spice Mini-Donuts!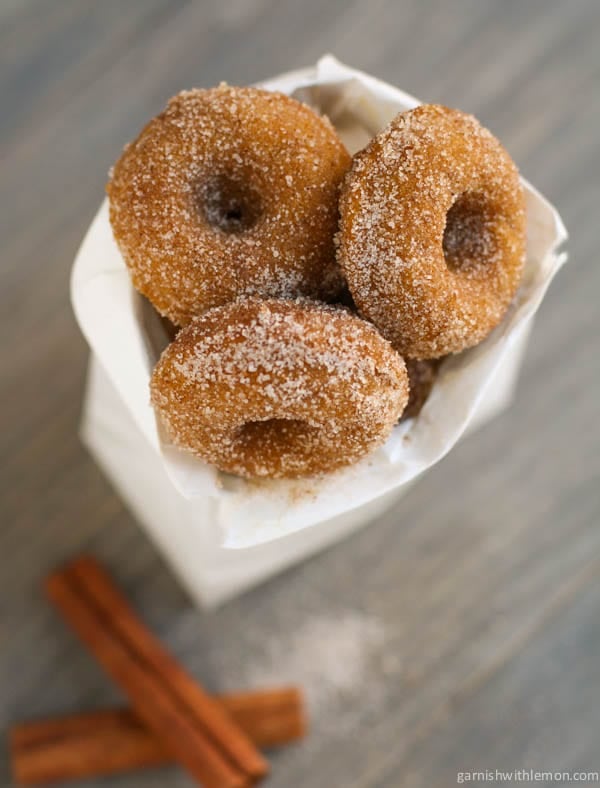 My daughter has a severe peanut allergy, so grabbing donuts at the local bakery like most people doesn't happen for us. The chance for cross-contamination of ingredients is too great. I've had a mini-donut pan in my cupboard for years. I bought it with the intention of making my own baked donuts for my daughter. I figured they would be healthier than those that are fried and obviously eliminate any chance of a stray peanut product sneaking into them. But after several attempts, I gave up searching for baked donut recipes that didn't turn out as hard as rocks.
This recipe for Pumpkin Spice Mini-Donuts from Blue-Eyed Bakers caught my eye on Pinterest quite a while ago, and I'm so glad I broke out the mini-donut pan for it. Ah-mazing. The texture is lighter and fluffier than your typical cake donut. It's more like a muffin, which I think is ideal for baked donuts. The pumpkin keeps the donuts tender and moist, while the fall-themed spices (cinnamon, nutmeg, allspice and cloves) are a perfect match for the season.
But wait, we're not done yet. The swooning begins once you coat them in butter and dust them with cinnamon-sugar. That really puts them over the top. Unfortunately my whole theory about baked donuts being healthier gets thrown out the window after the butter-dipping part, but life is too far too short to waste your calories on mediocre donuts.
I made these as an after-school treat for my kids last week. Judging by their reactions, you'd think they just won the lottery. I have to agree; I felt rich with love for these bad boys, too.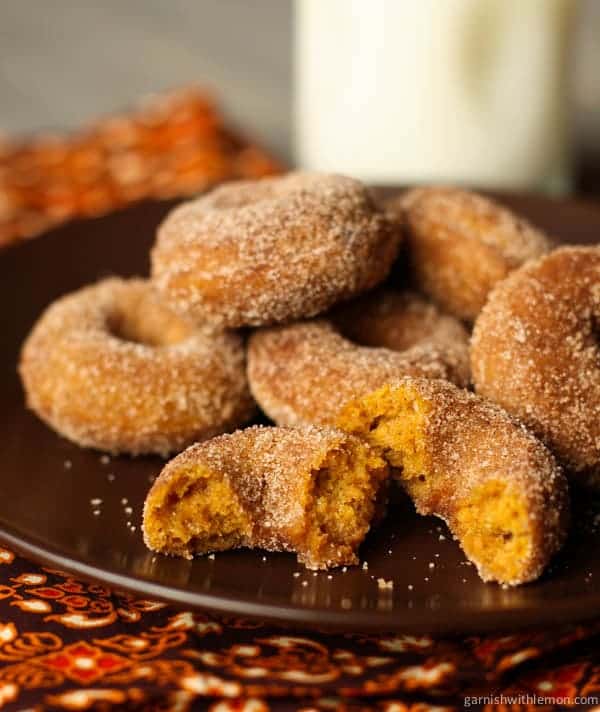 Yield: 36 mini donuts
Pumpkin Spice Mini-Donuts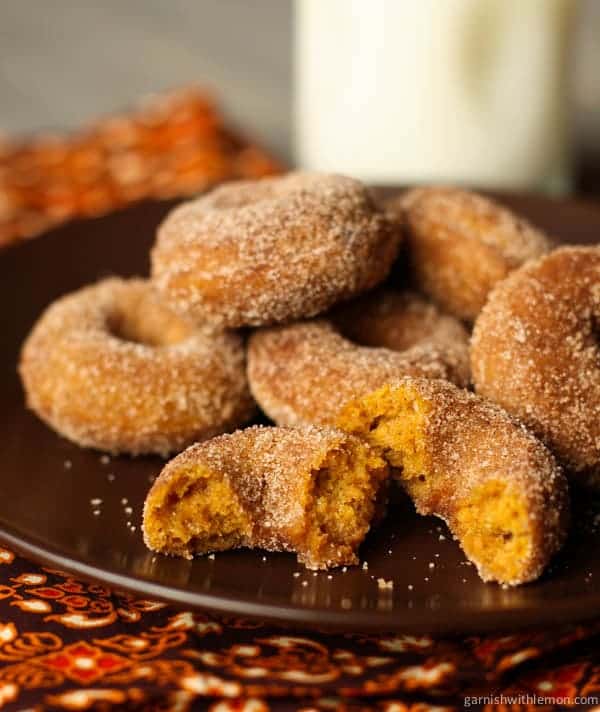 Get all the bakery goodness at home with these easy Pumpkin Spice Mini-Donuts!
Ingredients
Donuts
1 3/4 cups flour
1 1/2 teaspoons baking powder
1/2 teaspoon salt
1 teaspoon cinnamon
1/2 teaspoon nutmeg
1/2 teaspoon allspice
1/8 teaspoons ground cloves
1/3 cup vegetable oil
1/2 cup brown sugar
1 egg
1 1/2 teaspoon vanilla extract
3/4 cup canned pumpkin
1/2 cup milk
Cinnamon-Sugar Coating
1/4 cup melted butter
1/2 cup sugar
1-2 teaspoons cinnamon
Instructions
Donuts
Preheat oven to 350 degrees. Grease the mini-donut pan.
Whisk together flour, baking powder, salt, cinnamon, nutmeg, allspice and cloves in a small bowl.
Combine oil, brown sugar, egg, vanilla extract, pumpkin and milk in a large bowl. Slowly add the flour mixture to the wet ingredients and stir until just combined. (Don't overwork the batter. No one likes tough donuts.)
Pour batter into a large ziploc bag and snip a small corner off one end. (You're essentially making a pastry bag.) Squeeze batter into mini-donut pan forms, working in stages if necessary. Bake for 7-9 minutes. If the donuts gently spring back when you touch them, they are ready. Pop them out onto a wire rack to cool.
Coating
Combine the cinnamon and sugar in a bowl.
Working with a few donuts at a time, brush both sides of donuts with butter using a pastry brush (or dip them right into the butter.)
Put donuts into bowl and coat with cinnamon-sugar.
Notes
If you don't plan to eat all the donuts right away, place the uncoated donuts in an airtight container until ready to use. Then proceed with the butter/sugar coating when you are ready to serve them.