The weather has definitely taken a turn to the cooler side in Minnesota. (I am choosing to not believe the little snowflake I saw in the weather forecast last night!) I'm nowhere near ready for the white stuff to fly yet. But, with chillier nights arriving, it's time to bring out the comfort food. And what better comfort food is there than biscuits? Pumpkin Parmesan Biscuits, to be exact. Biscuits are the perfect cold weather food. Rich, flaky and filling with grated Parmesan, a hint of pumpkin and a sprinkle of chives. Ooh la la…are they ever easy to devour! (Not that I speak from experience or anything.) 
I made these a couple of different times, and, hands down, the way to make them is by cutting the ingredients together in a bowl. The first time I made them, I pulsed everything in the food processor, and the dough became tough from being over mixed. Want another tip to awesome biscuits? Throw your butter in the freezer for 15 minutes before you dice it. Cutting chilled butter into the flour gives the dough the teeny tiny bits of butter that translate into perfectly flaky biscuits. Stop cutting the butter into the dough while you still can still see butter; you'll be much happier when you pull them out of the oven. Stir in the pumpkin, chives and a little cream, and you are on your way to comfort food heaven with an unexpected flavor combination.
Hello, chilly nights! Maybe it's not so bad to have you here if it means I can eat food like this….but I can still wait for a little while to see the white stuff.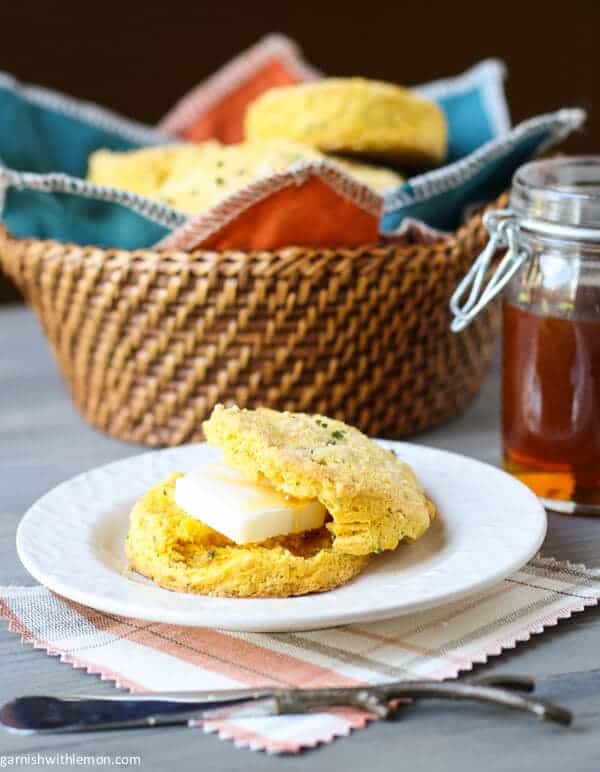 Yield: 8
Pumpkin Parmesan Biscuits
These flaky biscuits are SO easy to make!! You'll have success every single time!
Ingredients
2 cups all purpose flour
1 tablespoon baking powder
1 tablespoon sugar
1/2 teaspoon salt
2 tablespoons finely grated Parmesan
1 stick chilled butter, diced
1/2 cup canned pumpkin
1/3 cup heavy cream
2 tablespoons chives
2 tablespoons melted butter for brushing on top of biscuits.
Additional Parmesan for sprinkling
Instructions
Preheat oven to 400 degrees and line a baking sheet with parchment paper.
In a large bowl, put flour, baking powder, sugar and salt and whisk together. Add the diced butter and cut into flour mixture until it resembles coarse crumbs.
In a small bowl, mix pumpkin, cream and chives, and stir together until mixed well.
Fold pumpkin mixture into flour mixture and stir until just mixed. Do not over mix or biscuits will be dry.
Roll out dough on a floured surface into a large rectangle about 3/4 of an inch thick. Using a 2-inch biscuit cutter, cut biscuits and place on parchment paper.
Brush tops of biscuits with melted butter and sprinkle with Parmesan cheese.
Bake for 12-15 minutes or until lightly brown.
Remove from pan and serve warm.
Nutrition Information:
Yield:
8
Serving Size:
1
Amount Per Serving:
Calories:

321
Total Fat:

20g
Saturated Fat:

12g
Trans Fat:

1g
Unsaturated Fat:

6g
Cholesterol:

51mg
Sodium:

513mg
Carbohydrates:

31g
Net Carbohydrates:

0g
Fiber:

1g
Sugar:

3g
Sugar Alcohols:

0g
Protein:

5g