Summer's best produce is showcased in this easy Grilled Pesto Pizza recipe with Goat Cheese, Tomatoes and Arugula!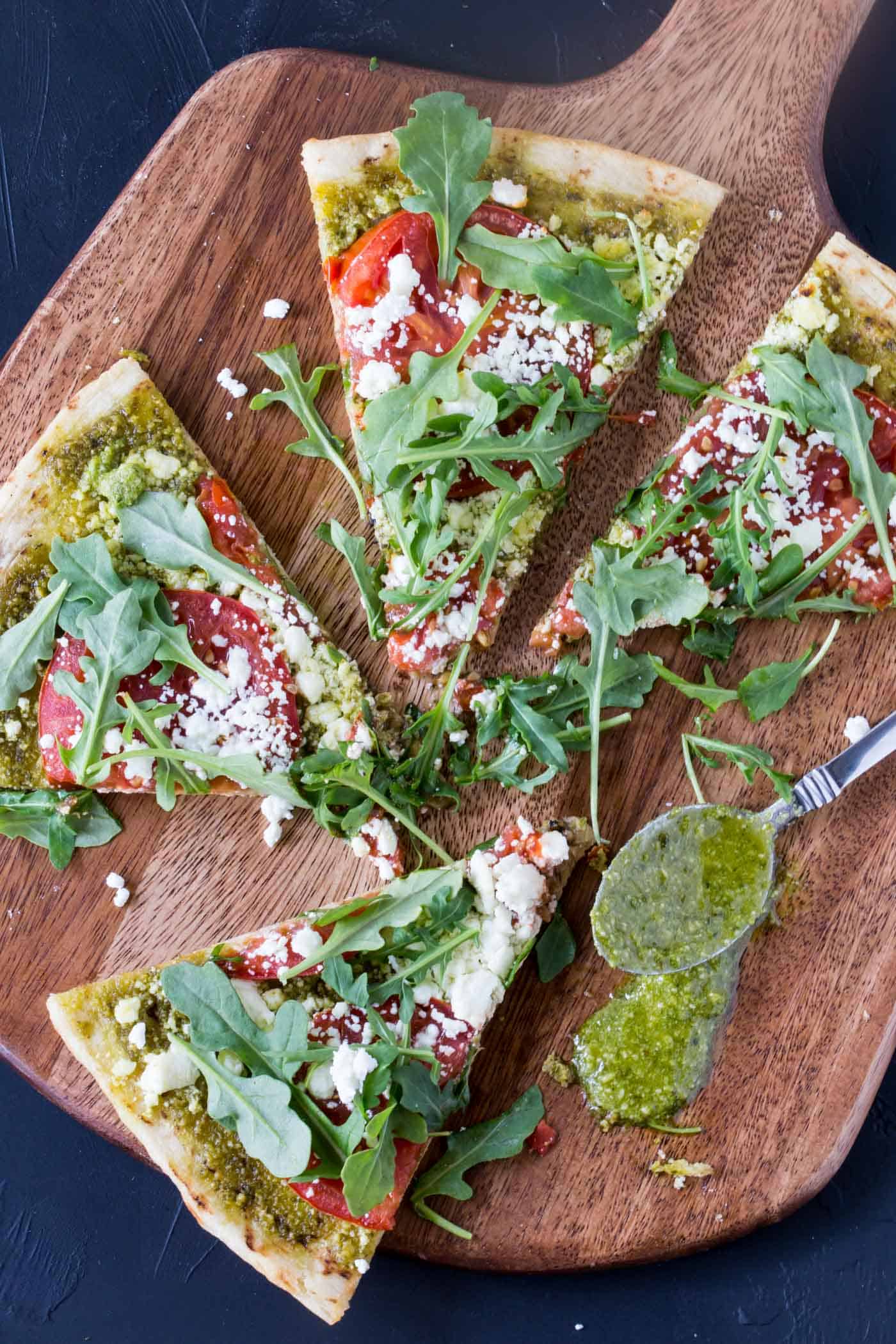 Pizza can be a polarizing thing. Either you're a purist who only likes a traditional meat and cheese pie or you have a bit of an adventurous palate that likes to dabble beyond the tried and true. Count me in the latter camp for pizza. Take this Grilled Pesto Pizza recipe with Goat Cheese, Tomatoes and Arugula, for example. You put the greens on top of the pizza after it bakes. I think it's the best of both worlds - salad AND pizza all in one bite!
This Grilled Pesto Pizza recipe with Goat Cheese, Tomatoes and Arugula is one of my favorite flavor combinations for pizza, especially when the weather warms up and you can use summer's freshest tomatoes and basil pesto. I'm telling you, it's sooo worth stepping outside of your pizza box for this beauty. It doesn't disappoint.  
Do I have to make my own pizza dough for this Pesto Pizza recipe? 
We sometimes make our own pizza dough, but when time is tight, I grab it at the store or even substitute a premade crust if life is super crazy. Either way, the combination of garlicky pesto, juicy tomatoes, creamy goat cheese and peppery arugula can't be beat. 
Do I have to grill this Pesto Pizza recipe or can I make it in the oven? 
Grilled pizza is always my first choice, but if I don't feel like standing in the rain while I grill, I do make this in the oven. Follow the instructions below for grilling the pizza except crank your oven up as high as it will go without setting off fire alarms. (think 475-500 degrees).
How to Grill Pizza
Have you ever grilled pizza before? Nothing beats the tasty char of a fire-grilled pizza, in my opinion. It's the easiest way to get pizzeria-quality pizza in your own home. The key to successfully grilling pizza is to use a pizza stone and get it smoking hot before you even add the pizza to the grill. Let it heat up for at least 20 minutes to ensure the stone is evenly heated.
A pizza peel dusted with cornmeal is the easiest way to slide your uncooked pizza onto the stone, but an overturned sheet pan dusted with cornmeal works or even parchment paper works, too. Just make sure you roll out the dough and place it on the peel or pan before you start adding toppings to it. (Speaking from experience, transferring your uncooked pizza to the peel after you've topped the pizza is a no easy, or clean, feat.) 
Watch the pizza carefully to ensure there are no hot spots on your grill and the pizza cooks evenly. You can use your pizza peel or a large spatula to check the doneness of underside of the crust and slide it onto a cutting board or sheet pan when it's ready to eat.
Top your Grilled Pesto Pizza with your fresh greens and cut it into squares for an impressive appetizer during happy hour. Or slice it into wedges for a tasty main meal - especially for those salad-type pizza lovers like me.
Yield: 4 servings

Pesto Pizza with Goat Cheese, Tomatoes and Arugula

Give pizza night a much needed update and serve this falvor packed pesto pizza with goat cheese!

Ingredients

Pizza dough for one crust (either homemade or store-bought)
1/2 cup pesto
1 large or 2 smaller tomatoes, sliced
4 ounces goat cheese
Large handful of arugula

Instructions

Preheat baking stone on grill on high heat for 20 minutes.
Roll out pizza dough to desired size. Transfer to baking pan or pizza peel.
Spread pesto over dough. Top with tomato slices and crumbled goat cheese. Slide pizza onto stone and bake to desired degree of doneness. Let cool for a few minutes and top with arugula.
Slice and serve.

Nutrition Information:

Yield: 4 Serving Size: 1 Amount Per Serving:

Calories:

266

Total Fat:

22g

Saturated Fat:

7g

Trans Fat:

0g

Unsaturated Fat:

14g

Cholesterol:

21mg

Sodium:

317mg

Carbohydrates:

8g

Fiber:

1g

Sugar:

2g

Protein:

10g