This Pesto Pasta Salad with Peas filled with tomatoes and pine nuts is the perfect side dish to anything that comes off the grill.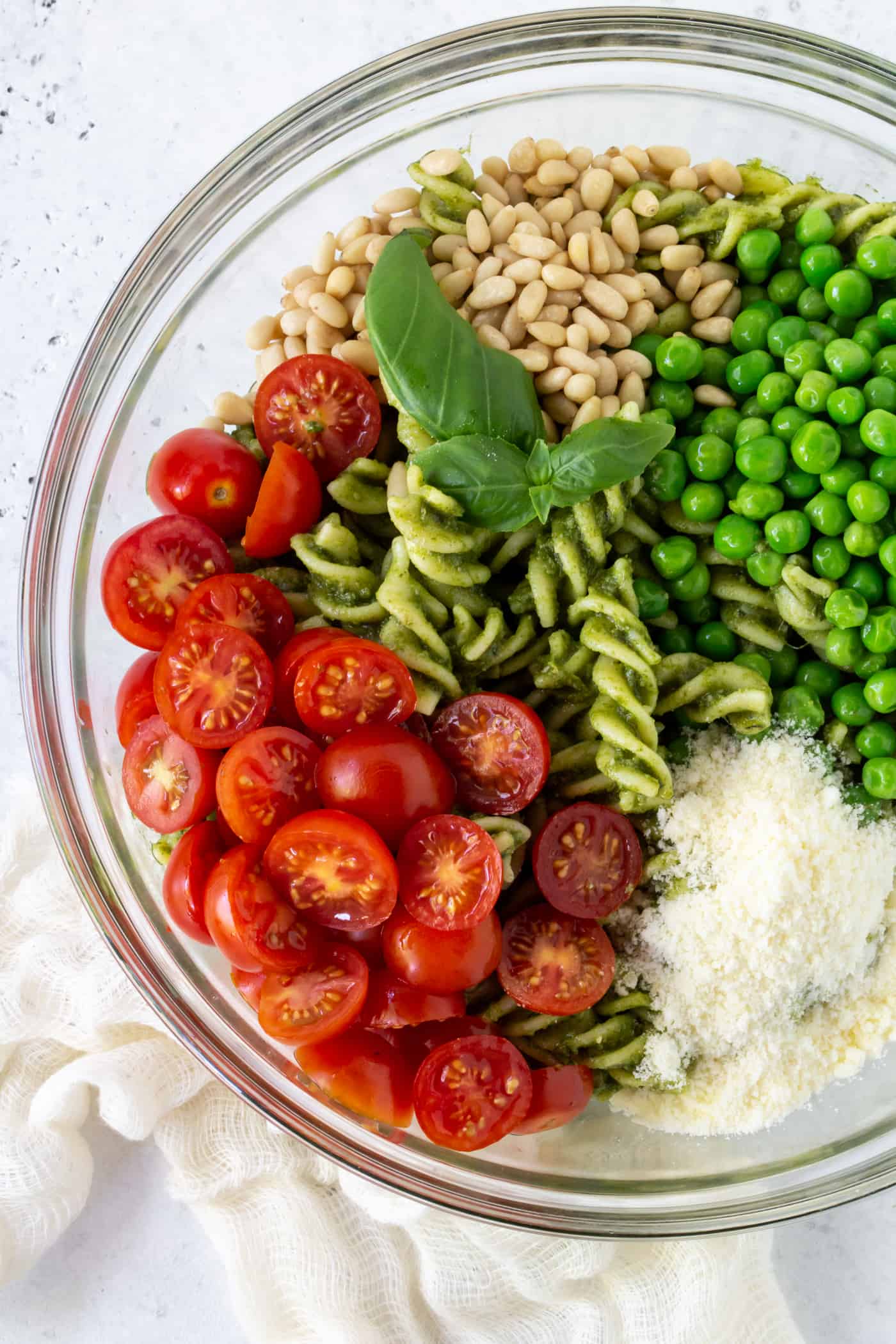 There are many great things about Minnesota that make us take in these brutal winters, (although this wet, cold spring is really making me question our choice of where we live), but one of the biggest reasons for me is just around the corner: Summer.
Summer in Minnesota is a pretty glorious thing.
We have gorgeous lakes, warm weather, and people come out of the woodwork. True, there are a few mosquitoes, but you have to take the good with the bad.
And when it's nice out, I like to be hanging outside with the family instead of stuck in the kitchen cooking, which is why this Pesto Pasta Salad with Peas is my go-to summer side dish.
Pesto Pasta Salad with Peas (say that 10 times fast) is a fabulous partner to anything that comes off the grill.
It's packed with a punch of flavor from the pesto sauce and bright color from the juicy tomatoes. (Double bonus if the tomatoes come from the farmer's market!)
But the best part is you can make it ahead of time and eat it at room temperature or chilled. How's that for a no-fuss pasta salad? And since it's not loaded with heavy mayo and has spinach hidden in the pesto sauce, it's even a tad healthy to boot.
How to make a good pasta salad
All good pasta salads start with pasta that is cooked correctly. Follow these tips to get perfect pasta every time.
Fill a large pot with water. Make sure that you have enough to cover the pasta. This recipe calls for a half-pound of pasta so I use 2 quarts of water.
Cover the pot and bring the water to a rolling boil.
Stir in 2 teaspoons of kosher salt.
Add pasta and cook to al dente stage. Follow the directions on the package.
Why do I need to salt the water when I cook pasta?
Do you ever wonder why pasta that you eat in a restaurant always tastes better? It has been seasoned properly.
The only time you can season the pasta itself is while it is cooking. 2 teaspoons of kosher salt may seem like a lot, but the pasta only absorbs a fraction of it.
So be sure you don't skip this step. Otherwise, you will end up with pasta that doesn't have any flavor.
What does it mean to cook it to al dente?
Al dente literally means "to the tooth" in Italian. When pasta is cooked al dente, it is easy to bite into but is still firm. Start your timer and cook pasta according to the package al dente directions. Check it by biting into to it. If it is still firm but not crunchy it is done! If not, check again after 30 seconds.
Overcooked pasta is gummy and soft and will ruin your pasta salad recipe.
Should I rinse the pasta after it is done?
YES! And you want to do that for 2 reasons.
It stops the cooking process so you don't end up with overcooked pasta. No one likes a mushy pasta salad.
It rinses off the starchy film that coats the pasta after cooking. Rinsing it will keep the pasta loose, otherwise, it will clump together.
Simply pour the cooked and rinsed pasta into a large bowl and add the dressing and toss to coat. It may seem soupy, but don't worry! All of that great flavor absorbs into the pasta.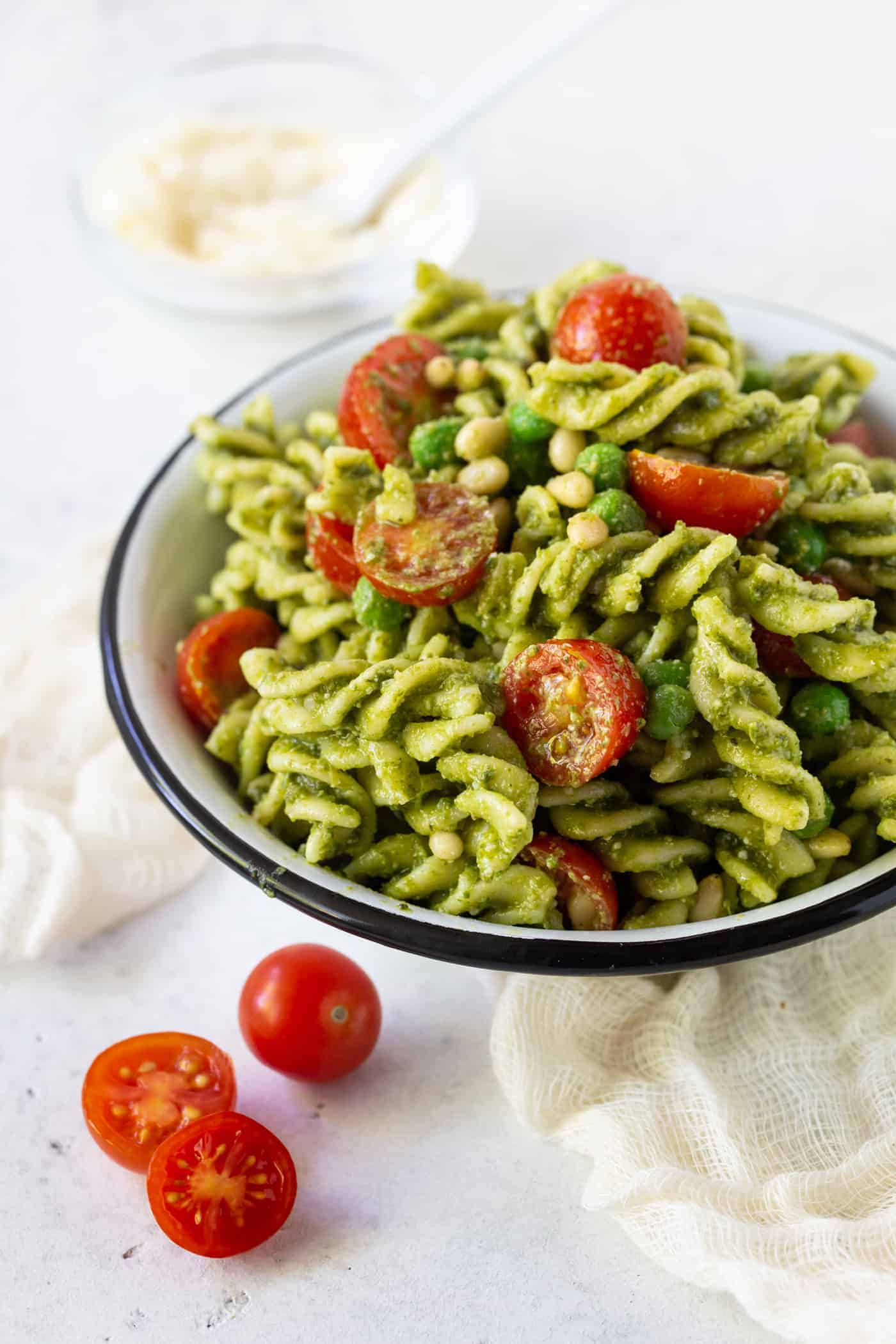 Check out all of our side dishes!
Looking for more pasta salad recipes?
Tomato Feta Pasta Salad Recipe– Garnish with Lemon®
Bacon Ranch Pasta Salad Recipe– Garnish with Lemon®
Classic Macaroni Salad– Garnish with Lemon®
Easy Orzo and Chickpea Salad– Garnish with Lemon®
Taco Pasta Salad– Tidy Mom
Chinese Coleslaw– Shugary Sweets
Yield: 6-8 servings
Pesto Pasta Salad with Peas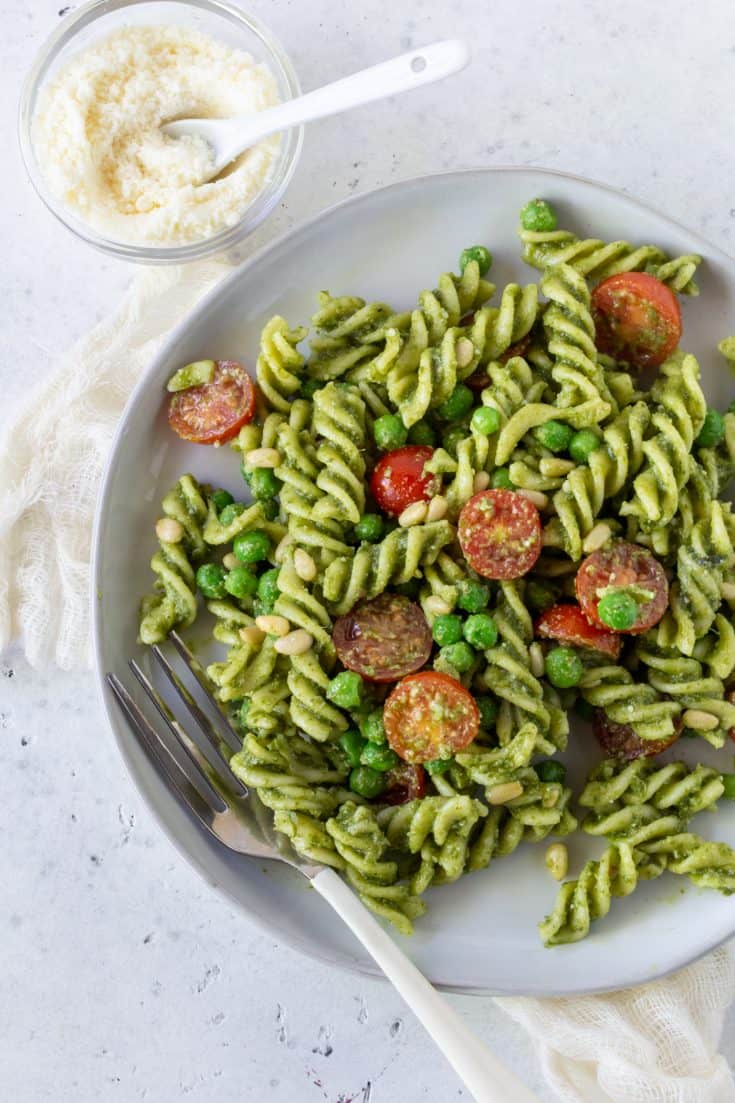 This gorgeous and delicious pasta salad is a great addition to your summer bbq menu.
Ingredients
1/2 pound short pasta noodle, cooked and drained to package directions
2 Tablespoons olive oil
3/4 cups pesto
1/2 frozen chopped spinach, thawed and squeezed dry
3 tablespoons freshly squeezed lemon juice
3/4 cups Greek Yogurt
1/2 cup grated Parmesan
3/4 cup frozen peas, thawed
1 cup grape tomatoes, halved
1/3 cup pine nuts
salt and pepper to taste
Instructions
Cook the pasta according to package directions. Drain and place in a bowl with the olive oil. Cool to room temperature.
In the bowl of a food processor or blender, add the pesto, spinach, and lemon juice. Pulse until combined. Add the Greek yogurt and pulse until completely incorporated.
Season the pesto mixture to taste with salt and pepper, then add the pesto mixture to the cooled pasta. (You may not need all of the pesto mixture.)
Coat the pasta with the sauce, and add the Parmesan, peas, grape tomatoes and pine nuts.
Stir and serve at room temperature or chilled.
Recommended Products
As an Amazon Associate and member of other affiliate programs, I earn from qualifying purchases.
Nutrition Information:
Yield:
9 cups
Serving Size:
1 1/2 cups
Amount Per Serving:
Calories:

251
Total Fat:

19g
Saturated Fat:

4g
Trans Fat:

0g
Unsaturated Fat:

14g
Cholesterol:

11mg
Sodium:

264mg
Carbohydrates:

13g
Fiber:

2g
Sugar:

2g
Protein:

9g

This Pesto Pasta Salad with Peas is a make-ahead salad recipe that is great with anything from the grill!