If you spend any time on Facebook or Pinterest, you will see all of the adorable, crafty fall treats that are everywhere. Does anyone else feel inadequate by those? I am NOT a crafty person. Try as I might, crafty is not for me. I have a friend who goes to Michael's to RELAX! The amount of stuff in that store nearly gives me a panic attack. I have come to accept the fact that crafts and I do not mesh. So I share other people's cute, crafty snacks and stick to what I'm good at. And I have to admit, I am an absolute sucker for these Peanut Butter Rice Krispie Bars.
Many desserts in our house are never quite finished (odd, I know), but these Peanut Butter Rice Krispie Bars always disappear. And they are gone way before I am ready for them to be. Creamy marshmallow, ooey gooey peanut butter with candy corn and Reese's Pieces – what's not to love? (Look at me getting all crafty and seasonal! Seriously folks, this is as crafty as it gets, and I'm good with that.) They are a fabulous Halloween treat and so easy to mix up. Melt some chocolate chips and drizzle across the top, and – ooh, la, la – I'm in peanut butter and chocolate heaven.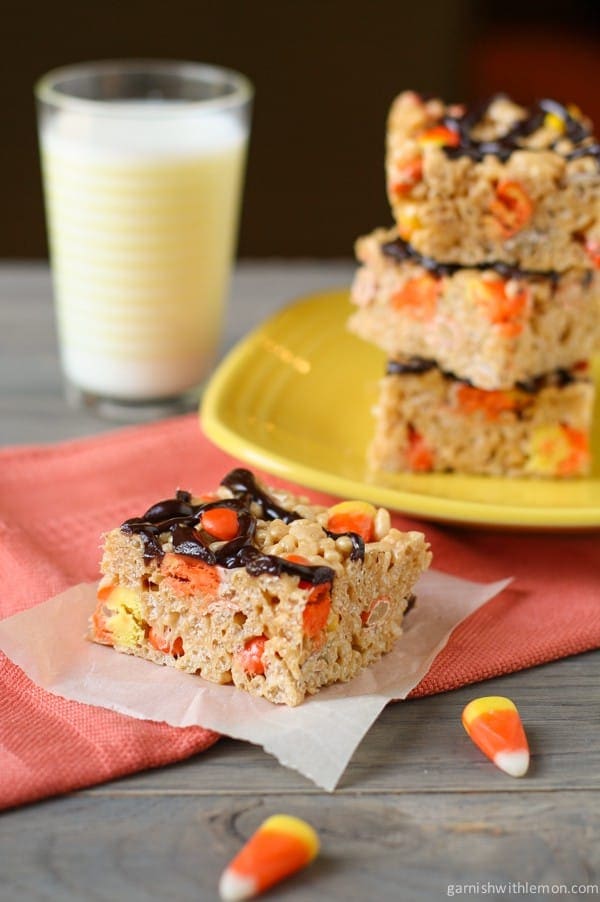 Yield: 12
Peanut Butter Rice Krispie Treats
Peanut Butter Rice Krispie Treats with Candy Corn and Reeses Pieces
Ingredients
4 tablespoons butter
4 cups mini marshmallows
2/3 cup creamy peanut butter
5 cups Rice Krispies cereal
1/2 cup candy corn
1/2 cup Reese's Pieces
Chocolate Drizzle
1/2 cup chocolate chips
2-3 tablespoons cream
Instructions
In a large sauce pan, melt butter over medium heat. Add marshmallows and stir until melted. Turn off heat and add peanut butter, stirring until melted. Remove from heat and stir in Rice Krispies. Once well-coated, stir in candy corn and Reese's Pieces.
Press into greased 8 x 8 square pan and gently press down.
To make the drizzle, melt chocolate chips and stir in cream one tablespoon at a time to get to the desired consistency. Drizzle across top and let set. Cut into squares and serve.
Nutrition Information:
Yield:
12
Serving Size:
1
Amount Per Serving:
Calories:

336
Total Fat:

17g
Saturated Fat:

7g
Trans Fat:

0g
Unsaturated Fat:

8g
Cholesterol:

15mg
Sodium:

192mg
Carbohydrates:

44g
Fiber:

2g
Sugar:

28g
Protein:

6g