Are you ready for school? These chewy Peanut Butter Granola Bars with dried cherries are perfect for a quick breakfast or snack on the go.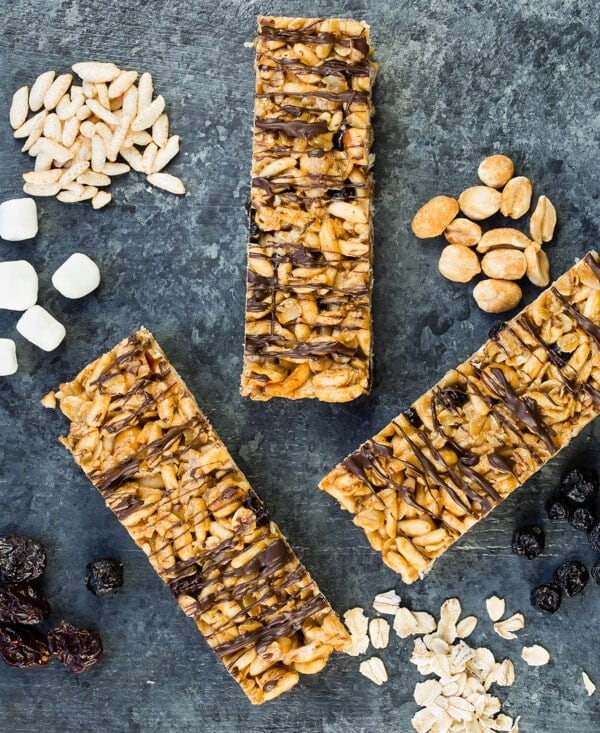 Ready or not, fall is in the air and school starts soon, which means our lazy days of summer are coming to an end. It's time to go back to school and deal with early mornings, homework and fall sports schedules. My kids have been spoiled in elementary school as the first bell didn't ring until 9:10, so mornings were never a problem. But now that Greta is starting middle school, the bus comes at 7:30. Breakfast is already an issue with her, so for the mornings she doesn't have time for oatmeal or breakfast quesadillas, I need something for her to grab and eat on the go as she is racing to catch the bus. And knowing how she loves her sleep, I think these Peanut Butter Granola Bars with Dried Cherries are going to be my new best friend this fall.
Have you ever made your own granola bars? I cringe every time I pick up a box at the grocery store knowing how easy they are to make at home. Not to mention I love knowing all of the ingredients in them, and the money you can save is a perk, too. These bars are filled with peanut butter, peanuts, dried cherries and oats. I roasted the oats before I added them which gave them a great nutty flavor and served as a perfect complement to the peanut butter. I used agave to sweeten the peanut butter granola bars, but feel free to sub in honey if you prefer. And, of course, all good granola bars have a little chocolate drizzle on top. After all, days that start with chocolate are sure to be good ones.
Are you on Pinterest? We've got a whole board filled with breakfast ideas!
Follow Garnish with Lemon's board Back to School Breakfasts on Pinterest.
Yield: 20
Peanut Butter Granola Bars with Dried Cherries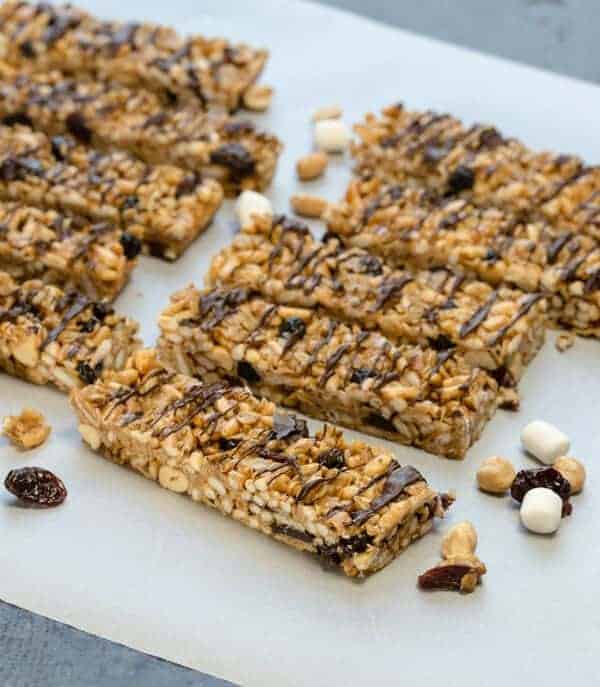 Ingredients
2/3 cup creamy peanut butter
2/3 cup agave
1 tablespoon olive oil
3 tablespoons butter
1 teaspoon vanilla
1/2 teaspoon salt
2 1/4 cups old fashioned oats
1 cup puffed rice cereal
1/3 cup dried cherries
1/3 cup dried blueberries
1/2 cup mini marshmallows
1/2 cup dry roasted peanuts
1/4 cup chocolate chips
Instructions
Preheat oven to 350 degrees. Line an 11 x 7 baking dish with parchment paper. Set aside.
Spread oats on a jelly roll pan and roast for 10 minutes or until lightly browned. Remove from oven and set aside.
In a microwave safe bowl combine peanut butter, agave, olive oil, butter, vanilla and salt. Microwave on high for 90 seconds or until bubbly.
Combine oats, puffed rice, dried berries, roasted peanuts and mini marshmallows in a medium bowl. Pour peanut butter mixture over oat mixture and stir until well coated. Press into baking dish and bake for 10 minutes or until set.
Place chocolate chips in microwave safe bowl and heat in 15 second intervals until melted. Drizzle melted chocolate on top of granola bars and cool completely in dish.
Cut bars in desired size and store in the refrigerator.