Who can say no to Peanut Butter Fudge, especially when it has a layer of dark chocolate ganache on top? Certainly not me!
Do you have a favorite food combination that you will never, ever turn down? For me, that's chocolate and peanut butter. If ever you need to butter me up for something, try giving me some chocolate and peanut butter before you approach; I can almost guarantee it will work. It will, no doubt, get my attention. And we would be instant friends because that's what friend do, right? Give each other Chocolate and Peanut Butter. And that's just what is happening here today. I am giving you this Peanut Butter Fudge with Chocolate Ganache.
Frankly because if I don't, I will eat. it. all. No exaggeration either. A piece here, a piece there, and then, poof! It's gone. So if I share it with others, then it's not in my house. See how I'm working this angle? It's all about making sure my jeans still fit on January 1st.
This peanut butter fudge is REALLY easy to make. All you need is one bowl and the microwave. One bowl. Seriously. Dump, heat, stir, pour. DONE. And not that the peanut butter fudge isn't good enough on its own. It is, but I took it to another level with a nice thick layer of Dark Chocolate Ganache on top. Such a fancy word for something so simple and approachable.
Easy, peasy people. It tastes just like a really fancy version of a Reese's Peanut Butter Cup. And it is sure to wow your friends and family. That's if it actually makes it out of your house and into theirs. No promises on that one; you're on your own.
Yield: 30
Peanut Butter Fudge with Chocolate Ganache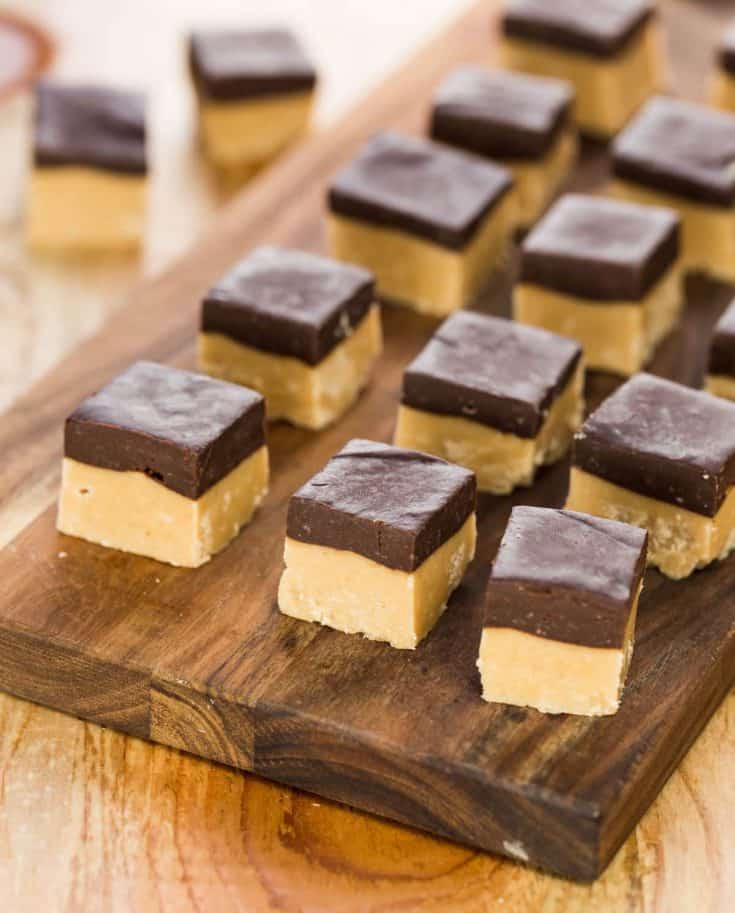 You can't go wrong with chocolate + peanut butter!
Ingredients
For the peanut butter fudge:
2 sticks butter, plus more for greasing pan
1 cup smooth peanut butter
1 teaspoon vanilla extract
3 1/2 cups powdered sugar
For the Ganache:
8 ounces bittersweet chocolate chips
1/2 cup heavy cream
1 teaspoon vanilla
Instructions
Peanut Butter Fudge:
Line an 8 by 8-inch pan with parchment paper. Butter the pan and set aside.
In a large (4 qt) microwave safe bowl, combine the butter and peanut butter and cover with plastic wrap. Microwave for 2 minutes on high. Stir and microwave on high for 2 more minutes. Be careful; the mixture will be very hot. (And if you use too small of a bowl it will be all over the microwave.)
Add vanilla and powdered sugar to the peanut butter mixture. Using a wooden spoon, stir to combine.
It will get thick and hard to stir. Spread into prepared pan.
Chocolate Ganache:
Using a double boiler, heat cream until it is warm and then add chocolate chips. Stir until chocolate is completely melted. Stir in vanilla. Pour over peanut butter layer and spread evenly. Cover and chill until set - about 2 hours.
Nutrition Information:
Yield:
30
Serving Size:
1
Amount Per Serving:
Calories:

222
Total Fat:

16g
Saturated Fat:

8g
Trans Fat:

0g
Unsaturated Fat:

7g
Cholesterol:

21mg
Sodium:

97mg
Carbohydrates:

18g
Net Carbohydrates:

0g
Fiber:

2g
Sugar:

13g
Sugar Alcohols:

0g
Protein:

3g