Yesterday was our wedding anniversary, and to celebrate I made these Peanut Butter Cup Cheesecakes. You see, cheesecakes hold a special place in our hearts because that is what we had for our wedding cake. So they make a frequent appearance in out house, especially for special occasions. Not only did we have cheesecake at our wedding, but my mom and I made them. All of them. For each table. Count 'em – 27 cheesecakes! And then to add another layer of stress, I wanted three different flavors because I wanted everyone to be happy. So we had Oreo Cheesecake, White Chocolate Raspberry Cheesecake and Key Lime Cheesecake. If you wanted a different flavor then the one on your table, you had to try and get some from another table. And what I learned was that some people don't share very well! 🙂 But people are creative and passionate about their cheesecake, and they found a way to get what they wanted. Even today, friends still remind me of their cheesecake negotiations when talk of weddings comes up.
So back to these Peanut Butter Cup Cheesecakes. I am a fan of pretty much anything chocolate and peanut butter flavored, but peanut butter cups are one of my all-time favorite candies. I cannot have them in the house, otherwise I eat them all. I don't always share very well, either. Hmmm, see a trend? These Peanut Butter Cup Cheesecakes are super easy, and I love that they are individually portioned so there is no need to worry about sharing. And in each bite is a bit of peanut butter cup. Does it get much better than that? Creamy cheesecake with an Oreo crust AND a peanut butter cup. I'm in cheesecake heaven.
Yield: 12
Peanut Butter Cup Cheesecakes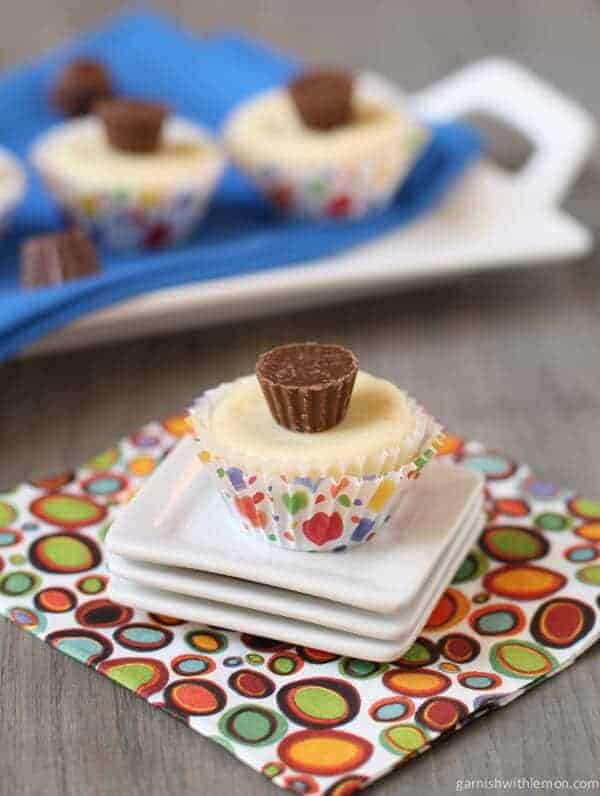 A creamy cheesecake filled with a peanut butter cup.
Ingredients
1½ cups Oreo Crumbs
¼ cup (1/2 stick) butter, melted
2 (8-ounce) packages cream cheese,room temperature
½ cup sugar
1 tablespoon cream
2 tablespoons all-purpose flour
1 teaspoon pure vanilla extract
2 eggs, room temperature
12 bite size peanut butter cups or 24 mini peanut butter cups
Optional Topping: Hot fudge
Instructions
Preheat oven to 350 degrees F. Place a paper cupcake liner in each cup of a standard muffin pan or mini muffin pan
Mix oreo crumbs and melted butter until well incorporated. Place 1 tablespoon of Oreo mixture in bottom of each cupcake liner and press down to pack crumbs in bottom.
In the bowl of a stand mixer, beat cream cheese and sugar until light and fluffy. Add, cream, flour, and vanilla, and beat well. Add eggs, 1 at a time, beating well after each addition.
Place peanut butter cup on top of crust and spoon one tablespoon of cheesecake filling over top.
Bake in preheated oven for 12-15 minutes or until cheesecake is set and toothpick comes out clean.
Chill for 2 hours and serve. Top with hot fudge if desired.
Nutrition Information:
Yield:
12
Serving Size:
1
Amount Per Serving:
Calories:

233
Total Fat:

11g
Saturated Fat:

4g
Trans Fat:

0g
Unsaturated Fat:

6g
Cholesterol:

37mg
Sodium:

141mg
Carbohydrates:

31g
Fiber:

1g
Sugar:

24g
Protein:

4g