Chewy chocolate brownies layered with peanut butter chocolate chip cookie dough and frosted with a chocolate peanut butter ganache. Triple chocolate delight!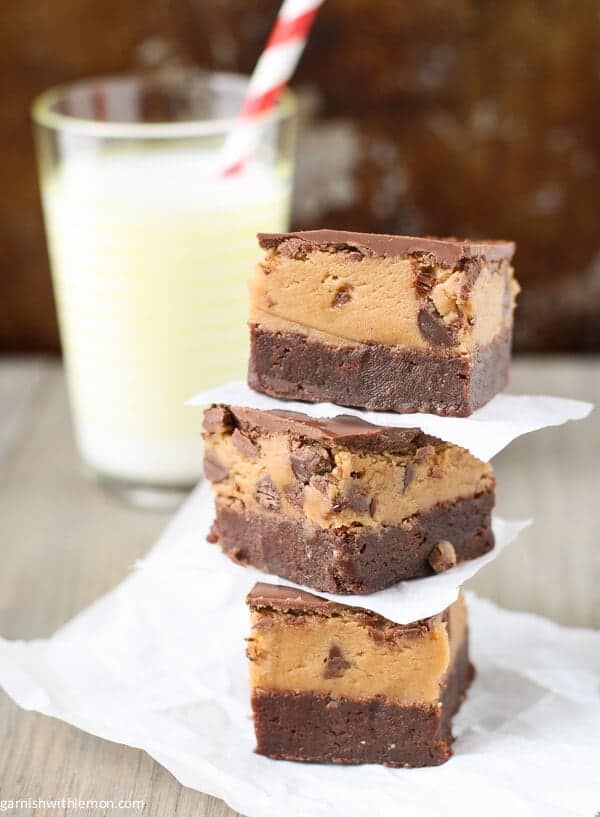 I have a new dessert today to share with you today. It's so good that you may race to the store just so you can make these for the kids today. (Or yourself. Go ahead, I won't judge. Promise.)  And frankly, I'm not quite sure why it has taken me so long to put this combination together. It's no secret that I love have an obsession for chocolate and peanut butter. Really it's a combination that you can't go wrong with. Ever. Let me introduce you to my new best friend: Peanut Butter Cookie Dough Brownies. You are going to love her. I mean, how can you not?
Chewy chocolate brownies layered with peanut butter cookie dough and topped with chocolate peanut butter ganache? Oh. My. Goodness. If you don't agree with me as to heavenly these are, I'm not sure we can be friends. I like them THAT much.
My base layer is one of Smitten Kitchen's brownie recipes. (Why mess with success, right?) But then I couldn't leave well enough alone and added a layer of peanut butter cookie dough (no eggs, of course). And then to make sure things stay together nicely I frosted everything with a chocolate peanut butter ganache. It's chocolate peanut butter nirvana.
Now as much as I find it hard to believe, I know that chocolate and peanut butter isn't for everyone. So tell me – what have I been missing while I've been devouring these brownies? Leave a comment below, and let me know what else I need to try. I'd love to know your favorite flavor combination!  
Peanut Butter Cookie Dough Brownies
12
adjust servings
Chewy Brownies layered with peanut butter chocolate chip cookie dough and finished with a chocolate peanut butter ganache.
Ingredients
For the brownie
3

ounces unsweetened chocolate

8

tablespoons butter

1 1/3

cups sugar

2

large eggs

1

teaspoon vanilla

2/3

cup flour
For the cookie dough
4

tablespoons butter, softened

1/2

cup brown sugar

2

tablespoons milk

3/4

cup smooth peanut butter

1/2

cup plus 2 tablespoons flour

1/2

cup mini chocolate chips
For the ganache
3/4

cup bittersweet chips

3/4

cup peanut butter chips
Instructions
Brownie Layer:
Preheat the oven to 350 degrees. Line a 9x9 square baking dish with parchment paper and set aside.
In a microwave safe bowl, combine the unsweetened chocolate and butter. Microwave until melted, stirring every 30 seconds. Cool mixture slightly.
In a medium bowl pour melted chocolate mixture and add sugar. Stir in eggs one at a time. Add vanilla and mix. Last, add the flour and stir until just combined. Do not over mix.
Pour batter into prepared pan and bake for 25-30 minutes or until toothpick comes out with just a few crumbs clinging to it. Let cool thoroughly.
Cookie Dough Layer:
In the bowl of a stand mixer, add butter and brown sugar and beat until light and fluffy (3-4 minutes). Add Milk and peanut butter and mix until combined. Add flour and mix until incorporated. Stir in chocolate chips by hand.
Evenly spread cookie dough over cooled brownies.
Ganache layer:
Place chips in a microwave safe bowl and heat, stirring after 30 seconds. Continue until chips are melted. Stir until smooth and spread over the cookie dough.
Refrigerate the brownies for at least 2 hours or until set.
Serve cold. Keep refrigerated for storage.
Did you make this recipe? We'd love to see it! Snap a pic of your creation and tag it #GarnishWithLemon. We might even feature your photo on social media!