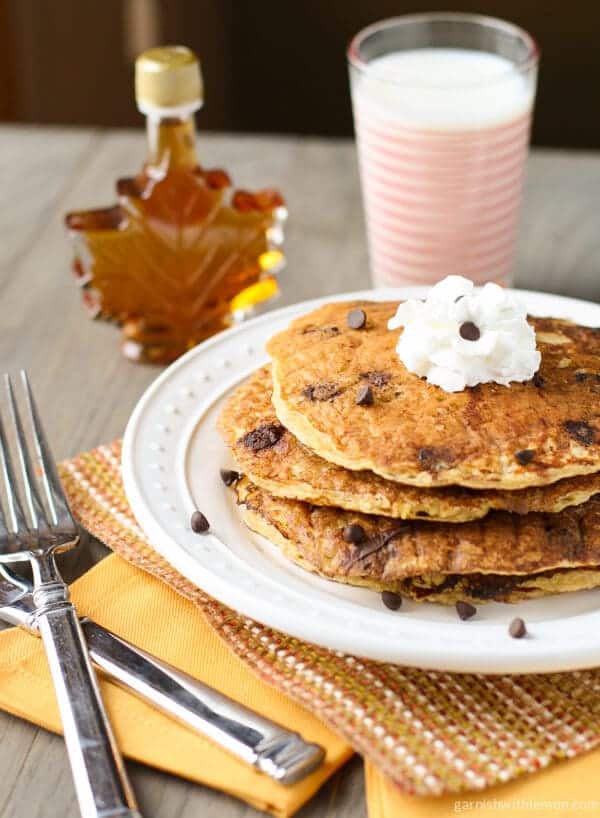 Pancakes are the most requested weekend breakfast from my kids, which is really kind of ironic because my kids don't like syrup on their pancakes. Ever. They are perfectly happy with chocolate chips in the batter and a little butter on top. Seriously. They think that every pancake should have chocolate chips in them. In fact, Greta will protest loudly when pancakes are served without chocolate. (Not that I blame her.)
I have a buttermilk pancake recipe that is, hands down, my daughter's all-time favorite pancake. But of course, I can't leave well enough alone and just make those. I need to try new recipes. That's what food bloggers do, and you have to take the good with the bad. Greta's pancake critiques always start with, "These are ok, but your regular ones are my favorite." However, I made some headway with these Oatmeal Chocolate Chip Pancakes. She actually gave them a double thumbs up. Seriously ground breaking progress.
This Oatmeal Chocolate Chip Pancake recipe makes me happy because they have a little more staying power than straight buttermilk pancakes. I took out half of the buttermilk, added Greek yogurt (love the protein) and subbed some of the all-purpose flour for oat bran (good source of whole grains).  And I still got great tasting, fluffy pancakes. No sacrifice of flavor in these beauties.
Are my kids spoiled for always getting chocolate chips in their pancakes? Maybe. But life is short, so why not enjoy chocolate chips in your flapjacks? 
Yield: 4-6
Oatmeal Chocolate Chip Pancakes
A fluffy pancake made with Greek yogurt and oatmeal.
Ingredients
6 ounces plain Greek Yogurt
1 cup buttermilk
2 large eggs, lightly beaten
1 teaspoon vanilla
1 1/2 teaspoons baking powder
1/2 teaspoon baking soda
2 tablespoons packed brown sugar
1/3 cup chocolate chips (optional)
1 cup all purpose flour
1 cup oat bran (ground oatmeal)
Instructions
Place yogurt, buttermilk and beaten eggs in a small bowl and whisk until combined. Add vanilla and mix until incorporated. Set aside.
In a medium size bowl, add dry ingredients and whisk to combine. Add yogurt mixture to dry mixture and stir with a wooden spoon to combine. There should still be a few lumps.
Spray griddle with cooking spray or brush with melted butter; heat over medium heat. Pour batter on griddle in 1/3 cupfuls and sprinkle chocolate chips on top of batter, if desired. Cook until bottoms are golden brown and the edges have quit bubbling. (About 2 minutes) Flip and cook until done.