These warm Molten Chocolate Cakes look decadent but are a quick and easy dessert you can whip up in minutes using ingredients found in your pantry.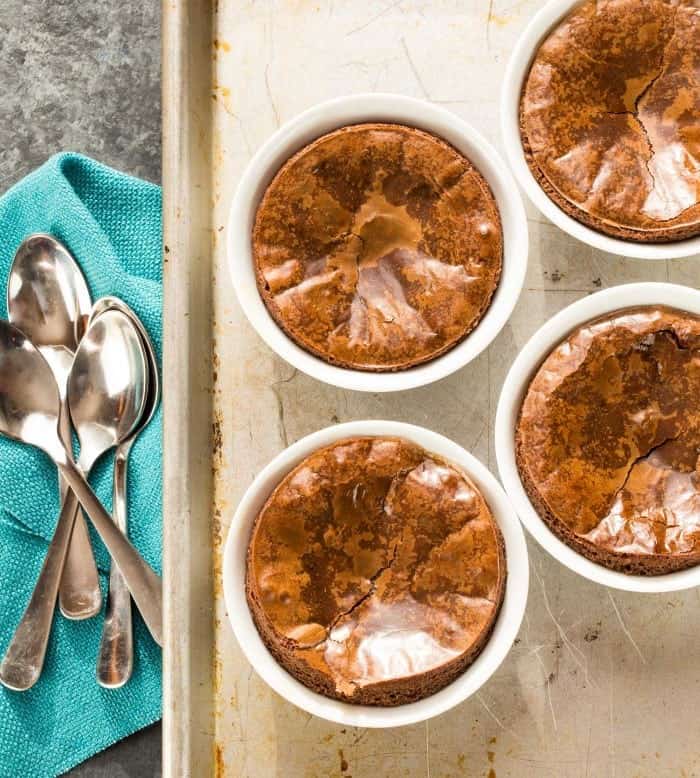 Need a quick and yummy dessert recipe? Put this in your back pocket and pull it out when you have last minute guests or even for a midweek surprise. What's more fun than surprising the crew with dessert, especially a tray full of warm MOLTEN CHOCOLATE CAKES?!?!
These cakes are super easy to prep, and they can bake while you're eating dinner. I'm betting that you even have all of the ingredients on hand right now: chocolate chips, butter, flour, eggs. The only thing you might not have is superfine sugar. Do you need superfine sugar? I recommend that you use it. Regular granulated sugar doesn't dissolve as well into these soft cakes when they bake, resulting in a gritty texture. But never fear. Pulse your regular sugar for 30 seconds in a blender or food processor, and you'll have a close enough version of superfine sugar without having to make another trip to the store.
The smell of these chocolate cakes is intoxicating, and I guarantee you'll be salivating to eat them right away. Resist the temptation if you can. There is nothing worse than ruining a perfectly good dessert with a burned tongue, so let them cool for a few minutes after baking. Then break out the vanilla ice cream for an extra dose of decadence, and enjoy the looks of adoration from your family. Job well done. 
Tip:
My kids love chocolate, so I toss in some white chocolate chips for a little visual interest, but feel free to leave them out entirely or swap in dried cherries, regular chocolate chips, butterscotch or peanut butter chips. The options are endless!
Yield: 4
Molten Chocolate Cakes
These decadent cakes use pantry staples! No one needs to know how EASY they are to make!
Ingredients
1 stick plus 1 tablespoon unsalted butter
3/4 cup semisweet chocolate chips
2 eggs
3/4 cup superfine sugar
3 tablespoons all-purpose flour
1/2 cup white chocolate chips (optional)
Vanilla ice cream (optional)
Instructions
Preheat the oven to 400 degrees. Butter 4 ramekins using 1 tablespoon butter and place buttered ramekins on a sheet pan.
Bring a small amount of water to a simmer in a small saucepan. Place a heatproof bowl over the water (making sure it does not touch the simmering water). Add the chocolate chips and stick of butter to the bowl. Stir until melted. Set aside to cool slightly.
In another bowl, whisk together the eggs, sugar and flour. Stir in the cooled chocolate mixture and the white chocolate chips (if using). Divide the batter between the 4 ramekins. Place ramekins on a baking sheet and bake for 18-22 minutes. Watch them carefully as they can quickly overbake. The tops will crack but the chocolate should remain somewhat gooey underneath. Remove from oven and cool slightly.
Serve with ice cream, if desired.
Nutrition Information:
Yield:
4
Serving Size:
1
Amount Per Serving:
Calories:

566
Total Fat:

26g
Saturated Fat:

15g
Trans Fat:

0g
Unsaturated Fat:

9g
Cholesterol:

120mg
Sodium:

85mg
Carbohydrates:

83g
Fiber:

2g
Sugar:

75g
Protein:

8g