Come join the fun! We're celebrating the arrival of a special baby boy today with these Mini Pavlovas with Blueberries and Kiwi.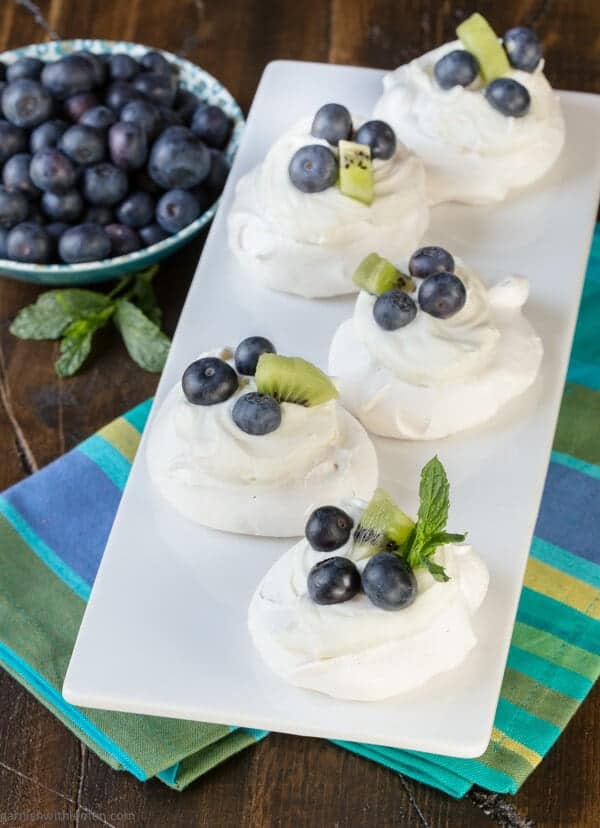 My first baby just turned twelve (What!?! How did that happen??), but I can still recall the wave of emotions I felt anticipating her arrival. Little did I know that bringing her into this world was just the start of the emotional rollercoaster that parenthood is, but there is nothing I'd rather do than be a mom to my two babes.
Which is why we are so excited to help celebrate the arrival of another blogger's first bundle of joy. Taylor of greens & chocolate will welcome a baby boy next month. Lisa and I first met Taylor and her husband a few years ago at a foodie event here in Minneapolis. Such a cute, down to earth couple! We know they will make great parents. So how does a food blogger honor such a momentous occasion? With Mini Pavlovas with Blueberries and Kiwi, of course!
Don't be intimidated by these little beauties. Yes, they look kinda fancy, but the ingredient list is short and most of the work is done with your handy stand mixer. A pavlova is simply a meringue-based dessert with a crispy exterior and a delightfully soft, marshmallow-like interior. It was originally created in honor of the Russian ballerina, Anna Pavlova, for her tour of Australia and New Zealand in the 1920s. Most pavlova recipes are topped with whipped cream, but I upped the decadence factor just a bit and added cream cheese to my whipped cream. The choice of fruit is entirely up to you, but blueberries and kiwi (blue and green) seemed like solid picks to honor a baby boy.
Tip: After the pavlovas have baked and cooled, you can store them in an airtight container for up to 24 hours. You can make the cream cheese whipped cream in advance, too, and simply assemble right before guests arrive. Yay! Bonus points for any recipe that can be prepped ahead of time!
Yield: 16
Mini Pavlovas with Blueberries and Kiwi
Individual Pavlovas topped with fresh kiwi and blueberries make an easy and impressive dessert.
Total Time
1 hour
35 minutes
Ingredients
Pavlovas:
3 large egg whites
7/8 cup sugar
1/2 teaspoon white vinegar
1/4 teaspoon vanilla extract
1/8 teaspoon salt
1 tablespoon plus 1 teaspoon corn starch
Cream Cheese Whipped Cream:
4 ounces cream cheese, softened
1 cup heavy whipping cream
2 tablespoons powdered sugar
1 teaspoon vanilla extract
Fruit:
Blueberries
Peeled and sliced kiwi fruit
Instructions
To make the pavlovas:
Preheat oven to 300 degrees. Place oven racks in the bottom third of the oven. Line 2 baking sheets with parchment. Set aside.
Beat egg whites in a stand mixer with a whisk attachment until foamy. Slowly pour in the sugar and beat on medium high speed for about 10 minutes or until firm glossy peaks appear. Beat in the vinegar, vanilla and salt. Sprinkle the cornstarch over the egg-sugar mixture and gently fold it in.
Place a heaping spoonful of the meringue mixture on the baking sheet. (You're aiming for 2 1/2 - 3" in diameter.) Repeat until you have approximately 16 meringues total. Use a clean spoon to create a small well in the center of each pavlova (for the cream cheese whipped cream). Smooth the sides of the pavlovas, if desired.
Place baking sheets in the oven and lower the temperature to 225 degrees. Bake for one hour, rotating pans halfway through. After one hour, turn off the oven and prop the door open with the wooden handle of a spoon or spatula. Allow the meringue to cool in the oven for 30 minutes, then remove pans and allow to cool completely.
To make the cream cheese whipped cream:
Beat cream cheese in a small bowl until soft and no visible lumps remain. Beat the whipping cream on high speed in a medium sized bowl until soft peaks form. Add the cream cheese to the whipped cream and whip on high until stiff peaks form. Gently beat in the sugar and vanilla. Keep refrigerated until ready to use.
To assemble:
Place a dollop of cream cheese whipped cream on each pavlova. Top with blueberries and sliced kiwi.
Nutrition Information:
Yield:
16
Serving Size:
1
Amount Per Serving:
Calories:

129
Total Fat:

8g
Saturated Fat:

5g
Trans Fat:

0g
Unsaturated Fat:

2g
Cholesterol:

24mg
Sodium:

53mg
Carbohydrates:

14g
Fiber:

0g
Sugar:

13g
Protein:

2g
We're not the only ones celebrating Taylor's sweet baby boy today. Check out these other amazing recipes for Taylor's virtual baby shower:
Quick Jam from Mrs. Olson's Kitchen
Cheesy Polenta Cakes with Blueberry and Corn Relish from Girl Versus Dough
DIY Chocolate Chip Peanut Crunch Clif Bars from Fit Foodie Finds
Lemon Cupcakes with Fresh Blueberry Icing from Making Thyme for Health
Caramelized Onion and Cheddar Gougeres from The Cooking Actress
Strawberry, Cucumber and Mozzarella Phyllo Cups from Cookie Monster Cooking
Blueberry Lemon Donut Muffins from A Kitchen Addiction
Blackberry Ginger Thyme Smash from The Lemon Bowl